Republican and Democratic members of the House Oversight Committee came out of a Washington, D.C., jail tour with very different opinions on how January 6 inmates are being treated inside the facility.
The GOP-led committee previously demanded that arrangements be made to allow lawmakers to tour the facility after Georgia Representative Marjorie Taylor Greene, a Republican, claimed that she saw evidence of "abuse and neglect" after touring the jail in November 2021.
In the letter signed this month by Oversight Committee Chairman James Comer, alongside Greene and Louisiana Representative Clay Higgins, the GOP members also demanded that "certain documents and information regarding" the D.C. jail be turned over to the committee by D.C. Mayor Muriel Bowser, a Democrat. The signees claimed that those standing trial, accused of participating in the attack on the U.S. Capitol on January 6, 2021, were receiving harsh treatment due to their "political beliefs."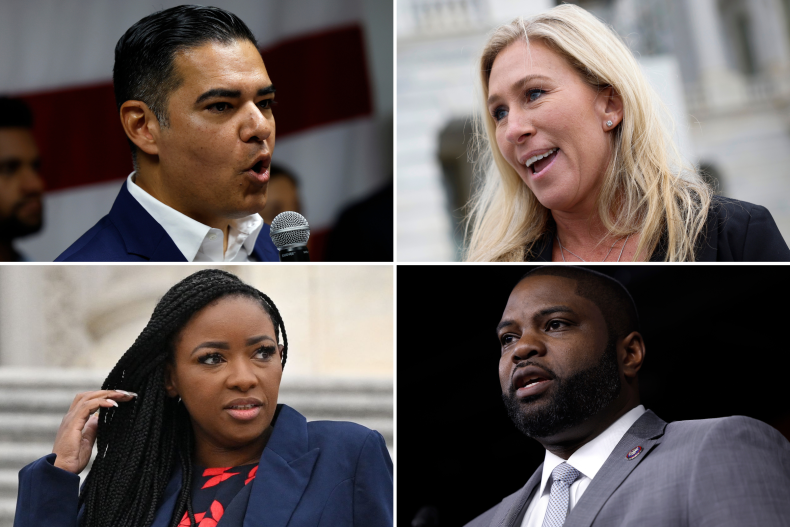 After a tour of the D.C. facility Friday, however, both parties gave contradicting narratives on how they saw inmates being treated inside the jail. California Representative Robert Garcia, a Democrat, said in a statement obtained by Newsweek that GOP members acted "shameful" during the committee's visit.
"Marjorie Taylor Greene is already telling lies about the conditions of the facility and saying that there was no insurrection on January 6," Garcia said. "When we saw the inmates, my Republican colleagues rushed to them and treated them like celebrities rather than people who attacked our capitol police and our very democracy. The actions of our Republican colleagues inside the facility and their lies about the visit are shameful."
"The inmates that we saw were being treated fairly, and to be truthful, are being held in much better conditions than most Black and brown inmates in prisons across the country" he added. According to a tweet from the congressman, the inmates he saw "have 24 [hour] medical care, computer tablets & access to communicate with family."
Garcia's fellow Democrat, Texas Representative Jasmine Crockett, echoed his comments in a statement to Newsweek via email on Friday, saying that the visit was "nothing more than political theater for the Republicans on this Committee, using the real issue of prison reform for their own political gain."
"And even worse, they used that theater to whitewash an attempted coup that killed five people, including Capitol Police Officer Brian Sicknick," Crockett said. "As a former public defender, my takeaway is this: the conditions for which the January 6th detainees are living under are an order of magnitude better than those my clients faced back in Texas."
"At the end of the day, what we are seeing today is two systems of justice," her statement continued. "One where insurrectionists get playgrounds and iPads, and one for the rest of the country. Given the Republicans' newfound interest in civil rights, I look forward to seeing my Republican colleagues join Democrats at the table—where we have been sitting for decades—to address actual systemic brutality and civil rights violations in jails and prisons."
Republicans who toured the facility on Friday say they saw a similar account to Greene's report from 2021. Florida Representative Byron Donalds told reporters outside the D.C. facility that some of the defendants had yet to have a bond hearing in their trials, 25 months after the January 6 attack, calling it a "violation of constitutional rights."
"Look, people can have disagreements about what happened on January 6, and people want to see the justice system actually work," Donalds said in a video posted by CBS News correspondent Scott MacFarlane. "But constitutional rights have to be protected for all Americans. You don't get to pick and choose based upon your political viewpoints."
Donalds' comments were disrupted by a protester nearby who repeatedly blew a whistle in attempts to drown out the Republican's comments. Greene claimed on her Twitter account that the protester attempted to "assault" her and other committee members.
MacFarlane also reported on Twitter that Greene pointed a finger at the judges presiding over the January 6 trials while addressing the press Friday, saying, "The judges are a real problem ... Judges can be impeached. That's something that can be done ... It's wrong that they use their courtrooms as political weapons."
Prior to committee members visiting the jail, House Oversight Ranking Member Jamie Raskin, a Democrat from Maryland, released a statement calling out his Republican colleagues for not taking interest in addressing mistreatment in the justice system before, claiming that no GOP members showed "interest" in helping Democrats' investigation into the Rikers Island prison in New York City, where 19 inmates died last year.
"Today's tour has nothing to do with objectively examining or improving jail conditions," Raskin said. "Rather, this tour is part of a continuing bizarre effort by Marjorie Taylor Greene, Lauren Boebert, Andrew Clyde and the controlling MAGA faction in the Republican Conference to depict the January 6th rioters, assailants and insurrectionist ringleaders now in jail as 'political prisoners' or even as 'political prisoners of war' and to facilitate their release through political pressure and to get them pardoned by a future Trump Administration."
Newsweek has reached out via email to Greene's press team and Jessica Collins, communications director of the House Oversight Committee, for comment.