GOP Groups are Fundraising with Greenland-US Shirts: 'Support Trump And His Efforts to Help America Grow!'
The Republican Party, both at the state and national level, is using President Donald Trump's desire for the United States to purchase Greenland as a fundraising tool.
House Republicans' campaign arm, the Republican National Congressional Committee (NRCC), as of Wednesday evening was providing shirts featuring a map of the U.S. and Greenland filled in with the American flag to anyone who donated $25 or more.
"Support President Trump and his efforts to help America grow!" the NRCC's website stated.
The Nevada Republican Party made a similar pitch to supporters in the form of a Facebook advertisement, linking visitors to their official website where they, too, were selling a U.S.-Greenland shirt for $25. The group began sponsoring the shirts, which say "Greenland! This land is your land, this land is our land!" on the front and depicts images of the U.S. and Greenland high-fiving each other on the back, on the social media website Tuesday. The party's Facebook page urges people to "show your support for making Greenland the 51st state."
The merchandise comes as Trump has fumed over his inability for the United States to purchase the world's largest island territory from Denmark, the country that owns it, since confirming news first reported by The Wall Street Journal that he was mulling the possibility.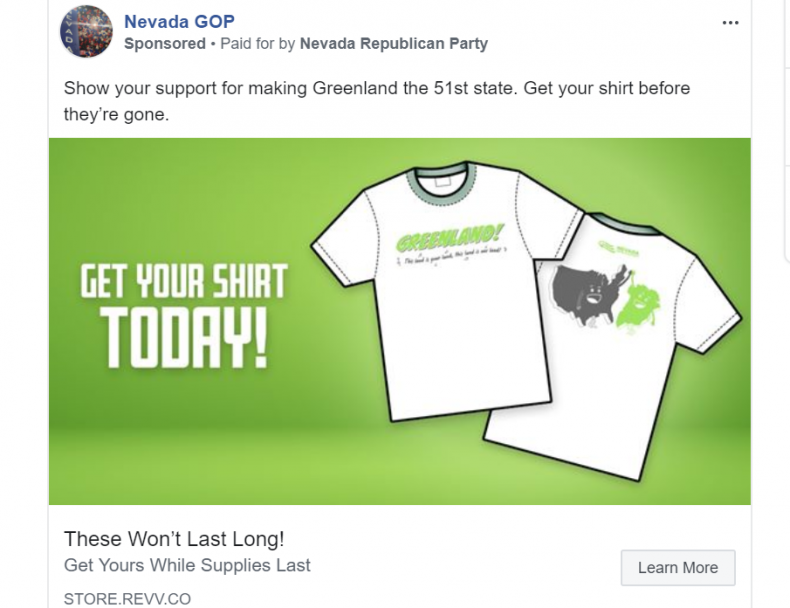 Greenland has made it clear that it's "not for sale," and Danish Prime Minister Mette Frederiksen threw cold water on the idea by labeling it "an absurd discussion." The semi-autonomous Danish territory located in the Arctic has caught the eye of several countries in recent years, including Russia and China, due to its resources and geographical location for national security purposes.
The remarks by Frederiksen caught the ire of Trump, who on Tuesday evening abruptly canceled a Labor Day weekend trip to Denmark via Twitter, much to the surprise and anger of Danish officials.
"[B]ased on Prime Minister Mette Frederiksen's comments, that she would have no interest in discussing the purchase of Greenland, I will be postponing our meeting scheduled in two weeks for another time," he wrote in a series of tweets. "The Prime Minister was able to save a great deal of expense and effort for both the United States and Denmark by being so direct."
Speaking with reporters on the South Lawn of the White House Wednesday, the president further laid into Frederiksen, calling her comments "nasty" and accusing her of "blowing off the United States."
"I thought that the prime minister's statement — that it was 'absurd,' that it was an 'absurd' idea — it was nasty. I thought it was an inappropriate statement. All she had to do is say, 'No, we wouldn't be interested,'" Trump said. "You don't talk to the United States that way, at least under me... I thought it was not a nice statement — the way she blew me off — because she is blowing off the United States. And we've done a lot for Denmark. We've done a lot. I know Denmark well. I have many friends from Denmark. I have many people from Denmark that live in the United States."
Secretary of State Mike Pompeo spoke with Danish Foreign Minister Jeppe Kofod on Tuesday, in which he "expressed appreciation for Denmark's cooperation as one of the United States' allies and Denmark's contributions to address shared global security priorities," according to State Department spokeswoman Morgan Ortagus.
Republican Senator Tom Cotton of Arkansas on Wednesday revealed that he first raised the idea to Trump of the U.S. purchasing Greenland "several months ago." "I met with the Danish ambassador and I proposed that they sell Greenland to us," he added.
President Harry Truman in 1946 pitched a similar idea to Greenland but was rejected. Denmark did, however, allow the U.S. to build and maintain bases and radar stations. To this day, the U.S. Air Force has a base in northern Greenland, which has reportedly operated as a space surveillance and early warning site for ballistic missiles since 1961.