Health Care Advocates Instructed to 'Find Your Senator' on 4th of July as Pressure on Republicans Builds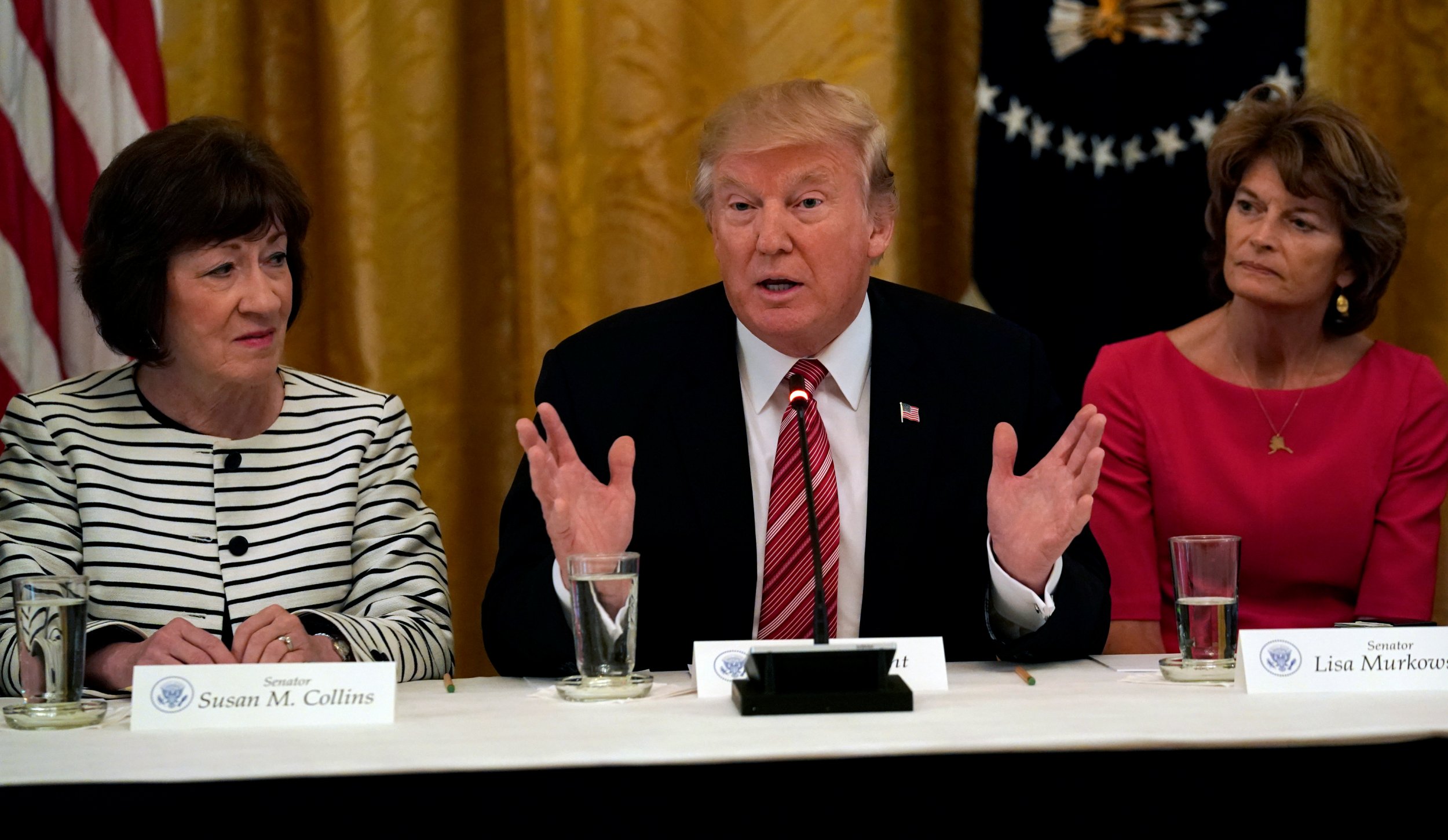 All but a few Republican senators are avoiding public town hall meetings when they go home next week for the Fourth of July recess, so one progressive group is instructing its local chapters to hunt them down wherever they may be—parades, fireworks displays, community picnics—to express their opposition to the chamber's health care bill.
Related: Senate Republicans' Obamacare bill could hinge on three women
"This is one of those times of the year where you expect members of Congress to be out," says Angel Padilla, policy director for Indivisible, a coalition of anti-Trump grassroots activists that formed after the November election. "The instructions to the groups are: 'You've already succeeded in pushing this another week and if you want to kill this bill you need to find your senator and make sure they're hearing from you.'"
It's exactly the sort of thing Senate Majority Leader Mitch McConnell was trying to avoid when he set a pre-holiday deadline for voting on a bill to repeal and replace Obamacare. McConnell and fellow Republican leaders were emphatic as recently as a few days ago that a delay past July 4th would only make it more difficult to pass the legislation. "I am closing the door. We need to do it this week," Majority Whip John Cornyn tweeted Monday of voting on the bill, which was unveiled just last week. Then, political reality set in—Republicans didn't have the 50 votes they'd need to pass the bill (out of the 52 senators in their caucus). Now Republican leaders are aiming to draft a revised bill by the end of this week and hold a vote after the Senate returns to Washington the week of July 10.
The delay has energized Democrats and liberal opponents, who have already been protesting the health care proposal for weeks. They believe the additional time and scrutiny works in their favor, as they look to sway a handful of undecided Republicans in swing states and others who could be hit hard by the bill's health spending cuts. "Two weeks ago, our goal was to get to this point," says Padilla. "We wanted to get to the Fourth of July recess."
It's also bolstered those on the other side of the ideological spectrum, who are optimistic they can convince leaders to move the health care legislation further to the right. Conservative advocacy groups are taking a quieter approach than the noisy, public protests of their liberal brethren, working with like-minded senators Ted Cruz, Rand Paul, Mike Lee and Ron Johnson in their ongoing negotiations with McConnell and other leaders. Those discussions are being held "in good faith," says Dan Holler, vice president of Heritage Action for America, the advocacy arm of the Heritage Foundation, a conservative think tank.
Heritage Action and others see an opportunity to shape the bill without a major public advocacy campaign, at this point. So they're focused on bolstering their right wing allies in Congress with talking points and op-eds, rather than instigating a public face-off with Senate Republican leaders and President Trump similar to what played out during House health care negotiations. The "much more quiet, behind the scenes effort" is " one of the most significant differences between how conservatives have responded to this debate versus past debates," says Holler.
Progressive groups, meanwhile, plan to continue the in-your-face tactics that have scared off so many Republican members of Congress from holding public events back home. According to the Town Hall Project, a site that tracks lawmakers' events in their states and districts, just four GOP senators have open events planned for the Fourth of July recess. Louisiana Senator Bill Cassidy is holding a flood recovery town hall Friday, June 30; Kansas Senator Jerry Moran has scheduled a "listening tour" stop on July 6; Cruz is attending a town hall on veterans' issues hosted by the Koch brothers-backed Concerned Veterans for America on July 5 in Texas; and Lee is hosting two mobile office visits around Utah.
In response to the dearth of public events, liberal activists are just getting more creative. On Wednesday evening, protesters organized by a coalition of the country's largest liberal groups (including Planned Parenthood, MoveOn.org and several national labor unions) formed a human chain around the U.S. Capitol to send a message to Republicans in Congress: Don't gut Obamacare. The progressive group CREDO Action this week released Snapchat geofilters in Alaska, Arizona, Colorado, Indiana, Maine, North Dakota, Ohio and West Virginia calling on senators there to block the Senate health bill. Others, like the Progressive Change Committee and VoteVets.org, are taking a more traditional tack, running radio, television and digital ads targeting wavering senators like Shelley Moore Capito of West Virginia, Dean Heller of Nevada and Jeff Flake of Arizona. Heller and Flake face tough reelection fights in 2018. Other Republicans under intense pressure include moderates Susan Collins of Maine and Lisa Murkowski of Alaska, who both expressed concerns about the original Senate Obamacare proposal and its deep cuts to Medicaid coverage, among other issues.
Indivisible, which has drawn attention for its #Resistance protests at Republican town halls this year, helped its local chapters in Alaska, Maine and Louisiana coordinate sit-ins at their senators' regional offices around the states over the last two weeks. For recess week, the group is focusing its health care advocacy efforts on 10 states with GOP senators who either came out in opposition to the initial Senate bill or are thought to be persuadable: Alaska, Arizona, Arkansas, Colorado, Louisiana, Maine, Nevada, Ohio, Pennsylvania and West Virginia. It's provided activists in those states call scripts with specific details on how the Senate proposal, the Better Care Reconciliation Act, would affect local residents.
A number of other progressive groups have similar plans to flood the phone lines of those senators who remain on the fence on health care. And then there is always the opportunity to ambush undecided lawmakers at the local Fourth of July parades. For Republicans in the Senate, it will not be a restful holiday week.