Republicans Offer 'Impeach This' T-shirt to Supporters in 2020 Election Fundraising Drive
The Republican Party has offered "Impeach This" T-shirts in several states as it seeks to fill coffers ahead of the 2020 presidential election.
State branches of the GOP have been advertising the T-shirt to supporters who make donations through the party's online funding platform WinRed.
The GOP merchandise features a map of America representing 2016 presidential election results by counties. Trump shared a similar image on Tuesday, despite his daughter-in-law Lara being criticized for sharing it days earlier.
Fixed donation amounts range from $35 to $2,800, with supporters also able to enter their own desired donation sum. It is not clear how much a supporter has to donate to receive an "Impeach This" T-shirt.
"Let liberals know exactly what you think about impeachment!" WinRed donation pages advertising the T-shirt say. There are pages for several state GOP branches offering the top—including New Hampshire, Tennessee and Arizona among others.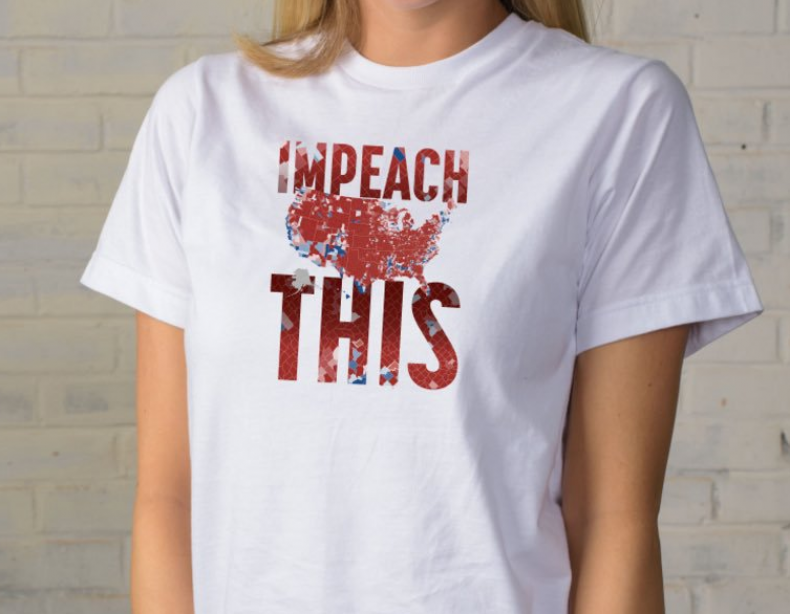 Donations made through most of the pages are automatically split three ways among Donald J. Trump for President Inc., the Republican State party whose WinRed page they clicked on, and the Nevada GOP.
The Nevada GOP donation page offering the "Impeach This" T-shirt only splits donations evenly between itself and Trump's 2020 re-election campaign.
Newsweek has contacted the Trump 2020 campaign team for information on how many "Impeach This" T-shirts and the amount raised through donation pages advertising the merchandise, but had not received a response at the time of publication.
A Nevada Republican Party spokesperson told Newsweek it did not share the exact number of shirts distributed, but said it had sold more than $22,000 worth in shirts across 44 states and territories—adding that 29 other state Republican parties were selling the T-shirt.
In a pinned tweet from September 26 showing off the T-shirt, the Nevada GOP said: "Democrats refuse to accept the 2016 election results and are chasing a hoax in a disgraceful attempt to impeach @realDonaldTrump.
"Grab one of our t-shirts and FIGHT BACK! Contributions are split between the Nevada GOP and @TeamTrump. #MAGA."
MarketWatch first reported on the Nevada GOP advertising "Impeach This" T-shirts to donors, noting that the president's campaign manager, Brad Parscale, claimed the Republican Party raised $5 million within 24 hours of House Speaker Nancy Pelosi announcing Democrats would launch impeachment proceedings against Trump.
The Republican National Committee and President Trump's re-election campaign broke a fundraising record on Tuesday by raising $125 million in the third quarter of 2019, the Associated Press reported.
Democrats have not managed to match the colossal funding of their opponent, with all Democratic 2020 candidates combined raising less than the RNC since the start of this year.
But they have also been trying to capitalize on impeachment, with Democratic Rep. Rashida Tlaib selling "Impeach the MF" T-shirts for $29 a piece.