After a White House statement appeared to walk back President Joe Biden's commitment to help defend Taiwan from a Chinese invasion, several Republicans are calling for a firm commitment to a military response, should one be needed.
During a news conference with Japanese Prime Minister Fumio Kishida on Monday, Biden was asked if he was willing to "get involved militarily" to defend Taiwan, and he responded that he was.
"That's the commitment we made," the president said.
But shortly after Biden made the remark, a White House official released a statement saying: "As the President said, our policy has not changed. He reiterated our One China Policy and our commitment to peace and stability across the Taiwan Strait. He also reiterated our commitment under the Taiwan Relations Act to provide Taiwan with the military means to defend itself."
Taiwan has been a self-governing island since 1949, according to the Council on Foreign Relations, but Chinese officials have continued to assert that it is an "inalienable" part of China. Chinese military drills near Taiwan and Russia's invasion of Ukraine in recent months have spurred fears that China could attempt to reintegrate Taiwan into mainland China.
The White House's apparent walk back on Biden's commitment to defend Taiwan in the event of a Chinese attack drew outcry from several U.S. Republicans on Monday.
"Does anyone at the #WhiteHouse actually respect the words of @POTUS?" Illinois Representative Adam Kinzinger tweeted. "Biden said we would defend #Taiwan, and the staff AGAIN walks back the Presidents own words! He needs to fire everyone who does this."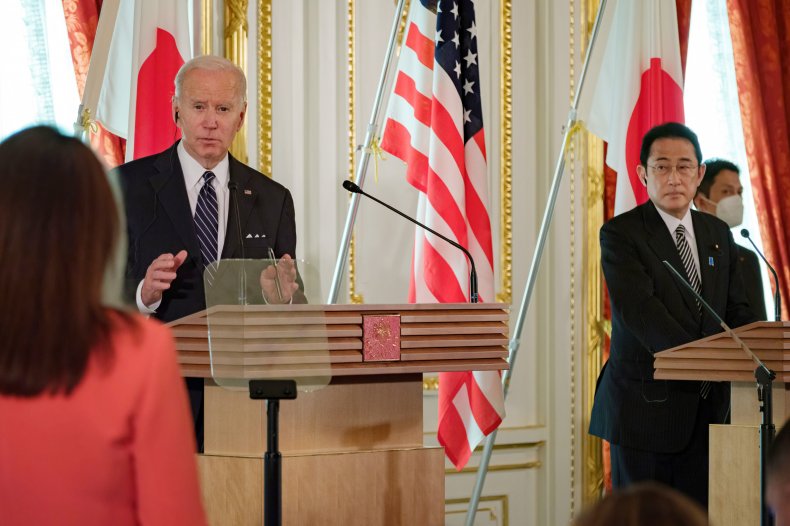 Kinzinger was also referencing similar comments regarding the U.S. coming to Taiwan's defense that Biden made during a CNN town hall last year. At that time, a White House official clarified that Biden was "not announcing any change in our policy and there is no change in our policy" on China and Taiwan.
Under the "One China" policy, the U.S. recognizes the People's Republic of China as China's sole ruler but does not give in to China's demands that it also recognize Chinese sovereignty over Taiwan, according to the Center for Strategic and International Studies.
Arkansas Senator Tom Cotton released a statement Monday calling for the U.S. to pivot its Taiwan policy from "strategic ambiguity" to "strategic clarity."
"As usual, strategic clarity and military strength is the best way to deter China," the statement read. "Given President Biden's apparent policy shift in off-the-cuff remarks at a press conference in Japan, followed by anonymous White House aides trying to 'walk back' his statement, it's now essential that President Biden restate our new policy of strategic clarity in clear, deliberate remarks from a prepared text."
"Otherwise, the continued ambiguity and uncertainty will likely provoke the Chinese communists without deterring them—the worst of both worlds," the statement added.
Florida Senator Rick Scott weighed in as well.
"Twice @POTUS has said America would defend Taiwan if invaded, and twice the White House has walked it back," he tweeted. "The Senate should take Biden at his word, end the confusion and pass my Taiwan Invasion Prevention Act to clearly say that we have Taiwan's back."
According to a February 2021 press release, Scott's Taiwan Invasion Prevention Act would "protect Taiwan from Communist China's growing aggression" through actions like helping Taiwan to counter Chinese military buildup across the Taiwan Strait and demands that China "renounce the use or threat of military force in unifying with Taiwan."
Biden's remarks, meanwhile, drew a sharp warning from China.
"The Taiwan issue is a purely internal affair for China," Foreign Ministry spokesman Wang Wenbin said Monday. "On issues touching on China's core interests of sovereignty and territorial integrity, China has no room for compromise or concession."
"No one should underestimate the firm resolve, staunch will and strong ability of the Chinese people in defending national sovereignty and territorial integrity," he added.
Newsweek reached out to the White House, Kinzinger, Cotton and Scott for comment.