Joe Biden Is Using Putin Sanctions to Prevent War With China
President Joe Biden on Monday said sanctions placed on Russian President Vladimir Putin for his invasion in Ukraine must continue, adding that the sanctions also serve as a warning to China about what would happen should it try to take Taiwan by force.
Biden made the comments during a joint news conference with Japanese Prime Minister Fumio Kishida in Tokyo. When taking a question from a reporter, the president also said the U.S. will continue honoring the One China Policy, which recognizes China's view that Taiwan is part of China, but he stated the U.S. would respond militarily if China attacked the island nation.
Russia experienced slower than expected economic growth in the first quarter of 2022, which experts attributed to the unprecedented sanctions imposed on the country following the start of the Ukraine war in late February. In April, the U.K.'s government predicted Russia would soon be plunged into its deepest recession since the collapse of the Soviet Union.
During Monday's conference, Biden said Putin "must pay a dear price for his barbarism in Ukraine," otherwise China may not perceive the severe consequences it would face if tries to use its military to take Taiwan.
"If, in fact, after all he's [Putin's] done there's a rapprochement between the Ukrainians and Russia, and the sanctions are not continued to be sustained in many ways, then what signal does that send to China about attempting to take Taiwan by force?" Biden said.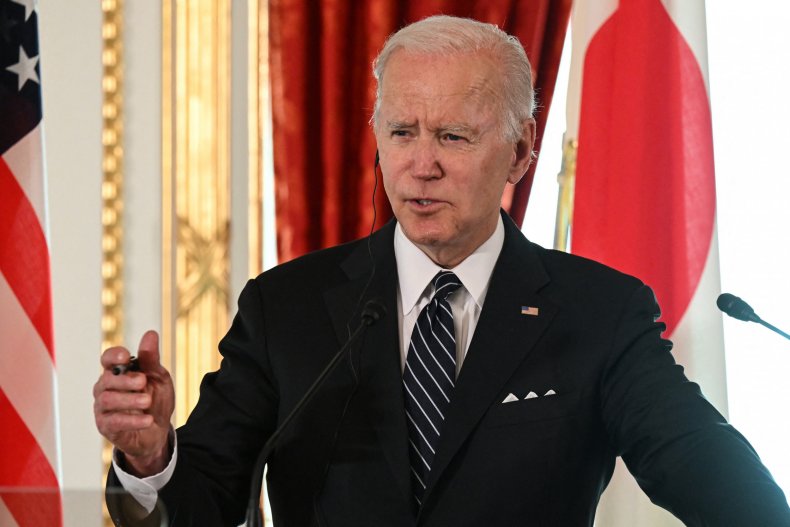 Countries from around the world placed sanctions on Russian entities and individuals following Putin's attack on Ukraine. The sanctions have been placed on Russian media, oligarchs and Kremlin officials, as well as on Putin himself. Various Russian organizations and businesses have also been sanctioned, and the U.S. banned Russian oil imports in March.
Galina Karelova, deputy speaker of the upper chamber of the Russian parliament, said in March that Western sanctions had affected 8.4 million Russian jobs, including over 95,000 people whose job status had changed to "on standby." The majority of jobs affected by the sanctions are those involving Western companies operating within Russia.
Taiwan's Ministry of Foreign Affairs spokesperson Joanne Ou welcomed Biden's comments.
"The challenge posed by China to the security of the Taiwan Strait has drawn great concern in the international community," Ou said, according to the Associated Press.
She added, "Taiwan will continue to improve its self-defense capabilities, and deepen cooperation with the United States and Japan and other like-minded countries to jointly defend the security of the Taiwan Strait and the rules-based international order, while promoting peace, stability and prosperity in the Indo-Pacific region."
China, meanwhile, expressed "strong dissatisfaction and resolute opposition" to Biden's remarks, the Associated Press reported.
"China has no room for compromise or concessions on issues involving China's core interests such as sovereignty and territorial integrity," Wang Wenbin, a spokesman for the Chinese Foreign Ministry, said. "China will take firm action to safeguard its sovereignty and security interests, and we will do what we say."
Newsweek reached out to the White House and the Chinese Foreign Ministry for comment.