Republicans Propose Forcing Schools to Provide Chocolate Milk to Children
A New York Republican representative has introduced a bill that would make it federal law for schools to provide chocolate milk, in a broadside against supposed plans by New York City Mayor Eric Adams to ban it over health concerns.
On February 3, Elise Stefanik, the GOP congresswoman for the empire state's northerly, rural 21st district, introduced the Protecting School Milk Choices Act of 2023, which would force schools that participate in the National School Lunch Program to offer at least one flavored milk option. The amendment to the National School Lunch Act would also provisions for schools to offer lactose-free milk.
The legislation follows a row over the drink in 2022 after Adams said in January that there was a "conversation" about a possible ban. The Democratic mayor has touted his credentials as a vegan in the past and supported his predecessor, Bill de Blasio, in his efforts to ban chocolate milk in 2019 while Brooklyn borough president.
When the rumors first surfaced, Stefanik introduced the bill in the previous legislative session, co-sponsored by three other Republican representatives. With the GOP back in control of the House, the member of the House Committee on Education and the Workforce has now brought it back and already has seven Republican co-sponsors.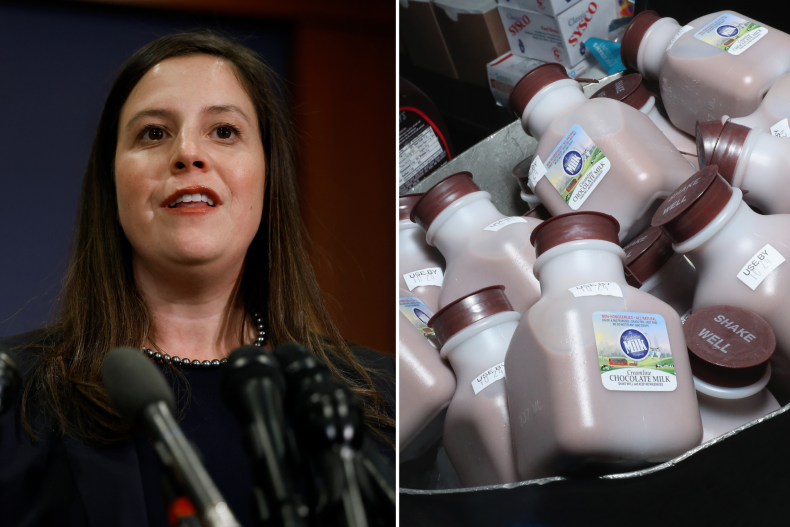 "Any effort of Mayor Adams to ban chocolate milk and replace it with vegan juice is an absolute non-starter and will be opposed by parents, families, kids, and New Yorkers," Stefanik stated on Friday. "Instead of taking away milk choices from students, my bill will give them better access to essential dairy nutrients critical for their development."
On Twitter, the congresswoman on Sunday repeated the phrase "Save Chocolate Milk!" as did the House Judiciary GOP account. Glenn Thompson, the Republican chairman of the House Committee on Agriculture, claimed the federal government had "demonized milk" despite the ban supposedly coming from a city mayor.
The chocolate milk crusade is the latest in a developing narrative of Republicans pushing back against apparent restrictions by Democrat lawmakers and "woke" companies. Republicans claimed Microsoft was trying to "take your Xbox" with settings changes that would make consoles more energy efficient, after fearing Biden administration officials might ban gas stoves.
Washington banned chocolate milk from school cafeterias over a decade ago, as did Los Angeles in 2011, before partially reversing the decision in 2016. San Francisco banned chocolate milk in 2017, as have other school districts around the country.
However, the issue of milk consumption is more acute in New York state, where dairy farming constitutes the state's largest agricultural sector, according to a 2020 report by the state's Department of Agriculture and Markets.
Stefanik cited a 2009 study, funded by the Milk Processor Education Program, which suggested that consumption of milk among elementary school children dropped by 35 percent when flavored milk was removed as an option.
"A wide majority of parents and medical and nutrition professionals know that offering low-fat flavored milk increases school meal participation, reduces food waste, and maintains the high nutritional value of school meals for children and adolescents," Michael Dykes, president and CEO of the International Dairy Foods Association, claimed.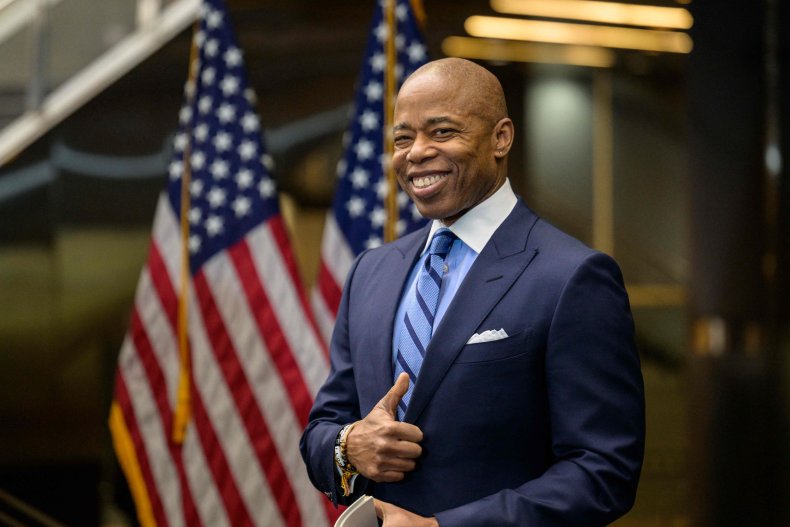 "Our dairy farmers in Upstate New York and the North Country work hard to produce nutritious milk for our communities, and I am proud to lead legislation to ensure a variety of milk choices for our school children," Stefanik said. "Let our New York students drink chocolate milk!"
New York has nearly 3,600 dairy farms, official statistics show, producing 15 billion pounds of milk a year, making it the fourth largest dairy producer in the U.S. Stefanik's legislative push has been supported by the New York Farm Bureau.
In March 2022, when speculation of a ban began to spread, Stefanik along with eight other congressional members from New York—including three Democrat representatives—wrote to Adams expressing their concern.
"As members representing both rural and urban communities, we are committed to supporting the dairy farmers, producers, and agriculture partners across New York, while also ensuring that children in NYC schools have access to critical, life-enhancing nutrients," they said.
In response, Adams wrote on April 14, 2022: "My administration is committed to empowering our students and their parents with the information and resources needed to make healthy choices for themselves and for our city. To that end, we are preparing for stakeholder engagement with our school communities to provide feedback on all aspects of our school food program.
"In the interim, we are not making any determinations about chocolate milk," he added.
When asked to comment, a New York City Hall spokesperson told Newsweek: "We are committed to having healthy options in schools for students and will continue to engage all stakeholders in this conversation."
Newsweek reached out to the U.S. Food and Drug Administration for comment.
Update 02/06/23, 12:35 p.m. ET: This article was updated to include comment from New York City Hall.