Republicans Reelect Chair Ronna McDaniel Despite GOP's Election Losses
Republicans reelected Ronna McDaniel to chair the Republican National Committee (RNC) for a fourth term despite the GOP's underwhelming performance in the past few election cycles.
McDaniel won the seat after receiving 111 votes out of 164 cast in a secret-ballot election, besting a group of challengers that included the California Republican Party's former Vice Chairwoman Harmeet Dhillon, MyPillow CEO Mike Lindell and New York Representative Lee Zeldin. Dhillon received 51 votes while Lindell received four votes and Zeldin got one vote, according to CBS News reporter Musadiq Bidar.
The RNC head is typically elected by committee members of the national party's governing body, and a candidate needs a majority to claim victory.
The chairwoman's victory comes after the GOP lost an opportunity to retake the Senate majority from Democrats in the 2022 midterm elections, but they narrowly won the majority in the House. She also presided over Republicans when they lost the House in 2018 and the Senate and the White House in 2020.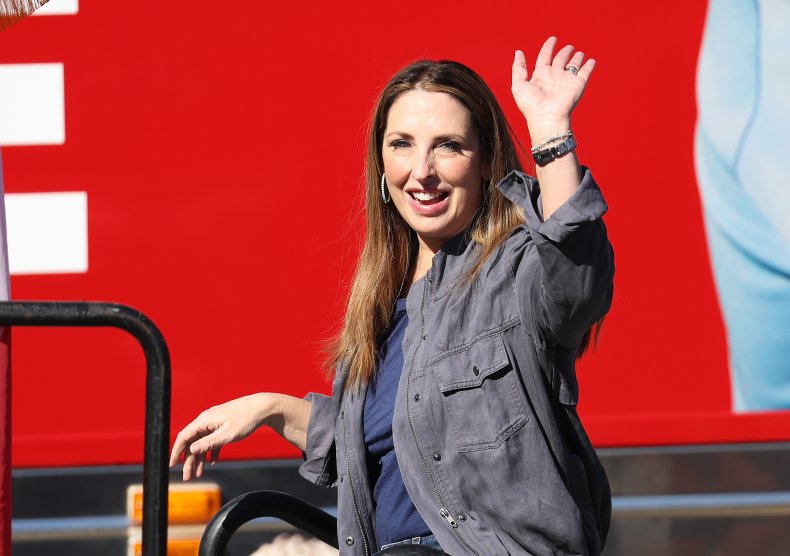 McDaniel refused to blame former President Donald Trump for the 2022 midterm performance when she was asked about the matter by Fox Business host Stuart Varney on Monday.
Still, McDaniel in an earlier speech to RNC delegates vowed to unify the Republican Party and claimed that "Democrats are going to hear us in 2024," USA Today reported.
The chairwoman was first nominated to lead the RNC in late 2016, when Donald Trump was president, and won the election.
Though McDaniel won reelection, some GOP voters wanted Lindell to lead the RNC, according to a poll released Thursday by Rasmussen Reports.
The poll revealed that 30 percent of likely Republican voters wanted Lindell to be the next RNC chair, compared to the 15 percent who supported McDaniel and 20 percent who backed Dhillon. Another 15 percent said they didn't support any of the three nominees, while 21 percent hadn't decided.
Even when McDaniel was endorsed by more than 100 RNC members prior to the election, Dhillon told Politico that she had an "excellent chance" of pulling off an upset. Politico estimated at the time that she could pull around 60 votes from McDaniel.
Some experts pointed out that McDaniel had little influence in her own popularity among party members and that her favorability emerged thanks to Trump's continued influence.
"McDaniel has held the position by the grace of Donald Trump's support," Paul Quirk, a political scientist at the University of British Columbia in Canada, told Newsweek in December.
"She has catered to his preferences on rules for delegate selection, the sharing of campaign funds, and other issues. Until he announced his entry into the 2024 presidential campaign, she even picked up the tab for the attorneys defending him in various investigations and lawsuits," he added.
Newsweek reached out to Nathan Brand, the deputy communications director for the RNC, for comment.