Republicans Saying Trump Likely to Be Reinstated by Year's End Jumps to 28 Percent
A new poll found that more Republicans now think that Donald Trump will likely be reinstated as president before the end of 2021.
The survey by the Economist/YouGov was conducted between November 6 and 9 and surveyed 1,500 Americans. One of the questions that respondents answered was: "How likely or unlikely do you think it is that Donald Trump will be reinstated as President before the end of 2021?"
Thirteen percent of Republicans surveyed in November said that it is "very likely" that the former president would be reinstated, compared to only 11 percent of Republicans who said so in an October poll.
Republicans who said that Trump will "somewhat likely" be reinstated before 2021 ends increased from 11 percent in October to 15 percent in November.
Additionally, the number of Trump voters who said that the former president will "very likely" be back to the White House increased by 1 percent in November compared to last month, according to the YouGov poll.
Meanwhile, the number of Democrats who agreed with that notion decreased from 7 percent to 4 percent in November.
In September, Trump hinted that he could be reinstated as president if it was a possibility due to what he claimed as "tremendous voter fraud."
At a rally in Perry, Georgia, Gina Loudon, a host for the conservative media network Real America's Voice, asked Trump when would America "get President Trump back?"
"Well we're going to see," Trump responded. "There's been tremendous voter fraud. And it's being revealed on a daily basis and we'll see what happens."
Although the November YouGov poll showed that more Republican voters believed more in the former president, it revealed growing disapproval of other GOP members.
The polls showed that the number of Republicans who disapproved of GOP House Minority Leader Kevin McCarthy's job increased by 1 percent from the prior month.
McCarthy has been scrutinized by fellow Republicans for failing to stop the passage of the $1.2 trillion infrastructure bill on November 5. Critics in the GOP questioned McCarthy's ability to lead the party's interests in the future.
On November 6, the National Review wrote that it's "not too soon to be asking whether Representative Kevin McCarthy should be ousted from leadership for his inability to keep his caucus together on such a crucial vote."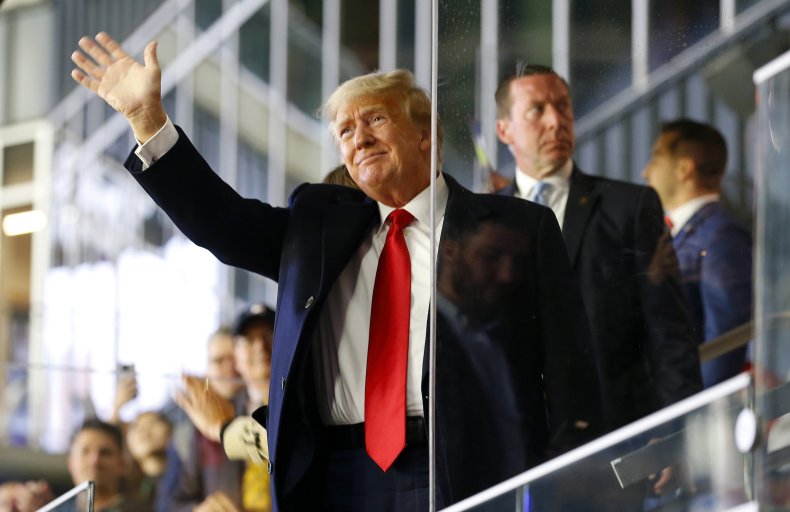 The bipartisan infrastructure bill passed after a final vote of 228-206 with the help of 13 Republicans who voted in favor of it. In August, the bill passed in the Senate with the votes of 19 Republicans.
The legislation aims to improve the country's infrastructure including bridges, rail, and roads over the course of five years.
McCarthy in October said that if the bill came to the floor, he would "expect few, if any, to vote for it." He was also asked in an interview with FOX News whether he thinks the infrastructure bill would pass, to which he responded: "It will fail."
Newsweek contacted Trump's office for comments.