Donald Trump's National Emergency: Here Are the Republicans Who Have Split With the President On Wall Funding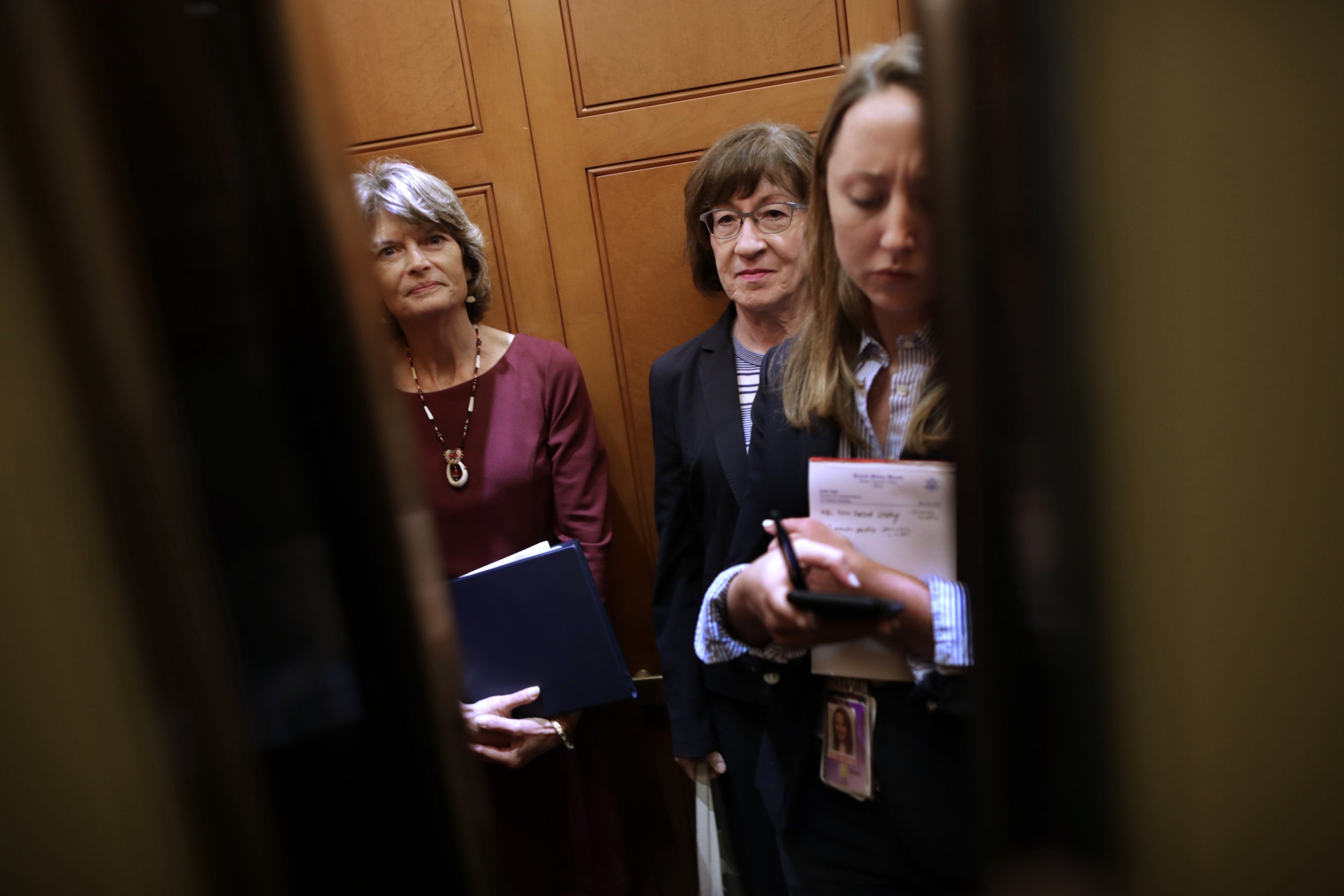 As President Donald Trump weighs whether to declare a national emergency to obtain funding for his border wall, a move that would bring immediate legal challenges and major pushback from Democrats, multiple Republican senators have publicly urged the president not to take such a drastic measure.
As of Friday, at least eight high-profile Republicans, ranging from moderate swing voters to loyal allies, have at least cautioned the president against declaring a national emergency. While varying slightly day-to-day on if and when he will take such drastic action, Trump told reporters Friday afternoon that "Congress should do this. It's too simple. It's too basic."
However, he added, if "they can't do it, I will declare a national emergency." The president has not offered a timetable as to exactly when he would make such a declaration.
This is what some of the most high-profile Republicans said this week when expressing their opposition or caution to Trump declaring an emergency.
Lindsey Graham
A loyal ally to the president, although no stranger to pushing back against Trump when it comes to the murder of Washington Post journalist Jamal Khashoggi and the withdrawal of U.S. troops from Syria, the South Carolina Republican told reporters Tuesday it was "not my preferred route."
"I don't know legally if you can do that. I think that's a fallback position," he said. The best way is for the Congress to come back and do wall plus something else. I'll be watching."
Wednesday, Graham said if it were up "to me, that's the last thing you do, not the first thing."
However, after meeting with Trump Friday, Graham's position took a 180-degree turn.
"[Democrats] hate President Trump more than they want to fix problems–even problems they acknowledge to be real and serious in the past," Graham said in a statement. "Mr. President, declare a national emergency now. Build a wall now."
John Cornyn
Emerging from a Capitol Hill lunch with the president on Wednesday, the Texas senator offered pause on a national emergency.
"My whole view on that is that would complicate things by getting courts involved and might tie things up, so they are not resolved for weeks or months or longer," he said.
Despite this, he said Senate Republicans should remain the course, much like he said Trump urged more moderate members to "hang together," and stay in line.
"Well, there were more words," Cornyn said. "But that was the thrust of it."
John Kennedy
"I'm not recommending he choose that option, but if the president did choose that option, his lawyers would not lose on a failure to stay to claim. I can tell you," Kennedy said after Wednesday's lunch meeting. He said the president and his team were prepared, should he declare such an emergency, to fiercely defend the measure in court.
"I know there are some of my colleagues, and I'm not recommending [an emergency declaration], please don't misunderstand, but some of my colleagues think it would be the end of western civilization if he does," Kennedy said. "I don't. I don't."
Mitt Romney
Coming as no surprise, considering the freshman senator penned a scathing op-ed in The Washington Post before even being sworn into office, Romney told MSNBC Thursday he did not want Trump to issue a national emergency.
"I think that's an action that would be taken in the most extreme circumstances," he said. "And hopefully, we don't reach that."
Thom Tillis
When asked Wednesday about his position, Tillis said he would rather put "pressure on Congress to come up with a long-term solution."
"You can't be in a national emergency forever," the North Carolina senator told The Hill. "For us to totally secure the border, that's a multiyear proposition."
Marco Rubio
Reports from The Washington Post and The Wall Street Journal Friday, which said the White House may redirect billions of dollars from hurricane relief funds for Puerto Rico, Texas and Florida, and use them for the wall, did not sit well with the Miami senator.
"I do not believe the White House will divert money from Florida disaster recovery to fund border security," Rubio tweeted. "But if some reason they try, I will do everything I can to overturn such a decision."
Previously, Rubio said Wednesday "there's some concern… about how [an emergency declaration] could be used by future presidents for other reasons."
Susan Collins
Often considered a GOP swing vote in the Senate, Collins told reporters after Wednesday's meeting it would be "dubious" for Trump to take such action.
"Although the president does have national emergency declaration powers … this would be a dubious constitutional authority and would clearly be challenged in the courts," the Maine senator said. "I think a far better approach is for the president to work with members of Congress to come up with a compromise. I just don't think you can repurpose more than $5 billion from the defense budget for purposes unrelated to what the money was appropriated for."
Lisa Murkowski
Like Collins, Murkowski is no stranger to diverting from her GOP colleagues on high-profile issues. On Thursday, she said she would not support an emergency declaration.
James Inhofe
Although not necessarily his first choice, Inhofe said he would support the measure because it may be the president's only option, adding it could probably be done without using Pentagon funding.
"We need to move it, and if you don't see another path forward and that's the only path, we're going to have to do it," the Oklahoma senator said. "I don't see [another path]. Do you?"