Most Republicans wouldn't support impeaching President Donald Trump, even if special counsel Robert Mueller found that the billionaire worked with Russia to get elected president in 2016, a new poll released this week found.
A survey from YouGov/The Economist asked respondents if they would "support or oppose Congress beginning the impeachment process if Special Counsel Robert Mueller found" a number of different things, among them that "Donald Trump accepted Russian assistance during the 2016 presidential campaign." That would effectively amount to the collusion allegations that Trump has repeatedly swatted away as untrue.
But most Republicans would not want the president to be impeached, even if Trump did accept Russia's help. Sixty-three percent of GOP respondents said they opposed impeachment in that situation, while just 18 percent supported it and 19 percent weren't sure.
And most of the GOP also wouldn't want Trump to be impeached if Mueller found he obstructed justice. Sixty-two percent of Republicans said they opposed impeachment in that case, while 18 percent supported it and 20 percent were not sure.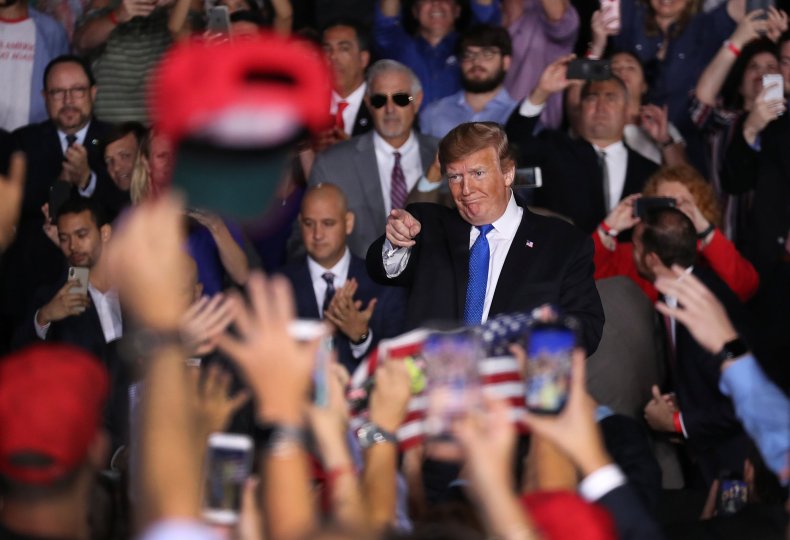 Predictably, there was a divide along party lines when it came to impeaching Trump. Seventy-six percent of Democrats would support impeaching Trump if Mueller found he accepted assistance from Russia, and 80 percent would support impeaching him if the special counsel found he obstructed justice. For Americans overall, those figures were 46 percent supported impeachment of accepting assistance (31 percent opposed), while 47 percent supported impeachment for obstruction (31 percent opposed).
The poll from The Economist/YouGov surveyed 1,500 adults from March 3 through March 5. It had a margin of error of plus or minus 3.2 percentage points.
While many Republicans might not support it, there have been regular talks of impeachment among Democratic lawmakers—even if leadership in the party has often shied away from the idea.
Speaker of the House Nancy Pelosi said in January that much of the decision on impeachment relies on Mueller's report and some level of bipartisan support.
"That would be depending on what comes forth from the special counsel's office," Pelosi said on CBS Sunday Morning. "If and when the time comes for impeachment, it will have to be something that has such a crescendo in a bipartisan way."