Nancy Pelosi Took Donald Trump Impeachment Off the Table as Democrats Won House
As Democrats took control of the House of Representatives on Tuesday's election night, it didn't take long for Democratic Representative Nancy Pelosi of California—the current minority leader many expect to be the next speaker of the house—to shoot down the idea of impeaching President Donald Trump.
In a pair of interviews Tuesday evening, Pelosi suggested impeachment was unlikely and not something Democrats would go out of their way to pursue.
"I don't think there's any impeachment unless it's bipartisan," she told CNBC as results filtered in and the reality of the Democrat-controlled House became clearer. "Our priority is to get results for the American people."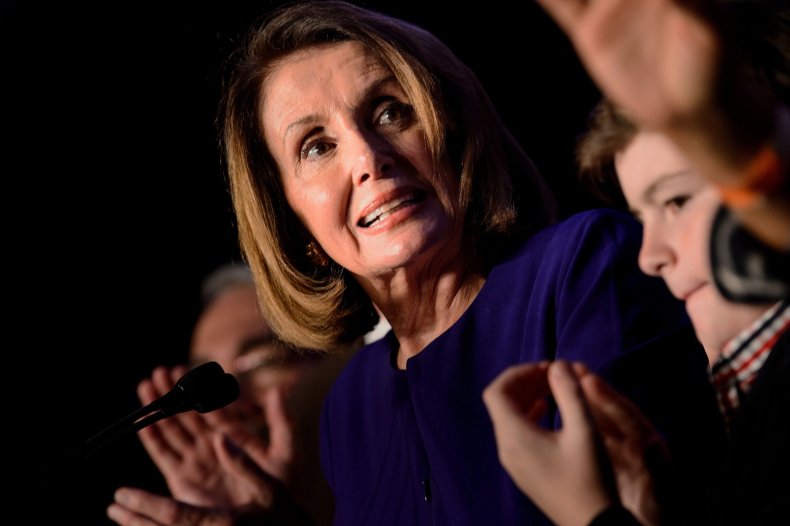 She said much the same in an interview with PBS on Tuesday night, when asked about candidates who want to impeach Trump.
"That serves their purpose, to say that. We certainly will honor our responsibility as oversight of the executive branch," Pelosi said, adding that the investigation from special counsel Robert Mueller would have to turn up conclusive evidence to spark the impeachment process.
"For those who want impeachment, that's not what our caucus is about," Pelosi said.
While some expect Pelosi to be the next speaker, it could prove an uphill battle for her, as many Democrats ahead of the midterms said they would not vote for her to regain the position.
Trump, however, appeared to throw his support behind Pelosi to be the next speaker of the house on Twitter Wednesday morning. "In all fairness, Nancy Pelosi deserves to be chosen Speaker of the House by the Democrats. If they give her a hard time, perhaps we will add some Republican votes. She has earned this great honor!" the president wrote.
Democrats secured control of the House on Tuesday night and were projected to pick up more than 30 seats. Republicans, meanwhile, kept control of the Senate and were expected to pick up three seats when it was all said and done. The White House touted the night as a big victory for Trump, despite the House results.
"Look, I think a huge victory for the president tonight with the announcement of the Senate looking like it's definitely going to stay with Republicans—and pick up a couple of seats," White House Press Secretary Sarah Huckabee Sanders told NBC News. "The president spent the last week campaigning heavily for Senate candidates, and we're seeing the payoff."