Former President Donald Trump's allies and Republicans on Capitol Hill have hit out at the Biden administration after it claimed to have inherited no vaccine plan—a briefing later contradicted by Dr. Anthony Fauci.
GOP lawmakers and ex-Trump advisor said President Joe Biden's team were wrong to say they inherited no COVID vaccine rollout plan, and were simply trying to manage expectations so they could perform a "victory lap" further down the line.
Anonymous sources told CNN that the new administration had to "build everything from scratch" and had "nothing" to rework because the Trump team had not left a vaccine distribution plan behind.
President Biden's Chief of Staff Ron Klain also told NBC News that the Trump administration "did not really" have a plan to distribute the COVID-19 vaccine across the country, and called the former president's rollout "chaotic."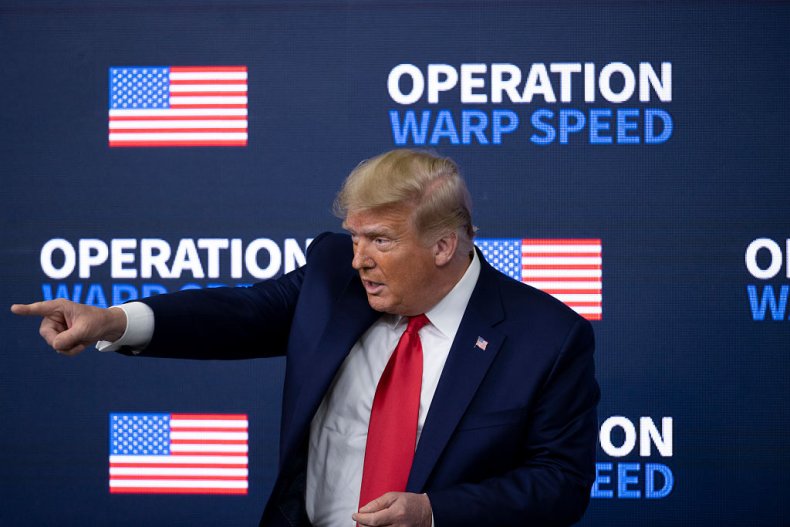 "As every American has seen, the way in which people get vaccines is chaotic, it's very limited. We've seen this factor all over the country where millions of doses have been distributed," he said. "About half of that has been given out. So the process of getting that vaccine into arms, that's the hard process."
He later added that a plan to distribute vaccines outside of care homes and hospitals hardly existed before the Biden team entered the White House. Newsweek has contacted the White House for further comment on the claim.
Reacting to the claims, Republicans said it was an "outright lie" for the Biden team to claim they hadn't inherited a vaccine plan, and accused Democrats and the media of engaging in spin.
Rep. Ronny Jackson (R-TX) told Fox News that the new president was trying to take advantage of a crisis and said it was "ridiculous" for Democrats to claim that the Trump administration had no COVID vaccine rollout plan in place.
"President Trump worked extremely hard to put us in the position we're in right now, which is a great position," he said. "And to say there's no plan in place, no continuity, that's ridiculous. I mean Dr. Fauci is still there, what is he doing?"
The Trump 2020 spokesperson Andrew Clark tweeted: "No one would argue there isn't room to keep building on this progress. Hope Biden does. But Biden folks here are trying to trash the Trump Administration's vaccine rollout so they can do a media victory lap for coming up with a new 'plan.'"
House Republican Whip Steve Scalise said the Biden vaccine plan was not a new plan, but rather vaccine rollout measures the new president had inherited from the Trump administration, despite the claims from the administration.
Responding to the CNN report, former White House press secretary Kayleigh McEnany said: "CNN anonymous sources WRONG again, contradicted by Dr. Fauci... There was ALWAYS a plan. This should be corrected."
Speaking to reporters in the White House press briefing room. Dr. Fauci, the National Institute for Allergy and Infectious Diseases director, said the Biden team was "certainly not starting from scratch," but instead "amplifying" an existing vaccine rollout plan.
"We're coming in with fresh ideas, but also some ideas that were not bad ideas with the previous administration," he later added. "You can't say that it was not usable at all. So we are continuing but you're going to see a real ramping up of it."