Republicans to Trump on Baseless Election Fraud Claims: Show Us the Evidence
As President Donald Trump and his officials working for the White House and his campaign claim—without evidence—there is rampant voter fraud, Democrats are "stealing the election" and that legally-cast ballots should not be counted, Republicans on Capitol Hill have cautiously shied away from that false narrative to craft their own.
Rather, GOP lawmakers are saying the campaign either needs to show evidence of their voter fraud claims in court or accept the results, which appeared on track Friday night to award the presidency to Joe Biden. The race had not yet officially been called.
"The courts are here to apply the laws & resolve disputes," Senate Majority Leader Mitch McConnell (R-Ky.) said in a tweet, along with advocating for all legal votes to be counted. "That's how Americans' votes decide the result."
The No. 4 Senate Republican, Roy Blunt of Missouri, put it bluntly—as he so often does—that it was time for Trump campaign lawyers to take over.
"At some point," Blunt told reporters, "they have to be willing and able to take things to court and say, 'here are the specific reasons that we believe this election has not been legally decided.'"
Even Sen. Lindsey Graham (R-S.C.), one of Trump's closest congressional allies, joined the fray in a call with reporters.
"It is incumbent upon the Trump administration to make specific cases of voter irregularity," Graham said, predicting more information would come to light in the next two days. "He's not undercutting American democracy by suggesting that irregularities occurred. He's got to eventually make the case, specifically, that something bad happened and let the American people determine how credible that is."
There is no wave of Republicans rushing to the president's side to back his baseless claims, much to the displeasure of officials and aides close to Trump. In fact, quite the opposite has occurred, with some Republicans condemning Trump's rhetoric and saying it undermines democracy.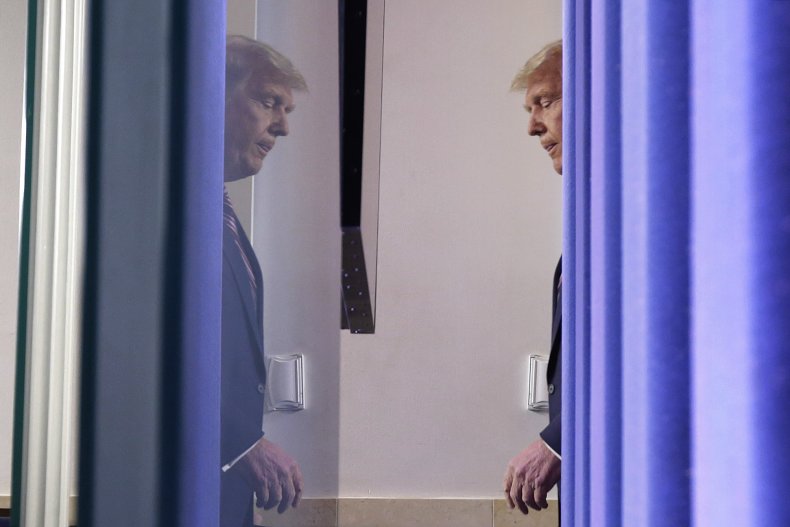 A White House press conference from Trump Thursday night that was riddled with falsehoods, including that he was the true winner of the election, prompted several current and former elected GOP officials to speak out.
Rep. Will Hurd (R-Texas), who did not run for re-election, tweeted that Trump's rhetoric was "not only dangerous & wrong, it undermines the very foundation this nation was built upon."
Rep. Adam Kinzinger (R-Ill.) said that the spreading of "debunked misinformation" from Trump was "getting insane." He advised the president that, if he has "legit concerns about fraud," he should "present EVIDENCE and take it to court."
Rep. Paul Mitchell (R-Mich.) said that "if anyone has proof of wrongdoing, it should be presented and resolved. Anything less harms the integrity of our elections and is dangerous for our democracy."
White House and campaign officials have pushed for elected Republicans to hit the airwaves or speak out publicly to back Trump's assertions about fraud, despite the lack of evidence. But a steady stream of comments from various Republicans on Thursday and Friday have instead advocated for votes to be counted—which in some states, the Trump campaign has sued to prevent—and said any claims of fraud should be taken to the criminal court rather than the court of public opinion.
"Allegations of irregularities can be adjudicated by the courts," newly re-elected Sen. Susan Collins (R-Maine) said. "We must all respect the outcome of elections."
Rep. Chuck Fleischmann said that "all credible allegations of fraud should be investigated and handled by the courts."
Trump, among other wild and baseless claims during his Thursday remarks at the White House, said the election was being stolen from him by Democrats because pivotal battleground states continue to count legal mail-in ballots that were cast properly by American voters.
"If you count the legal votes, I easily win. If you count the illegal votes, they can try to steal the election from us," Trump claimed. "We were winning in all the key locations—by a lot, actually—but then our numbers started miraculously getting whittled away in secret."
Sen. Mitt Romney, who did not vote for Trump's re-election and felt he should have been removed from office amid the impeachment trial, issued a statement on Friday that was far stronger than one he released the previous night in the wake of the president's comments. The Utah Republican and former GOP presidential nominee said that while it is within Trump's rights to "exhaust legal remedies," his rhetoric has been anti-democratic.
"He was wrong to say that the election was rigged, corrupt and stolen," Romney said. "Doing so damages the cause of freedom here and around the world, weakens the institutions that lie at the foundation of the Republic and recklessly inflames destructive and dangerous passions."