'This is Getting Insane': Some Republicans Swift to Condemn Trump for Latest False Election Claims
In an extraordinary press briefing at the White House Thursday evening, President Donald Trump offered a whirlwind of false claims about the election results, including that he'd won states yet to be called, the contest was being "stolen" from him, widespread voter fraud had occurred and legal vote counting should cease because the ballots were cast for his competitor, Joe Biden.
Some Republicans proactively pushed back against the president, even as GOP leaders had yet to rebuke their party leader's flurry of falsehoods that baselessly questioned the integrity of the election. Some of them equated Trump's speech to an attempt to undermine democracy.
"We want every vote counted, yes every legal vote (of course)," Rep. Adam Kinzinger (R-Ill.) tweeted. "But, if you have legit concerns about fraud present EVIDENCE and take it to court. STOP Spreading debunked misinformation... This is getting insane."
Rep. Will Hurd (R-Texas), the only Black House Republican who did not run for re-election, tweeted that Trump's deceptive and false rhetoric is "not only dangerous & wrong, it undermines the very foundation this nation was built upon."
Rep. Paul Mitchell (R-Mich.) said political leaders in America should "accept both wins and losses with grace and maturity."
"If anyone has proof of wrongdoing, it should be presented and resolved," Mitchell wrote on Twitter. "Anything less harms the integrity of our elections and is dangerous for our democracy."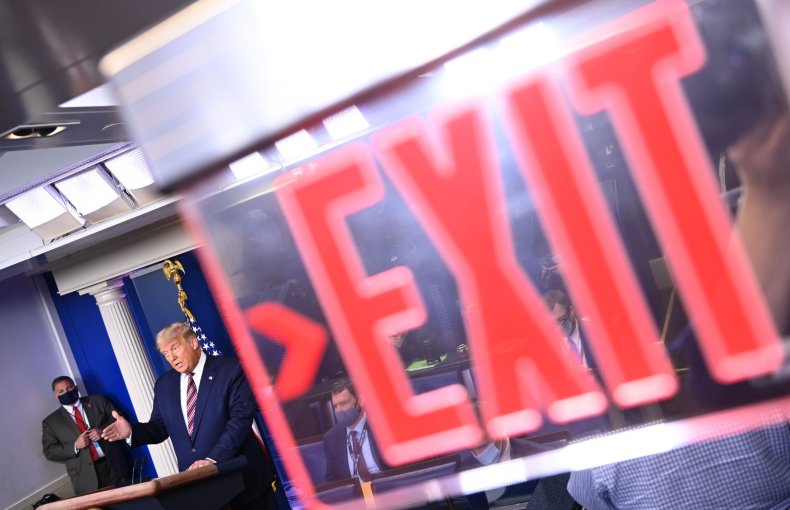 Maryland Gov. Larry Hogan (R), who is no fan of Trump and said that he wrote-in Ronald Reagan's name for president on his 2020 mail-in ballot, tweeted "There is no defense for the President's comments tonight undermining our Democratic process."
While some current and former Republican officials weren't shy about offering publicly criticism of the commander-in-chief, the party's leaders were mum until the following day.
Senate Majority Leader Mitch McConnell(R-Ky.) said Friday morning that "every legal vote should be counted."
"Any illegally-submitted ballots must not. All sides must get to observe the process. And the courts are here to apply the laws & resolve disputes," he wrote on Twitter. "That's how Americans' votes decide the result."
The office of House Minority Leader Kevin McCarthy (R-Calif.) did not respond to Newsweek's request for comment on Wednesday.
During a roughly 15-minute statement to the press in the White House briefing room, Trump lobbed a series of false claims, most notably that Democrats were trying to "steal the election" from him because legally-cast votes—such as absentee and mail-in ballots—were still being tabulated. As outstanding votes have been counted, several battleground states have swung toward Biden and diminished Trump's early election night lead.
"If you count the legal votes, I easily win. If you count the illegal votes, they can try to steal the election from us," Trump claimed. "We were winning in all the key locations—by a lot, actually—but then our numbers started miraculously getting whittled away in secret."
He specifically cited his early leads in the crucial states of Pennsylvania, Michigan, North Carolina and Georgia, falsely claiming that he won them "by a lot" but that his votes later "whittled" away. Elections experts for months warned of a potential "red mirage," where Trump has a large vote lead that later dissipates as record numbers of mail-in ballots are counted.
The president further falsely claimed that Democrats were trying to "manufacture results" with mail-in voting, which does not have a history of widespread fraud, despite assertions by Trump and Republicans.
"They're trying to steal an election. They're trying to rig an election, and we can't let that happen," Trump said. "Democrat officials never believed they could win this election honestly. That's why they did the mail-in ballots, where there's tremendous corruption and fraud going on."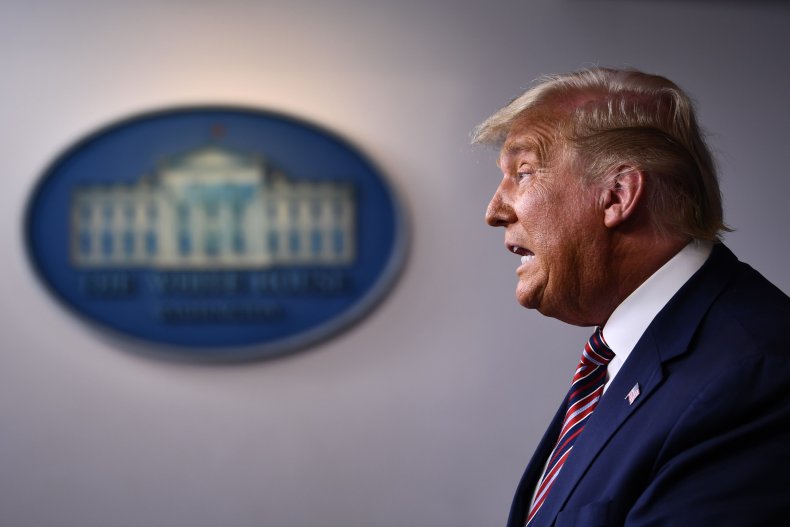 Several other current and former Republican lawmakers and staffers censured the president's untruthful assertions.
Sen. Mitt Romney (R-Utah), the lone Republican to vote for Trump to be removed from office and who did not vote for him this election, urged patience on Twitter and said "counting every vote is at the heart of democracy."
"For the president to go out and claim [fraud], without any evidence of that, is dangerous," former Sen. Rick Santorum (R-Va.) said on CNN. "I hope that Republicans will stand up at this moment and say to Trump what needs to be said."
Brendan Buck, a former staffer for House Speakers Paul Ryan (R-Wis.) and John Boehner (R-Ohio), questioned how many of Trump's falsehoods were the result of those around him not leveling about the likely scenario that he loses the election.
"So this is all obviously BS," Buck tweeted, "but I can't help but wonder what degree of it is because people around him won't tell him the truth and are feeding him nonsense."
A state lawmaker in South Carolina, who is a Republican, even weighed in.
"As a Republican who just won in a Blue district," tweeted state Rep. William Cogswell, "I am embarrassed and ashamed by what I just heard from POTUS."
A bipartisan group of former elected officials, cabinet officials, retired military officials and civic leaders, known as the National Council on Election Integrity, also derided Trump's calls to stop legal vote-counting. The campaign filed lawsuits to cease vote tallies in Michigan and Pennsylvania, but the suit in Michigan was tossed by a judge.
The group includes the likes of former Director of National Intelligence Dan Coats (Trump), former Homeland Security Secretaries Michael Chertoff (Bush) and Tom Ridge (Bush), former Defense Secretaries Leon Panetta (Obama) and Chuck Hagel (Obama), and former Secretary of State Madeleine Albright (Clinton).
"The president spent 15 minutes using the podium of the White House to make false claims that undermine the integrity of our elections and do a disservice to the hard-working election officials around the nation who have performed their duties admirably," they said in a joint statement. "There is absolutely no basis for these irresponsible claims."
This story was updated to include a statement from McConnell.