Republicans Want to Let Children Clean Meatpacking Plants
Hazardous chemicals. Late night shifts. Incidents of children cleaning dangerous meat processing equipment capable of splitting a steer's head in half.
Those were just the start of a list of violations unveiled Friday by the U.S. Department of Labor in a sweeping probe of child labor in one of the nation's largest food safety sanitation service providers, finding the company—Packers Sanitation Services Inc.—employed at least 102 children between the ages of 13 and 17 years of age in hazardous occupations at more than a dozen meat processing plants across the country.
"These children should never have been employed in meat packing plants and this can only happen when employers do not take responsibility to prevent child labor violations from occurring in the first place," Principal Deputy Administrator of the Wage and Hour Division at the DOL Jessica Looman said in a statement announcing the findings.
The same practices the federal government considers a crime, however, could soon be legal in several Republican-controlled states.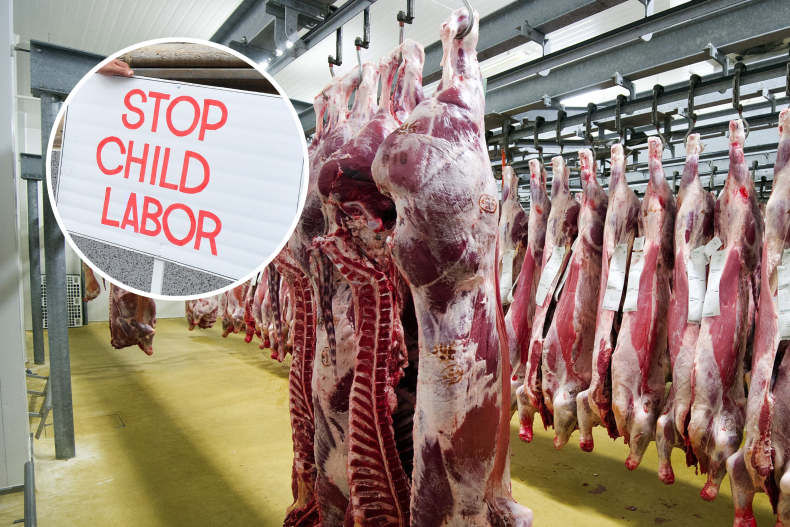 In states like Iowa and Minnesota, lawmakers have introduced legislation proposing exceptions to child labor regulations in an effort to address persistent labor shortages in industries like construction and meatpacking.
In Wisconsin, Governor Tony Evers recently vetoed legislation passed by the state's Republican-controlled legislature to expand legal working hours for 14- and 15-year-olds after a decade-long string of legislation loosening the state's child labor laws, while nearby Ohio introduced similar legislation earlier this month allowing children to work later hours with a parent's permission.
And those efforts are getting more brazen: in addition to opening the door to child employment in hazardous jobs like mining, logging, and animal slaughtering under a so-called "work study" provision, the Iowa legislation—backed by business interests—would also protect those same companies from liability in cases of injury or death at the workplace.
Near-Tripling of Children Unlawfully Employed
All as the United States has experienced a near-tripling of children unlawfully employed since 2015, according to DOL statistics.
"It's a very, very cynical piece of legislation, and it's probably the worst piece of legislation that we've seen come out of states in my 15 years here," Reid Maki, Child Labor Advocacy Director at the National Consumers League and coordinator of the Child Labor Coalition, told Newsweek in an interview.
While there are federal protections limiting child labor under the Fair Labor Standards Act passed during Franklin Roosevelt's administration, the law is rife with loopholes, while efforts to reform it have faced stiff opposition from Republican members of Congress.
Legislation sponsored by former California Democratic Congresswoman Lucille Roybal-Allard to put limits on child labor in agriculture known as the CARE Act stalled for several Congresses in a row due largely to what Maki described as "unfounded" concerns by the agricultural industry such legislation would kill family farms.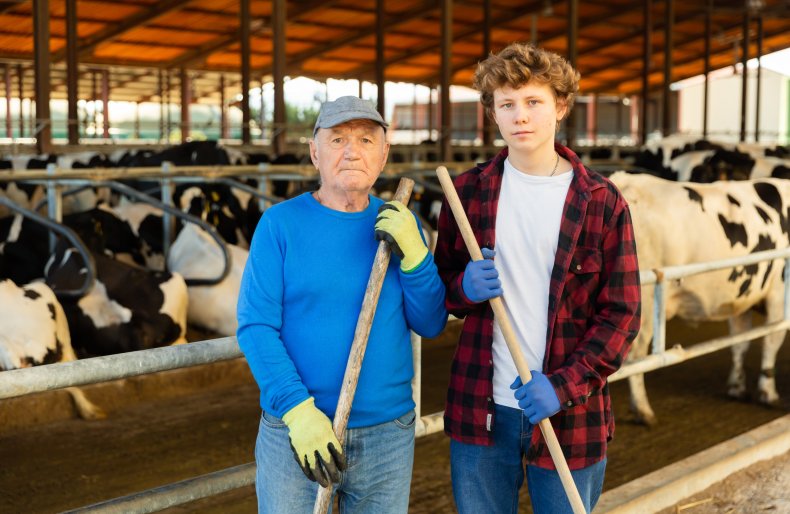 Those advocating for loosening child labor laws on the state level, meanwhile, have argued the changes are a win for young people as well as the economy, providing practical work experience while filling jobs they've, so far, been unable to fill with adults.
"Eliminating work opportunities for youth just because of their age will make it even harder for businesses to find reliable employees," Minnesota State Senator Rich Draheim told Insider in an interview about their bill earlier this week. "Businesses teach these youth workers skills that will prepare them for their future, and maybe even attract them to their industry for life."
However, others have argued the implications of doing nothing far exceed the cost of the status quo.
Skills earned in menial jobs like janitorial work or manufacturing are rarely transferrable. Meanwhile, a study by UW researcher Kathryn Monahan has shown working long hours while attending high school can have negative academic and behavioral impacts on teenagers, while social critics have decried the shift in policy as a sign of the fragility of the nation's economic system as more U.S. adults are unwilling to accept low-paying, high-stress employment in manufacturing and food processing amid labor disputes in states like South Dakota.
"Those notions that children were untouchable and any changes in the future would have to maintain the dignity of a childhood unspoiled are make-believe," author Jared Yates Sexton wrote in a Wednesday column criticizing the trend. "Children are abused, exploited, and forgotten constantly in this country, and continuing to peddle these stories that they aren't or couldn't be is just far too dangerous."
And at this point, it is a strictly partisan narrative.
Earlier this month, Michigan Congressman Dan Kildee led 32 members of Congress in a letter urging the Department of Labor to expand its investigation into violations of child labor law by U.S. automotive parts suppliers, following revelations at least four automotive parts suppliers for Hyundai Motor Group were found to have used child labor.
Some employees were as young as 12 years old, Kildee claimed, and were recruited from Central America, "working under fake names in dangerous conditions in manufacturing plants, some driving forklifts and operating welding equipment, and receiving serious workplace injuries."
"It is abhorrent this activity continues even after a DOL investigation," the letter read. "We urge DOL to take immediate action to rid Hyundai's supply chain of child labor and hold those responsible to the fullest extent of the law."
Notably, not one Republican signed on.
"There's some recognition in Congress that child labor is a problem," said Maki. "But as bad it is, it's not a bipartisan issue in any way, which is really unfortunate. The CARE Act always gets Democrats and has had as many as 107 back in 2010. But it never, never gets Republicans. And you know, the sign on letters I've been involved in you know, probably 10 Child Labor sign on letters in the last 10 or 12 years. And it's, you know, it's it's pretty much always Democrats. I can't think of any that have Republicans on them.