Hearts Melt Over Labrador's Response to First Bath After Being Rescued
An uplifting video of a chocolate Labrador enjoying his first warm bath after being rescued has made a lot of TikTok users very happy.
In the video, posted by Daliana Deleon (@_thatdoggirl_), from Fort Lauderdale, Florida, Charlie the chocolate Labrador can be seen having warm water poured over him, with a look of contentment on his face.
The video has had over 2.3 million views and the caption reads, "He was literally in paradise."
Stray Dogs in Florida
Florida has seen an increase in stray and former pet dogs in recent years. According to the University of Florida Shelter Medicine Program, in 2021, 152,346 dogs were taken in to shelters across the state.
Towards the end of 2022, Florida was hit by Hurricane Ian and many people found themselves no longer in a position to care for their animals, having lost their homes or livelihood.
Hurricane Ian, which hit Florida at the end of September 2022, was classed as a Category 4 storm with wind speeds of up to 155 miles per hour. More than 1.75 million Florida residents were given mandatory evacuation orders, with a further 2.5 million advised to abandon their homes.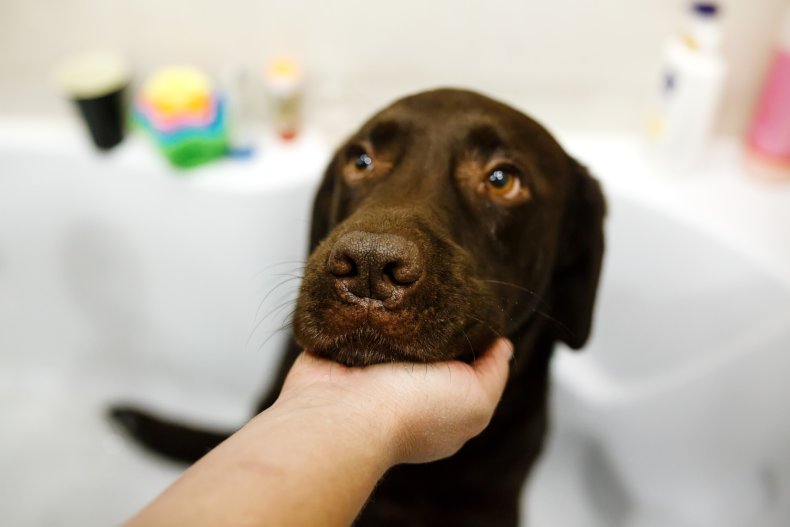 The hurricane caused 148 deaths in the state, per NBC, with 119 of those reported to have been caused by flooding, winds and other dangerous conditions during the storm.
The amount of cats and dogs in need of rescue after Hurricane Ian was at such a boiling point that an operation was set up to airlift homeless cats and dogs out of the state to free up space in local shelter, organized by the Humane Society Naples. The society planned on flying out approximately 450 animals in total.
Why Rescue a Dog?
If you're thinking of getting a dog, there can't be a more rewarding way of finding the perfect pooch than adoption. The American Society for the Prevention of Cruelty to Animals (ASPCA) has a whole list of reasons why you should adopt not shop.
You're Saving More Than One Life
Rescuing a dog could potentially be saving it from euthanasia. But as the ASPCA states, "By adopting, you're helping make space for another animal in need and helping to give them the opportunity to become beloved pets."
You're Fighting Back Against Cruel Breeding
"Puppies purchased at pet stores almost always come from cruel breeding facilities where dogs are confined to small, filthy spaces and receive little to no veterinary care," say the ASPCA. By adopting you're not only getting a dog guilt free, but you're also taking money and demand away from irresponsible and illegal breeders.
You're Giving a Second Chance to a Deserving Animal
All dogs deserve to be treated with love and respect, but all too often they end up in horrible situations. By rescuing a deserving animal let down by humans, "you truly give them the keys to start anew in a life where second chances can often be hard to come by," assert the ASPCA.
TikTok Users Loved The Video
User Empath17 said, "Charlie baby you are safe," to which Deleon replied, "For life."
User Courtney commented, "We don't deserve these beautiful animals...," while Jennifer agreed, "That poor sweet baby probably hasn't been that relaxed ever. do glad he feels safe with you."
Newsweek has reached out to @_thatdoggirl_ for comment.
Do you have funny and adorable videos or pictures of your pet you want to share? We want to see the best ones! Send them in to life@newsweek.com and they could appear on our site.