Rescue Dog in Pink Raincoat Urging Owner to 'Hurry Up' Delights Viewers
A viral TikTok video of a rescue dog in a bright pink raincoat has tugged at heartstrings across the internet.
In the popular social media clip, which has been watched over 1.3 million times, Indy the Belgian Malinois can be seen trudging along a hallway and demanding that her owner 'hurries up.'
The rescue pup has a unique way to signal her owner to pick up her pace. Clearly impatient to get started on her walk, the dog stands still and turns around to check whether her owner is following her or not.
"Indy is a rescue Malinois from the Los Angeles city shelter," Indy's owner Andrea told Newsweek.
"She was abused for breeding and from this developed hip dysplasia from some weight gain, all before being abandoned. Those snaps [the movements seen in the video] are very common in her breed," she added.
The pup had a rough start to life, having also been physically abused and mistreated, which prompted her to become fearful of any sign of aggression. After four months in a shelter, Indy was adopted by her current owners and has acclimated well to her new home.
Andrea said that Indy has learned to associate wearing her raincoat with going outside, and that she's unlikely to be up for a 'walkies' without it because she's, according to her paw-rent, "not a very energetic Malinois."
Since being shared to the social media platform, the TikTok video which can be seen here, has been liked over 316,000 times and commented on by over 2,200 users. The video had been uploaded to the account, @GoIndianaBones, which has over 64,000 followers and looks to be dedicated to documenting Indy's growth and funny antics.
What Do the Comments Say?
The TikTok video appears to have delighted thousands of users.
"Someone has been watching Top Gun," one user jokingly commented under the post.
Another user added: "Ma'am, why do you have a snapping turtle in a pink raincoat wandering your hallway?"
"She clicker trained you," a different user wrote, referring to the way Indy signals her owner to keep up.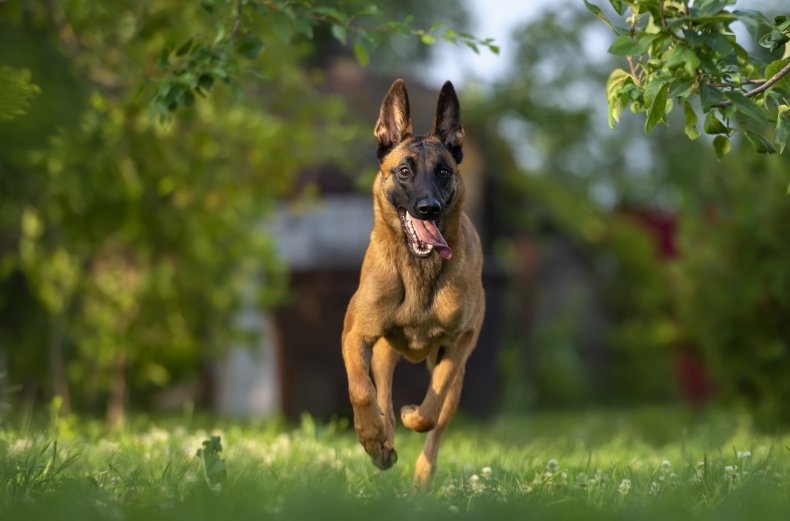 Why Should You Adopt a Belgian Malinois?
Although they're quite a rare breed in the U.S. and are often sought out as police or military sniffer dogs, there are plenty of reasons why a Belgian Malinois would be a great addition to a family.
According to the American Kennel Club (AKC), the breed tends to be hard-working, strong and intelligent. Malinois also carry a confident nature, which can sum up why Indy in the TikTok video was keen to order her owner around!
Much like how Indy was impatient to get started on her walk, the pet registry explains that Belgian Malinois pups are eager and smart to work and excel at obedience routines.
"Problems set in, though, when this people-oriented dog is underemployed and neglected. Exercise, and plenty of it, preferably side by side with their adored owner, is key to Malinois happiness," the AKC says.
Updated on 03/23/23 with comment from @GoIndianaBones.
Do you have funny and adorable videos or pictures of your pet you want to share? Send them to life@newsweek.com with some details about your best friend and they could appear in our Pet of the Week lineup.