Rescue efforts are ongoing after Russian nighttime missile strikes killed at least 19 people and injured another 38 on the outskirts of Odesa.
Footage from the scene shows severely damaged residential buildings as rescue workers sift through the rubble. Entire apartments appear devastated, with pet cats also apparently killed in the attack.
Rescuers can be seen looking for survivors in the ruined buildings. The streets in front of them appear to be covered in debris, with vehicles damaged, too.
As the footage ends, rescuers can be seen carrying a bodybag from one of the buildings.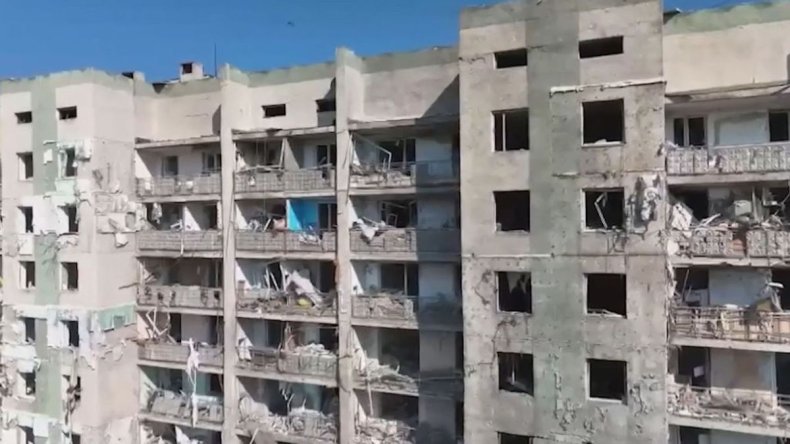 The State Emergency Service (SES) of Ukraine said at around 5 a.m. Friday that "at around 1 a.m. in the Belgorod-Dnistrovsky district, a missile strike caused the partial destruction of a three-story and four-story recreational buildings, killing three people, including a child, and injuring one person. [Our] work [is] in progress."
The SES issued a further statement shortly before 11 a.m., saying that "as a result of a missile attack in Serhiivka village of the Bilhorod-Dnistrovsky district, 19 people died."
Serhiivka is a settlement in the Bilhorod-Dnistrovskyi Raion, which is located in the Odesa Oblast region, on the outskirts of the port city of Odesa.
They said that this included 16 people who died when a residential building was hit and three people who died when a recreation center was hit, and that 38 people were injured and hospitalized, adding that "eight people were saved, including three children."
The SES also said that: "A total of 75 people and 19 units are involved in rescue operations, including 67 people and 11 units from the State Emergency Service. Rescue efforts are ongoing."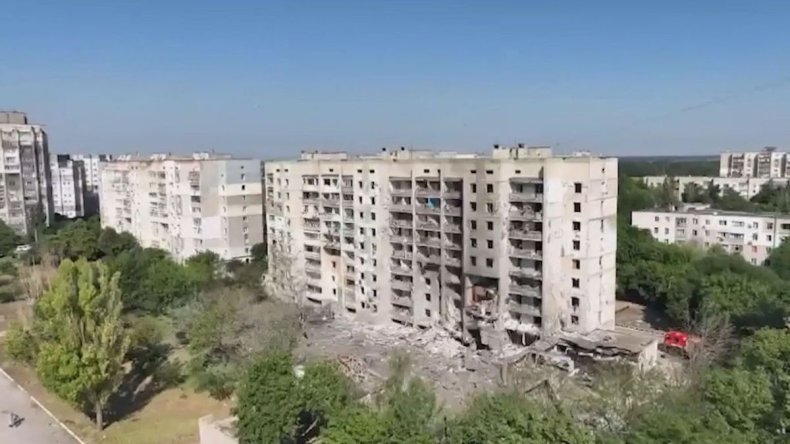 Zenger News contacted the State Emergency Service of Ukraine for further comment, as well as the Russian Defense Ministry, but had not received a reply at the time of writing.
Russia invaded Ukraine on February 24 in what the Kremlin is calling a "special military operation." Friday marks the 128th day of the invasion.
The General Staff of the Armed Forces of Ukraine reported that between February 24 and July 1, Russia had lost about 35,750 personnel, 1,577 tanks, 3,736 armored combat vehicles, 796 artillery units, 246 multiple launch rocket systems, 105 air defense systems, 217 warplanes, 186 helicopters, 645 drones, 143 cruise missiles, 15 warships, 2,610 motor vehicles and fuel tankers, and 61 units of special equipment.
Ukraine's top brass has said that they have forced the Russians to abandon Snake Island and have derided Kremlin officials for claiming that they left as a "gesture of goodwill." Ukraine's military added that the Russians had fled the island in speedboats after being hit by a barrage of missile strikes and artillery.
The situation in the eastern Ukrainian city of Lysychansk has been described as "extremely difficult," with Russian shelling making it impossible for civilians to evacuate.
U.K. Foreign Secretary Liz Truss said that pushing Russian forces out of Ukraine completely was a "realistic" ambition and justification for providing additional weapons.
Russian Foreign Minister Sergei Lavrov said that a new "iron curtain" is appearing between Russia and the West.
Russia accused Norway of disrupting critical supplies from being delivered to Svalbard on Wednesday, threatening to retaliate. But Norway said that it was not blocking access to the archipelago in the Arctic, stating that it was only applying international sanctions and that the Russians had other ways of getting there.
This story was provided to Newsweek by Zenger News.