Rescuers Search for Missing Pets of Surfside Condo Collapse as Owners Grapple With Guilt
Search and rescue teams are on the lookout for missing pets following the deadly collapse of a condominium building in Surfside, Florida, last week, as surviving owners grapple with the guilt and fear of losing their furry friends.
Miami-Dade Mayor Daniella Levine Cava said Saturday that first responders are making additional efforts to find lost pets amid the piles of debris and rubble. So far, at least three sweeps have been conducted at a portion of the condo complex that remains standing, but no animals have been found.
"I very much understand that pets are part of people's families," the mayor said during a press briefing on Saturday. "My heart goes out to those who fear for their animals, and I just want you to know that additional efforts have been made and are being made."
Cava added that contractors have been told where animals might be found among the remaining portions of the building, but a door-to-door search of the area cannot be done due to safety reasons.
For more than a week, some 350 first responders have been tirelessly searching for human survivors after Champlain Towers South, a 12-story oceanfront condo, partially collapsed on June 24. As of Saturday, two dozen people have been confirmed dead from the incident while more than 120 remain unaccounted for.
Those who escaped the building know they will likely not be able to return to retrieve their belongings from the remaining part of the building. Officials on Saturday said the remaining structure would be demolished as soon as July 4, as fear mount that an incoming tropical storm could cause the rest of the building to collapse on its own.
For some surviving residents, that means grappling with the idea that they may never see their lost pets again. While some survivors managed to flee the building with their pets in hand, others were forced to run for cover and leave their animals behind.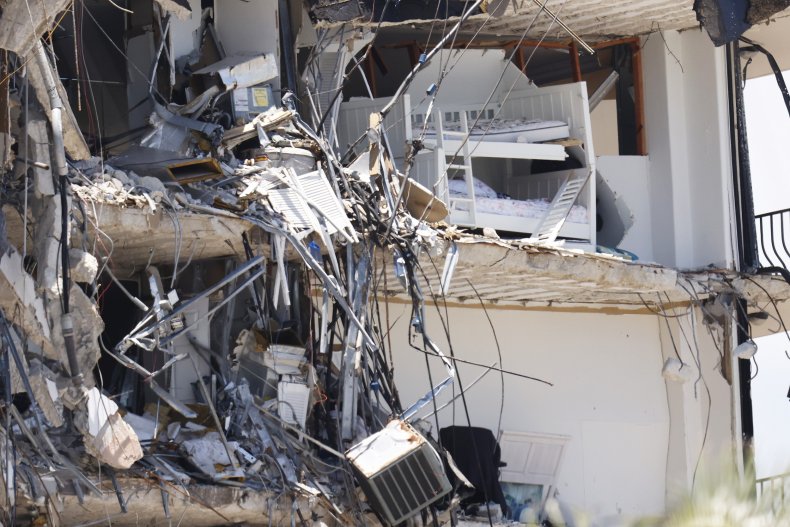 According to the Friends of Miami Animals Foundation, several parakeets, at least three cats, a guinea pig, and a dog have been reported missing since the collapse, the Palm Beach Post reported. The foundation said there have been over 100 calls from people concerned about their missing pets or seeking medical assistance and boarding for their animals in the aftermath of the disaster.
Susana Alvarez, a resident of the 10th floor of Champlain Tower South, said that her cat Mia hid for safety as the building began to collapse, leaving her without enough time to rescue her.
"She hid under the bed all the time and that's where she is now," Alvarez said, according to ABC 7. "During the first tremor, that's what she did, she went straight under the bed."
"The guilt I feel is horrible, for leaving her there. I see her little face, I feel like I'm the devil to her. I feel like I took her to that building and there she is trapped," Alvarez added.
Ken Russell, a commissioner for the city of Miami, said earlier this week firefighters unsuccessfully attempted to rescue the missing cat of an elderly woman and her daughter who lived on the fourth floor of the still-standing wing of the building.
"Once I realized a cat was still in jeopardy, I called the fire chief," Russel said, while noting that pets are an important part of people's lives, according to the Associated Press.
"People rely on them for their mental stability and their comfort," he added. "To know that they left their animal behind is a tremendous sense of guilt."