Researcher Defends Findings That Sturgis Motorcycle Rally Was a COVID Superspreader Event Linked to Over 260k Cases
Andrew Friedson, who co-authored a recent report linking this year's Sturgis Motorcycle Rally to more than 260,000 new COVID-19 cases, defended the study's findings amid pushback from South Dakota's health and government officials.
"This is all based on actual data and actual numbers," said Friedson, an assistant economics professor at University of Colorado Denver, during an interview with MSNBC's Chris Hayes on Tuesday. Friedson contributed to the report alongside other economists from San Diego State University's Center for Health Economics and Policy Studies. The group used anonymized cellphone data, figures released by the Centers for Disease Control and Prevention, and local health reports to analyze the Sturgis Rally's impact across the United States.
The rally, held annually in Sturgis, South Dakota, took place between August 7 and August 16. Its high attendance—estimates suggest more than 450,000 people traveled to Sturgis from other parts of the country—and lack of observable mitigation protocols raised concerns about transmission of the coronavirus. In the new report, authors dubbed the rally a "superspreader event" and proposed it was the origin site for 20 percent of the nation's COVID-19 cases diagnosed throughout August.
Friedson discussed the study's methodology during Tuesday's interview.
"What we're doing here is, we're taking locations that are heavily exposed to the Sturgis Rally...and then we're comparing those locations to similar locations," he explained, noting that "similar" locations meant those where outbreak statistics and trends were comparable prior to the motorcycle event. The report then compared initial data to COVID-19 trends seen in areas with high exposure to the rally's attendees after it took place.
"Post-Sturgis Rally, the places that had high exposure to Sturgis diverge [from locations deemed initially similar, with low exposure to the rally's attendees], and they start seeing an uptick in cases relative to places that have the same levels and the same trends," Friedson continued. "The only modeling assumption going on here is that you've got places that look identical, that some places were exposed to Sturgis and some places weren't. And if you buy that, then you buy the analysis."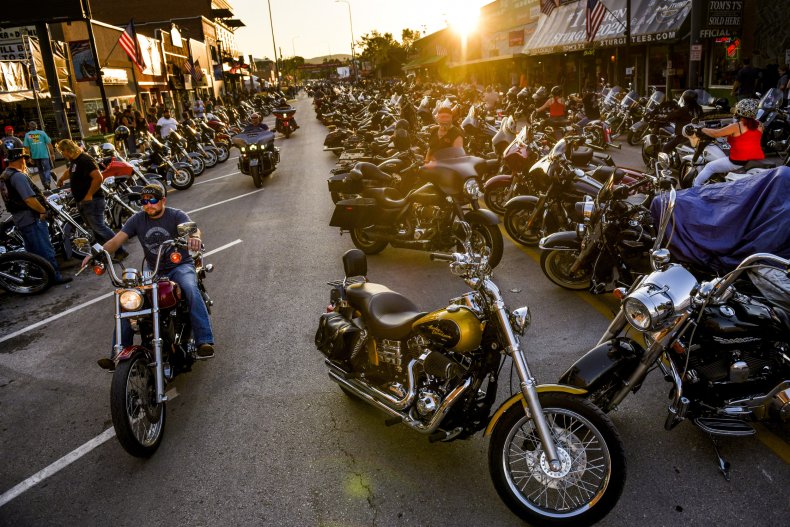 South Dakota Governor Kristi Noem disputed the report's findings, as did authorities from the state's health department.
"This report isn't science; it's fiction. Under the guise of academic research, this report is nothing short of an attack on those who exercised their personal freedom to attend Sturgis," said Noem in a statement issued Tuesday. "Predictably, some in the media breathlessly report on this non-peer reviewed model, built on incredibly faulty assumptions that do not reflect the actual facts and data."
Addressing the report at a news briefing, also held Tuesday, South Dakota health officials similarly countered the comparisons drawn by Friedson's cohort. The health department said findings reflected in the report "do not align" with subsequent COVID-19 trends seen in South Dakota.
Newsweek reached out to Noem's office and the Center for Health Economics and Policy Studies for additional comments but did not receive replies in time for publication.