Researchers Estimate 1/3 of Wisconsin's Wolf Population Wiped Out in Last Year
Perhaps one of the nation's most politicized species, gray wolves, are widely detested by ranchers, farmers, and other people who rely on stock such as cattle and sheep for financial stability, despite the fact that their presence promotes ecological health.
In some cases, the canids' extreme unpopularity can result in their decimation, as a new study shows.
In an analysis published in the journal PeerJ on July 5, researchers at the University of Wisconsin-Madison (UWM) estimate that Wisconsin's wolf population was reduced by about one-third between April 2020 and April 2021. Specifically, the researchers estimate that 313 to 323 (27 to 33 percent) of the state's 1,034 wolves were killed by hunters or poachers in that period of time.
Their deaths will likely have negative repercussions for society, ecology, and agriculture, corresponding author Adrian Treves, a professor of environmental science, told Newsweek.
"[P]reliminary findings suggest that we might expect...an increased risk of livestock loss, deer-vehicle collisions, damage to understory plants due to over-browsing by deer who feel less fear of wolves, a spike in poaching wolves and perhaps other wildlife, more human political conflict, and a resurgence of mesopredators such as coyotes," Treves said.
Treves and co-authors Francisco Santiago-Ávila and​ Karann Putrevucredit a recent state-sponsored hunt with the majority of the decline. In the wake of the Trump administration's decision to rescind federal protections for wolves under the Endangered Species Act in October 2021, the Wisconsin Department of Natural Resources (DNR) organized a hunt that had to be put to an end a mere three days after it began because participants of non-Indigenous descent had already exceeded their official quota by a significant amount. In total, they killed 218 wolves, 99 more than they had been allotted.
Treves, Santiago-Ávila and​ Putrevu attribute the other 95 to 105 deaths to cryptic poaching, a practice that involves covering up the illegal slaughter of a wolf or wolves by disposing of physical evidence. They base their theory on the fact that a number of radio-collared wolves mysteriously disappeared from tracking systems well before the batteries in their collars were due to expire.
"Those wolves disappear and you never find them again," Santiago-Ávila told UWM News.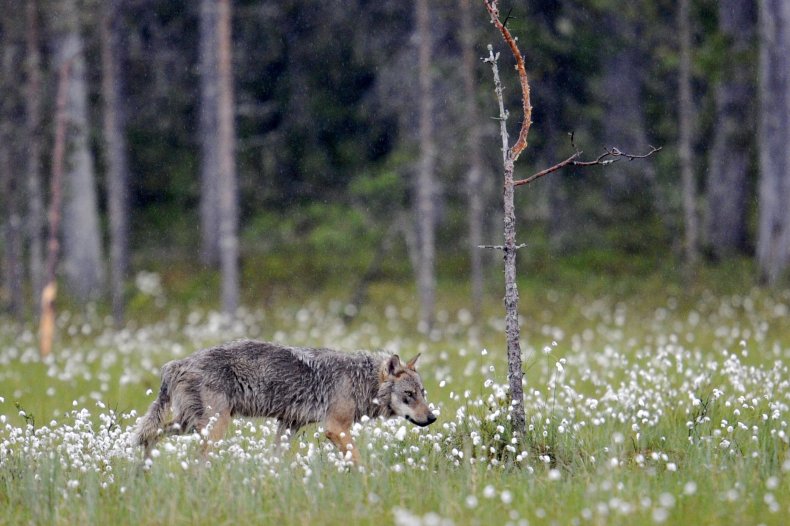 Several of Wisconsin's neighbors, including Idaho, Montana and South Dakota, recently relaxed existing restrictions on wolf hunting.
In January of 2021, South Dakota made it legal to shoot wolves all year, according to IFL Science.
Less than four months later, Montana Governor Greg Gianforte approved legislation that proposed reducing the wolf population from an estimated 800 to 1,200 individuals to a minimum of 15 breeding pairs, IFL Science reported.
Roughly one week later, Idaho Governor Brad Little signed into law a bill that would permit the culling of up to 90 percent of the state's 1,500 wolves.
"In the national and global extinction crisis we are all facing, efforts to suppress and eradicate populations of large carnivores deserve our censure...[W]e question the degree to which the best available science played a role, if any, in the approved bills and acts of those states; as far as we can tell from the scientific literature, the massive reductions being sanctioned in Idaho [up to 90 percent] and Montana [down to 15 breeding pairs] will certainly imperil the wolf populations in those states when added to poaching [which may be incentivized further]," Santiago-Ávila told Newsweek.
If a second state-sponsored wolf hunt is canceled, Treves, Santiago-Ávila and​ Putrevu believe Wisconsin's wolf population will be able to recover within one to two years. Currently, however, the DNR has plans to move forward with the event. It is scheduled for November.
Newsweek reached out to the DNR for comment on Friday morning but had not heard back as of Monday afternoon.
Updated 07/12/2021, 2 p.m. ET: This story has been updated to include comments from the researchers.