Writing an episode for Season 2 of Reservation Dogs was a "really special" experience for Devery Jacobs, the actor told Newsweek.
Jacobs portrays Elora Danan Postoak in the FX comedy show, and she wrote the show's fourth episode "Mabel" alongside co-creator Sterlin Harjo under her full name, Kawennáhere Devery Jacobs.
The episode features an emotional tale of the importance of community, with everyone coming together for Jacobs' Elora when her grandmother Mabel (Geraldine Keams) is dying.
Friends, family and locals from all over the Oklahoma reservation come to be there for Elora, who returned home after starting her journey to California at the end of Season 1, one that hasn't gone well for the teen and her companion Jackie (Elva Guerra) since it started.
'Reservation Dogs' Star Devery Jacobs on Writing 'Special' Episode 'Mabel'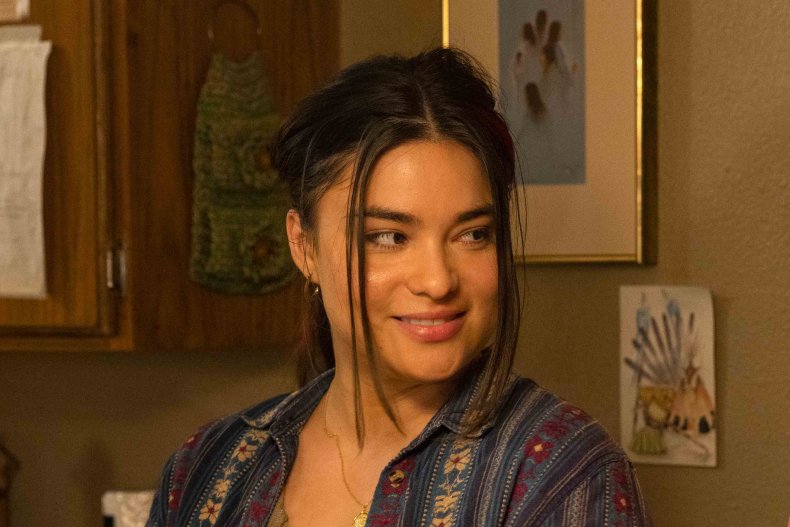 Jacobs always knew that she wanted to write for Reservation Dogs, particularly because she has been writing and directing her own short films as well as other projects since 2016.
The actor explained that Harjo knew of her work when she joined the show, and she made it clear that she intended to join the writers room for Season 2.
"Going through the first season, I knew that I wanted to be a writer on the second season and so I was bracing myself to defend that, to plead my case to be let into the writers room," Jacobs told Newsweek. "But, then, Sterlin actually just let me in, he invited me being like, 'Hey, do you want to be a part of this?'
"I was originally supposed to be in the writers room only for a couple of weeks, but then they extended it to a couple more, and then it was extended [...] and then Sterlin invited me to co-write 'Mabel' with him.
"It was unexpected, I went into the writers room not necessarily with an agenda to write for Elora, it was more [that] I wanted to have my voice and to bring ideas for everyone and in shaping the whole season and I was able to do that as a staff writer."
Jacobs explained that writers were given specific episodes if Harjo felt "someone had a certain connection" to the story. She said: "I wasn't expecting to be given this episode, but I think I was just really passionate about making sure Elora had justice done to her and, specifically, I wanted to share what death looks like in our community.
"As in, how it's actually a really warm and hands-on experience, and what I've witnessed in the few Western funerals that I've been to, like in Western culture, that it can be a bit more hands off and isolating and it's very taboo.
"That just struck me as very strange because in my culture when somebody passes away their family members dress them [...] and it's very much a hands-on, communal experience.
"They're also some of the funniest parties I've been to, where you're with everybody at four in the morning talking about all of the stupid things this person did when they were young and drunk and, I don't know, causing all kinds of trouble on the Rez [reservation], and so, for me, I was really excited to share that and to tell that story."
On Working on 'Mabel' with Sterlin Harjo and Director Danis Goulet
"Mabel" is inspired mostly by Harjo's personal experience with loss.
"Sterlin brought a lot of his familial elements into the episode with the passing of his own grandmother, drawing a lot from from that," said Jacobs. "I think that there was a lot of heart and we also balanced each other out with the drama and struggling coming in with the jokes. And I was proud of myself, I got some jokes in there too. But it was really, really special."
The episode was directed by Danis Goulet, whom Jacobs said she felt "so grateful" to because she knew she could trust the filmmaker with the story she'd written.
"We had many conversations leading up to it, and we've known each other previously. We worked together on a short film she had directed but we hadn't worked together on anything that was a little bit of a longer format," Jacobs said of Goulet.
"Both of us had like such profound respect for each other's work, and I told her 'I have contributed what I can to this story and now I'm going to hand it off to you, and I'm just going to trust you because I am so excited to see what you do with this. And now I'm changing over from writer to actor, and I'm just going to focus on this and come at this from Elora's perspective now.'
"Getting to see the episode completed and to see how much care she took in honoring the words that we had written was just so beautiful, and I was so moved, and getting to work with Danis was such a pleasure."
On Elora's Season 2 Journey
In Season 1, Elora and her friends Bear (D'Pharaoh Woon-A-Tai), Willie Jack (Paulina Alexis) and Cheese (Lane Factor) were committing petty crimes to raise money to go to California, a dream their late friend Daniel had before his death.
But the season ended with Elora heading off with Jackie instead, leaving Bear waiting for her outside his house.
In the episodes prior to "Mabel," Elora and Jackie's journey became incredibly dangerous: their car broke down, they attacked a man who picked them up as hitchhikers, and they had to run for their lives when farmers chased them and threatened to shoot them for trying to steal a car.
That was not all for Elora because she was also wrestling with her guilt over leaving Bear behind and was still grieving Daniel's death. But in "Mabel" she was able to start to heal from the experiences.
Jacobs shared: "I think that through Season 1, there was this fracture in this friend group, and everybody was dealing with the loss of Daniel and the shockwaves that were sent through them.
"Whereas for Season 2, it very much feels like everyone is beginning to heal through it and to be able to let go of some of that pain, and that definitely was something that we had tried to do in the 'Mabel' episode.
"Where not only does Elora see her friends showing up for her despite having betrayed them but she is also processing and navigating her grief for her mom, her Cookie, navigating the grief for Daniel and then getting to experience and witness death for the first time in a way that's actually positive [...].
"Because death isn't a negative thing. It's just a part of life. And so I think that was a way that Elora was really able to begin to heal through all of the grief that she's experienced."
Reservation Dogs airs Thursdays on Hulu.