Reserve Thanksgiving Weekend for 'Gilmore Girls: A Year in the Life'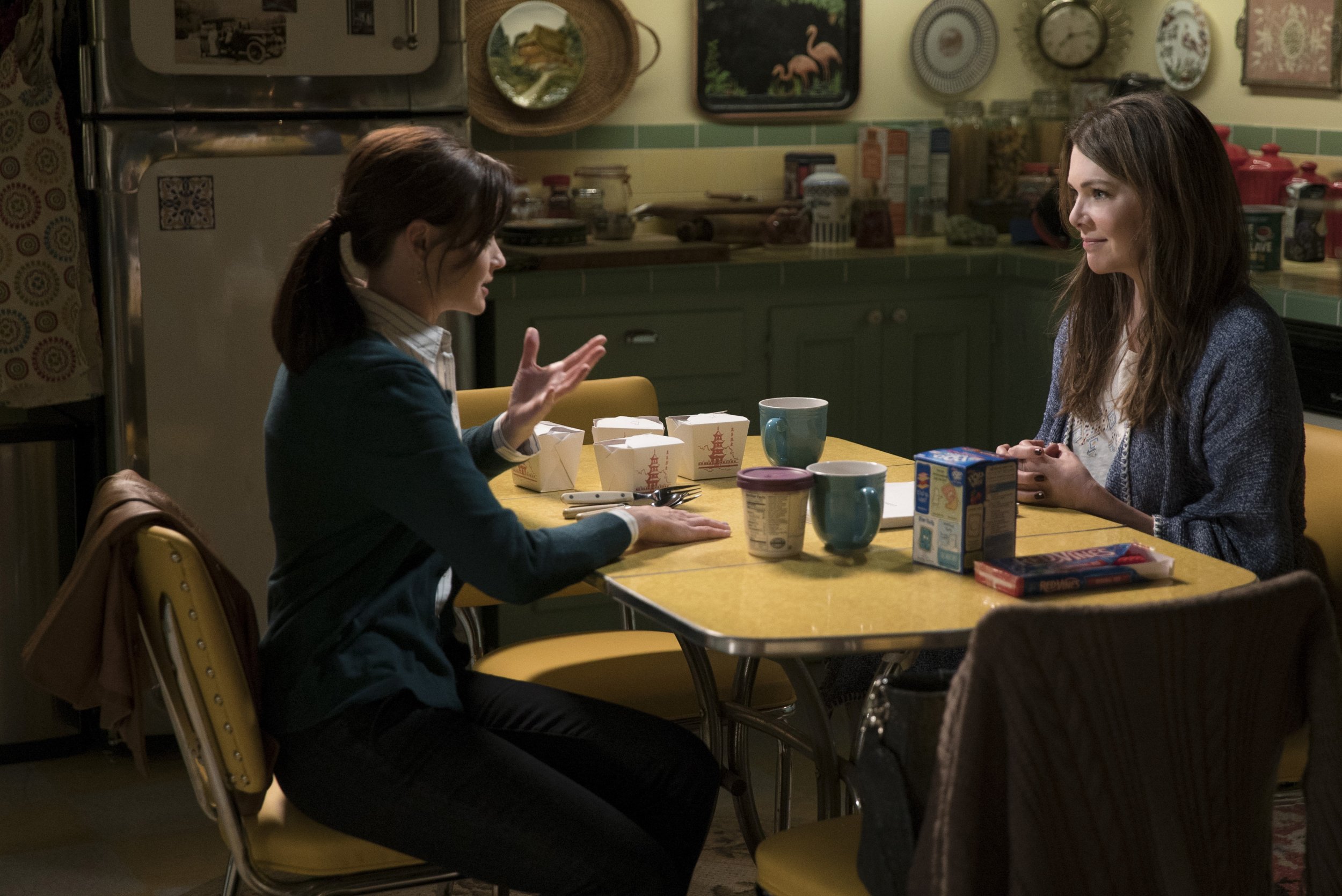 It's been nearly a decade since fans have heard new Lorelai and Rory dialogue. The Gilmore Girls protagonists became known for their unrivaled capacity for fast-paced and wandering chats throughout seven seasons. The only thing that could stem the constant tide of words was the CW and Warner Bros. Television deciding to cancel the show in 2007.
Until now. Netflix announced Thursday that Lorelai and Rory will be back in Gilmore Girls: A Year in the Life on November 25, just in time for Thanksgiving weekend binge watching. And the video posted in conjunction with the date announcement hints that the beloved mother-daughter duo has still got it, though now Lorelai and Rory are offhandedly pondering topics appropriately updated for 2016. Namely, whether Amy Schumer would like Lorelai (no, Rory says, because water sports) and if John Oliver would find Lorelai hot. Amy Schumer has already weighed in via Twitter (which was in its infancy when the original Gilmore Girls wrapped) to say that she "would love her." As of this writing, Oliver has yet to comment.
"Seasons may change, but some things never will," the teaser soothes as familiar music plays to a montage of iconic spots in the fictional town of Stars Hollow, Connecticut. The nostalgia factor is strong as the camera lingers on Luke's Diner, the Dragonfly Inn, Doose's Market and the gazebo in the center of town before cutting to Lorelai and Rory.
Though Rory picks up an iPhone (the first version of which was released a month and a half after the series finale), some things really haven't changed. The two women still have an ease with each other and a penchant for quirky conversation, and they're still sipping from mugs that must be full of coffee, which fueled them through more than 150 episodes in the original series.
Their reunion comes in the form of four 90-minute chapters—Winter, Spring, Summer and Fall—that together cover a year in the present day. Netflix officially announced in January that Gilmore Girls was coming to the platform, and since then fans have been left to speculate about where the upcoming episodes will find the title characters in their careers, their friendships and their romantic relationships.
A Year in the Life will feature a slew of returning cast members, including Lauren Graham as Lorelai and Alexis Bledel as Rory, as well as Scott Patterson as Luke, Kelly Bishop as Emily, Sean Gunn as Kirk, Keiko Agena as Lane, Milo Ventimiglia as Jess, Matt Czuchry as Logan, Liza Weil as Paris, Yanic Truesdale as Michel and Melissa McCarthy as Sookie.
In addition to the Gilmore Girls news, Netflix announced Wednesday that its original shows Chelsea, Lady Dynamite and Real Rob have been renewed for second seasons in 2017. Also coming in 2017 is the new original drama Ozark, starring Jason Bateman and Laura Linney. In the meantime, the docket is full of new and returning original series, films and documentaries for the rest of the year.
Here are eight other premiere dates Netflix revealed Wednesday that fall between September 2016 and January 2017:
Chef's Table: France, the third Chef's Table installment (September 2)
Easy (September 22)
The Ranch, Part 2 of Season 3 (October 7)
Black Mirror, Season 3 (October 21)
Lovesick, Season 2 (November 17)
Beat Bugs, Season 2 (November 18)
Captive (December 9)
One Day at a Time (January 6)