'Resident Evil 2' Midnight Release Locations: How to Get The Remake Before The Release Date
Capcom's awesome remake of Resident Evil 2 comes out Friday, January 25. (Assuming you are reading these words at the exact moment they ooze out of my fingertips) That's tomorrow! But there's always a way to get something early. Just join me over here in this dark hallway. Yes, I know that window is busted and the baying of hounds can be heard, only just, over the sound of the rain pouring in and warping this nice hardwood floor here in… RACCOON CITY. But ignore all that and I'll whisper it in your ear—not just midnight release locations, but pre-midnight release locations that have flaunted the very concept of release dates, no, chronology itself.
And i f you don't go to "stores" in "physical locations," then check out our release time guide for downloading Resident Evil 2 to your Xbox, PS4 or Steam account.
Resident Evil 2 Remake Midnight Release Locations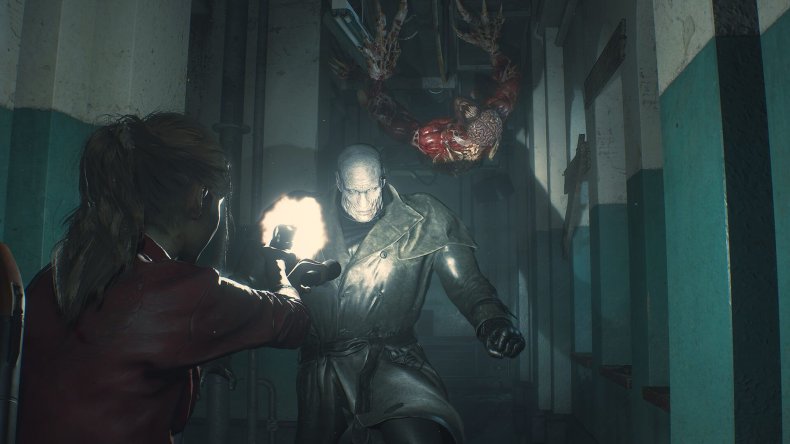 There's likely a place to buy the Resident Evil 2 remake at midnight near you, but there can be surprising variability among nationwide chain locations, so it's critical that you call your local Gamestop, Best Buy or Target before packing that thermos of coffee and blowing mango juul all the way down Morse road to the Easton Town Center, only to find that Best Buy is closed and the Gamestop is too, because it's not like they're going to keep the mall open just for Gamestop. See, that could be you: thwarted. Call ahead. But here's what we've found out.
Resident Evil 2 Midnight Release: Gamestop
Many Gamestop locations will start selling Resident Evil 2 at 9 p.m. Thursday, a full three hours before the official January 25 release date. If you happen to be in New York, the Gamestop on 86th street will be slinging hot zombie at 9 p.m.
So will the Gamestop in Robinson Township in Pittsburgh, a much better city. These are just the places we called, but it's a trend worth investigating yourself.
Resident Evil 2 Midnight Release: Best Buy
I saw that forum post, Best Buy: weak. Responding to queries in the Best Buy support forum, a blueshirt shared some disappointing news: "Midnight releases are always fun events to take part in..." *I'm making that yapping motion with my non-typing hand* "It doesn't look like we've scheduled any early release events for this title … the earliest you could pick up your copy of Resident Evil 2 is on the scheduled release date of January 25, 2019." Some Best Buy stores are open 24 hours, others open at 10 a.m.
Resident Evil 2 Midnight Release: Target
This one's a bit of a mystery, so you're definitely going to want to call your local Target location specifically. Target is no longer doing in-store pickup for online preorders, so it's possible those already on the preorder list already have a pickup time. Target also doesn't have any midnight events planned for the Resident Evil 2 release. Finally, Target hasn't responded to questions about Thursday, pre-midnight releases, so the preponderance of evidence suggests you're best off waiting until the store opens on Friday morning, if, for some reason, you absolutely must patronize your local Target. Maybe you made a promise to a Target employee very dear to you that you would buy Resident Evil 2 there, I don't know your life.
Also, my editor tried to call one and the line just kept ringing, so who knows what's going on over there.
Resident Evil 2 Midnight Release: Why Not Buy It Anywhere Else?
Maybe you have a local games store you're fond of (what up Capital Games!). Buy it there. Call them, be nice, and then go there. That'd work just fine!