'Resident Evil' Fans Divided Over New 'Welcome to Raccoon City' Casting
New images of Resident Evil: Welcome to Raccoon City have been released online and reactions from gamers are mixed to say the least - especially when it comes to the characters of Leon and Claire.
Welcome to Raccoon City marks a fresh start for the Resident Evil cinematic franchise, with no connection whatsoever to the Milla Jovovich films.
Instead, the new movie draws inspiration directly from the original video game series, which started all the way back in 1996. Specifically, it will be consolidating the events of the first two Resident Evil titles into one overarching narrative, featuring many of the classic characters, locations and monster designs.
On that note, director Johannes Roberts (who previously helmed 47 Meters Down and The Strangers: Prey at Night) has promised that the new movie will be a more faithful adaptation of the games, returning to the series' horror roots. In particular, Roberts has claimed that the terrifying remake of Resident Evil 2 has appreciably influenced the look and feel of the project.
Courtesy of IGN, fans have now been treated to their first proper look at the movie, with a trio of images that showcase the new cast, a faithful recreation of the Spencer Mansion and an infamous monster.
The first of these stills depicts Albert Wesker (played by The Umbrella Academy's Tom Hopper), Richard Aiken (Chad Rook), Chris Redfield (Robbie Amell) and Jill Valentine (Ant-Man and the Wasp's Hannah John-Kamen), all in their iconic S.T.A.R.S uniforms.
In terms of costume and general casting, many of these actors are dead ringers for their video game counterparts, and the mansion setting that can be glimpsed in the background is equally authentic.
Meanwhile, there is also an image of Leon S. Kennedy (Avan Jogia) and Claire Redfield (Kaya Scodelario) preparing for an undead encounter in a tight corridor. This particular image has been a point of contention among fans, as we will discuss later.
Finally, we also got a haunting glimpse at Lisa Trevor. In case you are not familiar with this chilling villain, she first appeared in the Nintendo GameCube remake of Resident Evil, where she would stalk players around certain environments, much like Lady Dimitrescu in the recent Village.
Based on the new image - which shows the undead Lisa wearing somebody else's face as a mask - it would appear that Roberts is delivering on his promise of making Resident Evil scary. Welcome to Raccoon City is definitely shaping up to be much more of a horror experience than any of the previous movies (which were more like post-Matrix action blockbusters).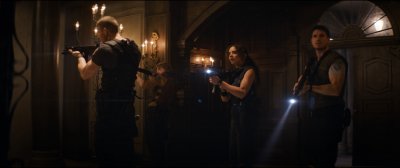 Fans React to 'Resident Evil: Welcome to Raccoon City' Images
While the images have generally gone quite down well, particularly the Lisa Trevor one, not everybody has been won over by Welcome to Raccoon City.
Criticisms are mainly focused on the depictions of Leon, Jill and Claire, as well as a few small details related to their costumes.
For instance, @TheSphereHunter takes umbrage with Jill's lack of shoulder pads and the absence of Claire's ponytail.
User @MilesOJones1 is likewise critical of the Leon and Claire depictions, but does admit to being impressed by the Lisa Trevor look.
Meanwhile, @benoski73 confesses that they are not a fan of Hannah John-Kamen's casting as Jill Valentine.
@EvilCSLD remarks that the latest photos make the cast look like Comic-Con Cosplayers, which is a point that has been made by a few others as well.
On a similar note, @EgirlJust argues that the images resemble stills from a fan film that you would normally find on YouTube and not a major Hollywood production.
@_G_ZUS_ suggests that the movie's version of Leon Kennedy looks more like Carlos Olivera (from Resident Evil 3).
@David_Soeiro goes so far as to claim that the casting has outright "killed the movie" for them.
On the other hand, users like @supermangeek101 are hopeful that Welcome to Raccoon City will be a vast improvement over the earlier films, especially in terms of authenticity.
Similarly, @BAM_boozler88 points out that these interpretations of the characters might not be identical to their video game counterparts, but they will hopefully be better portrayed better than those in the Paul W.S. Anderson movies.
Finally, unlike a lot of the internet, @JusticeKazzy_seems rather happy with the casting of Leon.
'Resident Evil: Welcome to Raccoon City' Release Date
Resident Evil: Welcome to Raccoon City will be released on November 24.
In the meantime, fans can get their Resident Evil fix by watching the recent anime spin-off, Infinite Darkness.