Resort Owners Renovate Space to Host 100 Ukrainian Refugees
The new owners of a ramshackle resort on Vancouver Island are repurposing the space into a temporary home that will hold up to 100 Ukrainian refugees.
Brian and Sharon Holowaychuk, who bought the Grouse Nest property in Canada last June, had planned to restore the resort to a swanky event space, but Russia's invasion into Ukraine on February 24 compelled the couple to turn the 33 hectares into a home for those fleeing from war.
The United Nations estimates that nearly 3.3 million people—including 1.5 million children—have fled Ukraine since the war began. Although the majority of refugees have traveled across the border into Poland, the government of Canada is also planning to accept refugees.
Last week, Canadian Prime Minister Trudeau made it easier for Ukrainian refugees to enter the country by eliminating many of the normal visa requirements.
Now the Holowaychuks are planning on doing what they can to provide accommodations for the refugees who will make the trip across the Atlantic—the same voyage Brian's grandparents took decades go.
"Both my grandparents came from Ukraine as babies," he told the Vancouver Sun.
"The people being ruthlessly attacked by Russia are just like my entire family," he added. "So my wife and I have decided to put our plans on hold and pivot to use the Grouse Nest to provide a home for some of the soon-to-be millions of women and children who are fleeing this insane war."
The couple has already begun making connections with local groups to maximize their efforts, briefing the Ukrainian Canadian Cultural Society of Vancouver Island and the mayor of Sooke on their plans, but still needs help to execute their plan.
They're looking for skilled tradespeople to help refurbish the lodge and are asking for those who can volunteer their services to help fix up the buildings that stand. Once the space is set up, they will be looking for people to donate food and other supplies to the refugees they plan to host.
"These people are me. They're exactly like me. Their only crime as far as I'm concerned is that they want to be more like us, they want to be more like a western country, and Putin doesn't like that," Brian Holowaychuk told Chek News.
"I just felt like I had to do something. Putin is crazy. And it's time here for us to stand up and be counted," he said.
He said that while the plan to provide a temporary home for refugees wouldn't necessarily stop Russian President Vladimir Putin from continuing to order attacks on Ukraine, every little bit of help counts.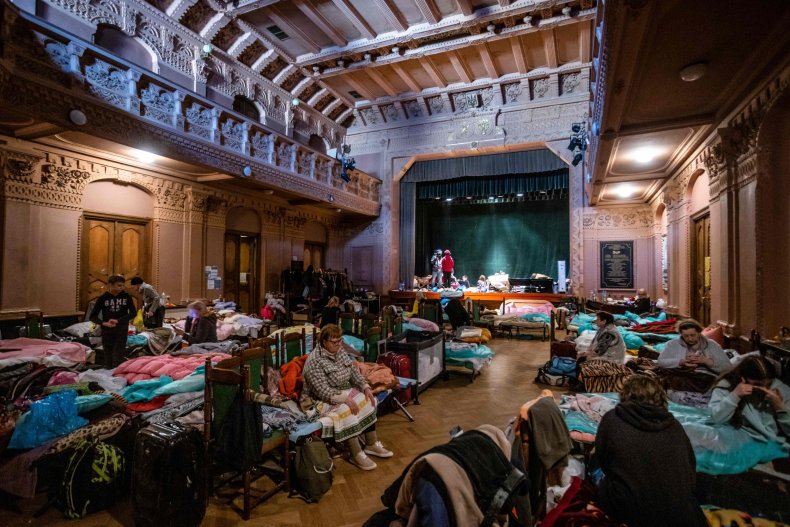 "It's not throwing rocks at Russian tanks or anything, but it's helping. I think that's important," he told CTV News.
While the Holowaychuks hadn't planned on housing Ukrainian refugees when they purchased the property, they had always thought it would be used as a charity event space for non-profit groups to fundraise.
"The whole idea — I always wanted something like this just to be able to share it. And these [refugees] deserve it more than anybody right now. It would be good for their souls," Brian Holowaychuk said.
"Having that community here that they can circle around, and help each other, I think is going to be a hugely important thing," he added.