Restaurant Closes Doors Early After 'Rude' Customers Cause 'Day From Hell'
A difficult day that involved rude customers prompted a restaurant located in Grand Rapids, Michigan, to shut its doors to the public two hours before closing to allow staff to regroup.
Steven Martinez, the founder of Basalt, told Newsweek the day started as a fairly normal day, but it quickly went downhill.
"We basically were just having the day from hell," he said. "But we just had this cascade of events centering around the guests who are coming in that made it an untenable situation for me and my staff to continue working and serving people."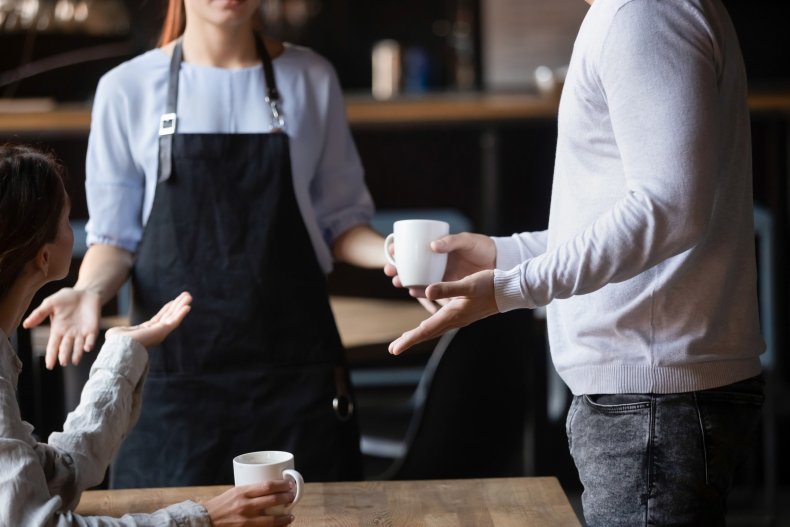 The restaurant industry is prone to burnout among employees, but there are some ways owners can support their workers, per FSR Magazine.
One of these tips is to prioritize employees' health and well-being.
"Don't underestimate the value of vocal appreciation in team meetings," the piece said. "Make sure your employees know you appreciate their hard work and highlight it."
Martinez said customers coming in were being "rude" to the staff by not acknowledging them, rearranging dining furniture and moving items off of the table.
"Nothing huge, but a lot of small kind of annoying things that just make our lives and our jobs more difficult," he said. "It really just kind of built up."
From there, several large parties came in at about the same time. Most of them, Martinez said, had children that were not being supervised by adults.
In a fast-paced restaurant, Martinez said children running around the dining area can create a hazard. He also said that patrons would not stop touching the plants around the establishment.
'A Boiling Point'
"It kind of came to a boiling point when we had two separate customers come in and take orders that didn't belong to them," he said.
The restaurant, which first got its start serving in a local farmer's market in 2020 before opening its brick-and-mortar location in April 2021, never had an issue with order mixups before that day, Martinez said.
Although the second customer laughed it off and tried to take it in stride, Martinez said kitchen staff had to remake the $80 order, which ultimately cost the restaurant money.
"He might not have felt like it was a big deal, but this isn't a large chain restaurant," he said. "We don't have resources to fall back on, every sale counts, every dollar matters."
It was then that Martinez made the decision to close the restaurant.
"I just realized, 'OK this is a day where nobody is respecting us, nobody is giving us any of the care that we're giving to them, and I don't want to put my staff through that," Martinez said.
He said he noticed his staff was overwhelmed and tired from "being treated like machines instead of people."
Once Martinez made the decision to close the restaurant, he notified his staff, turned off the open signs and turned off the restaurant's online ordering.
Even after closing the restaurant, the staff spent an additional hour cleaning and decompressing. Martinez and his kitchen manager had a conversation about the issues in the dining room, the guests and how they will address them moving forward.
Martinez shared a temporary post on the restaurant's social media platforms to advise customers that they were closed, which received some attention from customers, local news stations and other people who weighed in.
"I believe I said, 'I'm shocked at the lack of care and respect for our staff and our space,'" Martinez recalled. "I really was trying to keep it kind of vague, because I was feeling really emotional and really heated and I just didn't want to make a thing out of it. I just needed to give my staff some space and some relief."
The Customer (Isn't) Always Right
He said he worked in the restaurant industry since 2010, and the sense of entitlement among customers is nothing new. Because of that, he rejects the popular saying of "The customer is always right."
"I think that creates a really great atmosphere of service for the guest, but what it essentially does is it turns the worker into sort of a servant and really dehumanizes the people who are helping guests," Martinez said.
He said that entitlement has continued to escalate, which can cause environments like the one that prompted the restaurant to close early.
The restaurant's regular customers were supportive, Martinez said, but it did not stop there.
He said he's received emails and messages from people across the country who also shared their support for Martinez's decision to close the restaurant and allow his staff to take a breath.
There has been some negative feedback from those who heard about the incident, but Martinez said most people were positive.
With the incident behind him, Martinez said he does not want to create an environment where taking care of guests will come at the expense of his employees.
Rather, he wants to ensure his employees feel safe, respected and cared for.
"They're spending a lot of time here, and they're giving a lot of themselves, a lot of their energy, to this place and to the people who come in here," he said.
This is not the first time a restaurant's method of handling customers has been discussed.
A customer's negative Yelp review received backlash and sparked a conversation about the idea that "the customer is always right."
One photo showed a sign outside of a Dairy Queen reminding customers to be respectful of staff, while another restaurant was applauded for closing for two weeks to allow the head chef to visit his family.