Restaurant Makes Spicy, Cicada-Topped Pizza in 'Crunchy' Experiment
An Ohio pizzeria is making waves online after their recent creation—a pizza topped with a pile of "locally foraged" cicadas—started gaining traction on social media.
The Pizza Bandit of Dayton, Ohio, posted photos of their newest pie on Facebook earlier this week. "Buzz... Buzz... It's Cicada Pizza!" they wrote.
"From a distance this pie looks delightful but once you get closer you realize those are no raisins...introducing Spicy Thai Cicada Pie!" they added. Sure enough, the pictures of the pizza show a variety of colorful toppings, nearly disguising the insects.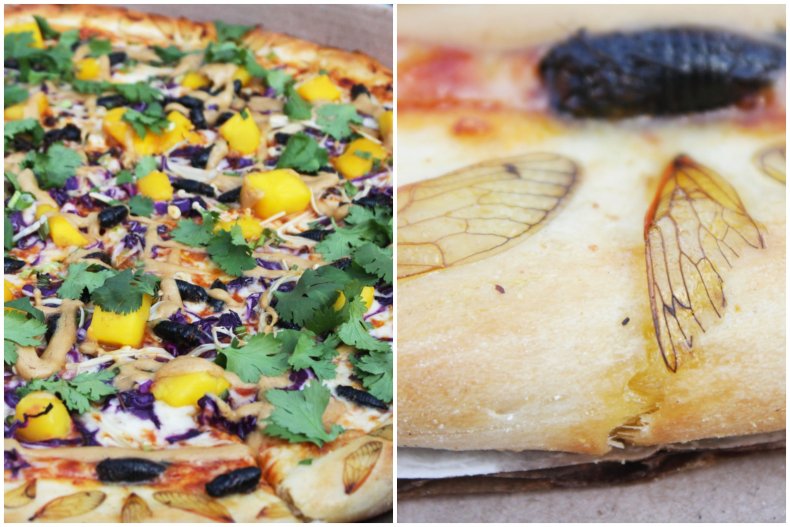 According to their description, the pie features "an 18" handtossed dough with miso hoisin sriracha sauce, mozzarella and provolone, blanched and sautéed locally foraged cicadas, mushroom, cabbage, green onion, mango, cilantro, with a spicy Thai sauce after the bake and a Cicada wing adorned crust."
The restaurant reports that the cicadas add a "crunchy" texture to the dish, as the insects' "soft shell season" has already passed. They added: "Opinions of the pizza range from absolutely delicious to...well...uh...yeah..."
While they recommend pairing this pizza "with a BIG summery IPA or Lager," The Pizza Bandit is not actually serving the one-off cicada pie as a menu item. As noted in their post, they are "not even sure if [they] legally can sell... locally foraged Cicadas," meaning that consumers will have to get their pizza fix with another flavor profile.
Social media users are stunned by the unusual creation and have flooded the post with comments and questions.
"Would be curious to know if there were any gastric after effects to the patron's guts as a result of this culinary consumption...." wrote one commenter. ("So far so good!" read the restaurant's reply, for anyone curious.)
Others pointed out the pie's potential, with or without the cicadas.
"Since cicadas are basically flying tree shrimp, you could sub shrimp for the cicadas to sell this pie to the public. Yum!"
Asked another Facebook commenter: "How do I get this pie without cicadas?"
This restaurant is just one of many that have taken a culinary approach to handling this year's emergence of Brood X cicadas. For example, last week, a woman on TikTok posted a video in which she and her family also used cicadas as a pizza topping, along with a dash of Old Bay seasoning.
According to WJZ Baltimore, Alyssa Lighter's seven-year-old daughter was behind the atypical dish—one that apparently received very mixed reviews, judging by their reactions. According to Lighter, however, the pizza "[wasn't] disgusting" and "tasted like grass."