Restaurant Slammed For 'Appalling' 9/11-Themed Menu
A Virginia restaurant has apologized after its 9/11-themed menu prompted backlash online.
The menu, entitled "Patriot Day 2022 Seafood Sunday" at The Clubhouse at Aquia Harbour in Stafford, Virginia, advertised food and drink items for the 21st anniversary of the September 11th terrorist attacks.
Although the menu has been taken down, it was first captured and circulated online by angry social media users.
A tweet from Washington, D.C., man Brian Sasser shared the restaurant's promotion, which included dishes such as "Flight 93 Redirect" (a hot crab dip with crostini), "First Responder Flatbread" (loaded with shrimp, tomato and garlic), "9/11 Oysters" and "Freedom Flounder."
For a drink, customers were offered a "Remember-tini"—a coconut rum cocktail with key lime cream and pineapple juice. A chocolate "Pentagon Pie" was available for dessert.
Most offensive to some residents was the "2977 Chowder," an apparent reference to the death toll from the terrorist attacks.
"Appalling," Sasser captioned his post on Tuesday. "Posted on Facebook tonight by a restaurant in a community filled with service members and veterans in Stafford, VA."
Virginia is home to over 780,000 veterans, making up over 9 percent of the state's population, according to the Virginia Department of Veterans Services.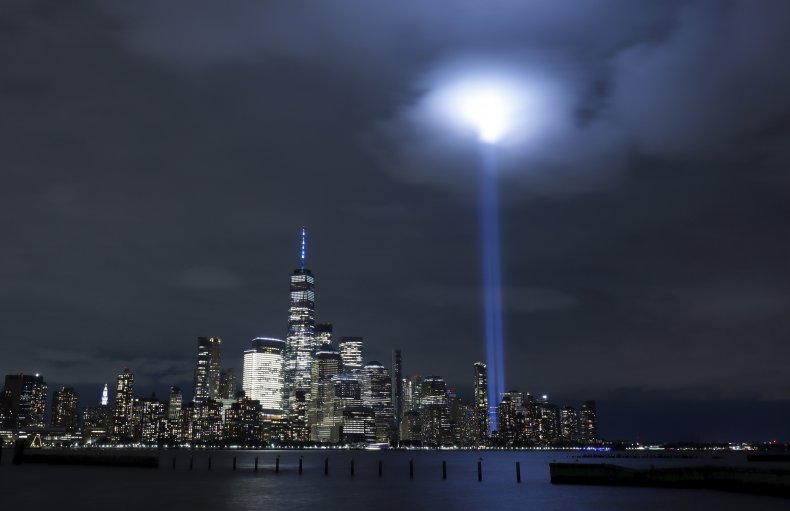 Other Twitter users called the promotion "vile," "insensitive" and "stupid."
"This is so awful for anyone who lost someone on 9/11 or people who watched it happen right in front of them," said marketing professional Kathleen Schmidt. "I'm one of those people."
"Attempting to profit off 9/11 is gross in itself, but this themed menu is on another level," agreed another user. "Crispy oven-baked First Responder Flatbread...Someone really approved that idea."
Restaurant manager George White publicly apologized for the menu later on Tuesday.
"I apologize for those I offended with the 9/11 seafood Sunday post," he said in a community Facebook group. "My intention was to bring attention to that horrific day 21 years ago. To honor those who lost so much as well [as] those who gave everything that day. We will have a new theme tomorrow."
On September 2, a U.S. joint intelligence bulletin obtained by Newsweek warned that foreign militant groups could exploit the 21st anniversary of 9/11 to inspire homegrown violent extremists (HVEs).
The upcoming anniversary comes one year after the U.S. military withdrew from Afghanistan and a month after President Biden announced that Al-Qaeda leader Ayman al-Zawahiri, who succeeded Osama bin Laden, was killed by a U.S. drone strike.
Newsweek reached out to The Clubhouse at Aquia Harbour for comment.