Resurfaced Clips Show Donald Trump Saying 306 Electoral Votes Is a 'Landslide' in 2016 After Biden Wins Same Amount in 2020
Several resurfaced clips are coming back to haunt President Donald Trump after media outlets declared Democratic nominee Joe Biden as the 2020 election winner, predicting he would receive 306 electoral votes compared to Trump's 223. Democrat Hillary Clinton lost to Trump by the same margin in 2016—a race he repeatedly called a "landslide" victory.
Democrats "actually got their a** kicked" in 2016, Trump said at a July 2018 rally in Great Falls, Montana. "306 to 223, that's a pretty good shellacking."
Although Clinton won the popular vote that year, Trump managed to flip several key swing states in his favor, pushing him toward an Electoral College victory. Trump finished with 306 electoral votes compared to Clinton's 223.
But support for the Democratic nominee increased during the November 3 election. Biden won back Arizona, Michigan, Pennsylvania and Wisconsin, nudging him over the 270 electoral votes necessary to win the White House.
While the Associated Press and other major news outlets declared Biden as president-elect on November 7, some states remained undecided as election workers continued counting ballots. But by Friday afternoon, several outlets called the two remaining states, Georgia and North Carolina.
Trump is the predicted winner in North Carolina, giving him a final electoral vote total of 223, while Biden pulled off a surprising win in the Republican stronghold of Georgia, leaving him with 306 electoral votes.
CNN quickly spliced together clips of Trump bragging about his 2016 win by the same margin. In one, Trump describes his path to victory to a crowd gathered at an August 2018 rally in Pennsylvania.
"And then it got bigger and bigger, and wilder and wilder, and then we won by a lot," he said. "Don't forget, it was 306 to 223. That's a lot."
Kellyanne Conway, a former Trump White House adviser, had echoed the president's messaging. She called Trump's 306 electoral votes "historic" and a "landslide" in a November 2016 tweet.
The Lincoln Project, an anti-Trump Republican political action committee, shared the old tweet on Friday, simply writing "Agreed."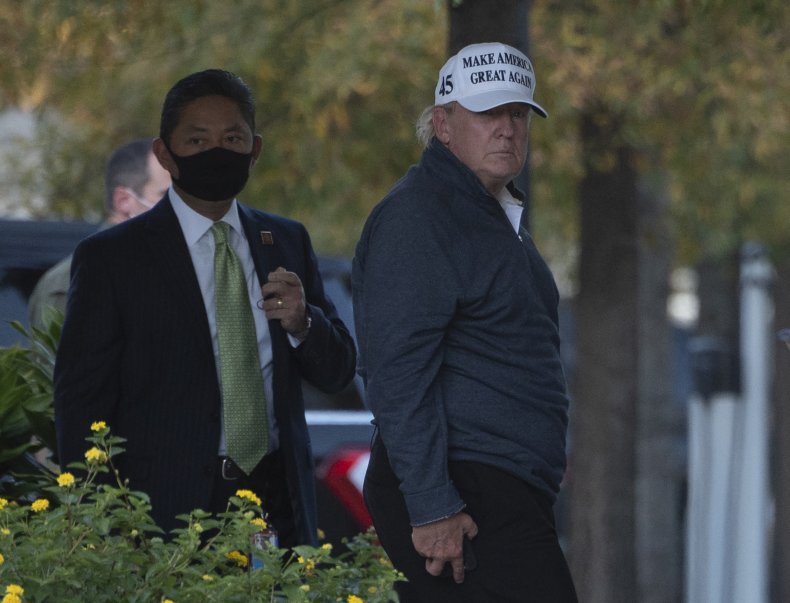 Trump's own language is being used against him as the president continues to refuse concession. He has made few public appearances since the November 7 announcement and has yet to admit defeat.
Instead, the president and members of his re-election campaign have filed lawsuits in Arizona, Georgia, Michigan, Nevada and Pennsylvania—all states he is predicted to have lost. Trump has claimed repeatedly and without evidence that the election was marred by widespread voter fraud and other irregularities, affecting final vote tallies.
But their efforts have produced few tangible results, and one campaign lawyer appeared to break with Trump's messaging in court. On November 13, the campaign withdrew its lawsuit in Arizona requesting that a number of ballots be recounted, claiming Biden's lead in the state is too big to make a difference, CNBC reported.