Resurfaced Video Shows Mitch McConnell Supporting Witnesses In Bill Clinton Impeachment Trial: 'I Voted For Live Witnesses Myself'
Video has resurfaced showing a portion of a 1999 interview with Mitch McConnell in which he said that would have supported live witnesses during the impeachment trial of President Bill Clinton.
When asked about Republican Senator Arlen Specter's statements that Clinton's impeachment had been a "sham trial" and a "pseudo trial" because the Republicans did not get the witnesses they wanted, McConnell said he voted for live witnesses as opposed to videotaped depositions.
"My view was that we were entitled to witnesses," McConnell said. "I voted for live witnesses myself. I voted for the one live eyewitness the House has asked for and I voted to allow the videotaping of the witnesses they asked for."
"Had my vote prevailed," McConnell also said, "there would have been live witnesses. I would have been prepared to vote for whatever the House managers wanted in terms of putting on their trial."
McConnell also spoke about the motion of dismissal which the Democrats voted on.
"The motion made it clear that the votes weren't there for conviction regardless of what happened in the trial after that," McConnell said. "I think 44 Democrats sat in on the motion to dismiss. 'We don't care what you do. We don't care whether you put on witnesses, don't put on witnesses, we don't care what proof you introduce. We're going to vote for Bill Clinton.'"
McConnell, House Majority Leader for the ongoing impeachment trial of President Donald Trump, told reporters in January that he wants to use the Clinton impeachment as a model for the Trump impeachment.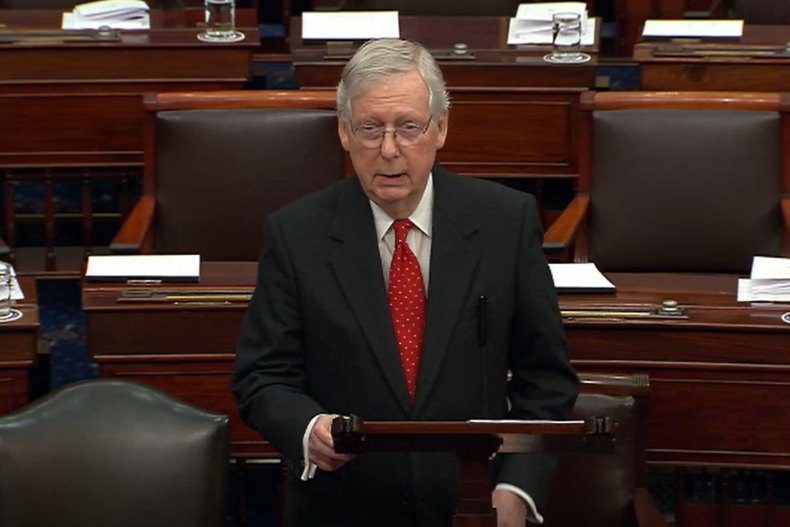 "What was good enough for President Clinton in an impeachment trial should have been good enough for President Trump," McConnell told reporters in January. "And all we are doing here is saying we are going to get started in exactly the same way that 100 senators agreed to 20 years ago."
McConnell said Tuesday that there was no need for additional witnesses or documentation.
"If the existing case is strong," McConnell said, "there's no need for the judge and the jury to reopen the investigation. If the existing case is weak, House Democrats should not have impeached in the first place."
But McConnell has been reticent to allowing new witnesses to testify during Trump's impeachment trial in the Senate. An amendment introduced Tuesday by Senate Minority Leader Chuck Schumer to subpoena both new witnesses and documents from the White House was tabled Tuesday afternoon, essentially killing the amendment.
While McConnell has said that a vote will be taken on whether or not to allow witnesses, House Democrats reportedly do not have the number of votes required to pass that motion. Four Republicans would have to agree that new witnesses would be beneficial to the trial and side with Democrats in order for that motion to pass.
Newsweek reached out to McConnell's office for comment but did not receive a response in time for publication.
In a Tuesday statement, Senate Minority Leader Chuck Schumer said that McConnell's rules for the impeachment trial were "unfair."
"The public is understanding how unfair Senator McConnell's trial rules are and Republican Senators are beginning to tell him to change them," Schumer said. "The real test will be if they pressure Senator McConnell to allow witnesses and documents."