Retired General Compares Trump's Ohio Rally to Hitler's 1936 Nazi Event
Retired four-star U.S. Army General Barry McCaffrey compared Donald Trump's Saturday night rally in Ohio to a rally held by Adolf Hitler's Nazi Party in 1936 in Nuremberg, Germany.
"Astonishing Trump language. The crowd is similar to a Nuremberg rally 1936. A lawless Trump in office in 2024 election would slide us into autocracy and deny our Constitutional safeguards. This is our greatest danger as a nation since 1860. VOTE," McCaffrey wrote on Twitter on Saturday.
The Nuremberg Rallies were an annual event held by the Nazis between 1933 and 1938, according to Calvin University. The 1936 rally had three focal points related to Germany's goals: the evils of Bolshevism—a Soviet political thought, being independent from foreign sources of raw materials, and the country's demands to retrieve the colonies it lost after World War I.
The Nazi regime passed two new laws at the time known as the Nuremberg Laws or Nuremberg Race Law, which were announced at a rally in Nuremberg, according to the United States Holocaust Memorial Museum.
The Reich Citizenship Law stipulated that only racially pure Germans could hold German citizenship, while the Law for the Protection of German Blood and German Honor banned race-mixing by prohibiting intermarriages and sexual relations between Jewish people and people "of German or related blood."
During Saturday's rally, Trump supporters raised their hands to give an index-finger salute, symbolizing America First, according to NBC News reporter Ben Collins, as the former president delivered a speech with what appeared to be dramatic music of a QAnon song playing in the background as he spoke.
The song was identified as the 2020 track, "WWG1WGA," which stands for "where we go one we go all," by musician Richard Feelgood. The acronym WWG1WGA is a common slogan used by QAnon members.
The song has long been celebrated by the QAnon community, according to the nonprofit organization Media Matters for America, with some supporters saying "if that's not a Q proof then I don't know what is," and calling the song "THE mother of all Q proofs."
"This appears to be the song previously released online with the title "Wwg1wga" -- the QAnon slogan. Trump this summer used the song in a campaign-style video he posted on Rumble and Truth Social," tweeted Alex Kaplan, a senior researcher for Media Matters for America, on Saturday.
In a separate tweet, he added: "As they did when Trump previously used the song, QAnon figures are claiming the use of the song brings some kind of legitimacy for them."
Trump was campaigning for a number of his endorsed candidates at his "Save America" rally, including Ohio GOP Senate candidate J.D. Vance, who is leading his rival Democratic Representative Tim Ryan by only 2.7 average percentage points, according to the latest poll by the RealClearPolitics.
The campaign rally was meant to proceed with the "unprecedented effort to advance the MAGA agenda by energizing voters and highlighting America First candidates and causes," according to a statement by Trump's "Save America" Super PAC.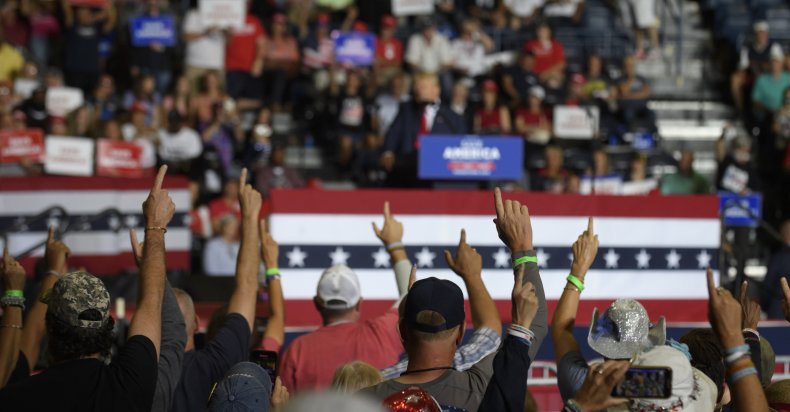 During his speech, Trump told the crowd about what he believed were failures in the country as he criticized President Joe Biden and ranted about the Russian war in Ukraine and the Hunter Biden investigation, among other topics.
"We are a nation that allowed Russia to devastate a country, Ukraine, killing hundreds of thousands of people and it will only get worse," he said. "It would never have happened with me as your commander-in-chief. We are a nation that has weaponized its law enforcement against the opposing political party like never ever before."
He continued: "We are a nation that no longer has a free press and has no fair press any longer. Fake news is all you get, and they are truly the enemy of the people. We are a nation where free speech is no longer allowed, where crime is rampant like never before, where the economy has been collapsing."
Newsweek reached out to Trump's media office for comment.