How to Watch Donald Trump's Ohio Rally With J.D. Vance
Donald Trump is due to appear in Ohio to campaign for a number of his endorsed candidates set to fight it out in the upcoming midterms.
The former president will speak at the "Save America" rally at the Covelli Centre in Youngstown at 7 p.m. on Saturday, September 17.
In a statement, Trump's Save American Super PAC said the rally is a continuation of the "unprecedented effort to advance the MAGA agenda by energizing voters and highlighting America First candidates and causes."
Other guest speakers who will appear at the rally on Saturday are Ohio GOP Senate candidate J.D. Vance, Ohio congressmen Jim Jordan and Bill Johnson, and Republican congressional candidates Max Miller, Madison Gesiotto Gilbert and J.R. Majewski.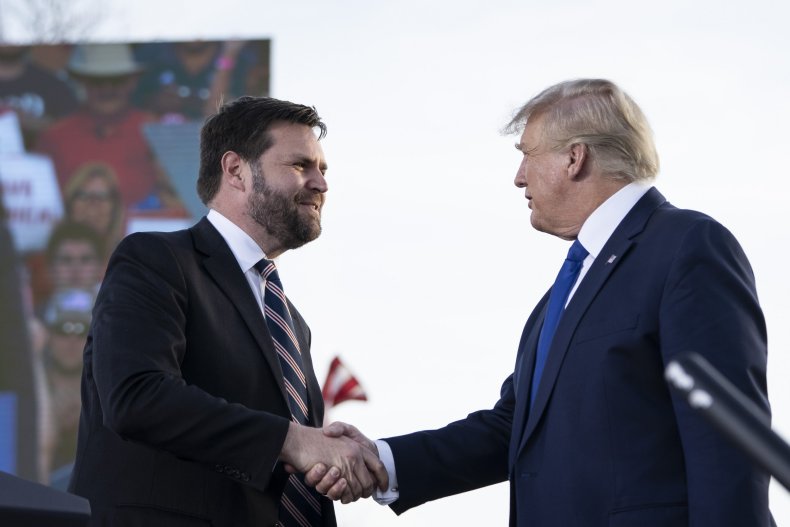 How to Watch Donald Trump's Rally in Ohio
It is unclear if any television channels will be broadcasting the rally in Youngstown live.
The event will be streamed live on the Right Side Broadcasting Network's YouTube channel. There will also be a live stream of the Ohio event on Trump's Rumble channel, the video-sharing platform frequented by right-wing and Republican figures.
Trump will arrive in Ohio just as Vance has started to improve in the polls with just six weeks until November's midterms.
According to a Emerson College/The Hill survey published Friday, September 16, the Hillbilly Elegy author has a four-point lead over his Democratic rival Rep. Tim Ryan (44 percent to 40 percent) in the race for the senate seat.
Vance's lead over Ryan is one point more than the previous Emerson College Polling survey from August.
"Independent voters favor JD Vance by a two-point margin, 51 percent of which name the economy as their most important issue," Spencer Kimball, executive director of Emerson College Polling, said in a statement.
"Additionally, a stark gender divide exists on the Senate ballot, reflective of other Senate polling this cycle. Men break for Vance by 19 points, whereas women break for Ryan by eight points."
Vance also led Ryan in a Civiqs survey of 780 likely voters in Ohio conducted between September 10-13 by 48 percent to 45 percent.
According to FiveThirtyEight's collection of polls, Vance was behind Ryan in the previous five polls before flipping the lead in the Civiqs poll.
Vance, along with Mehmet Oz in Pennsylvania and Herschel Walker in Georgia, are high-profile Senate candidates endorsed by Trump who have no previous political experience and have never won a general election before.
Elsewhere Majewski, who has openly expressed support for QAnon and was present in Washington D.C. for the "stop the steal" protests on January 6, 2021, is hoping to beat Democrat incumbent Rep. Marcy Kaptur in Ohio's newly re-drawn 9th Congressional District in what is considered one of the most competitive congressional races of the 2022 midterms.