Dr. Oz Insists Mitch McConnell Isn't Concerned About His Senate Race
Senate Majority Leader Mitch McConnell has expressed concern over the "quality" of the GOP candidates running for his chamber of Congress, but Dr. Mehmet Oz is insisting he's not one of the Republicans McConnell is worried about.
Asked about the Senate leader's recent comments, Oz said McConnell "was not" talking about his close race in Pennsylvania, despite polls indicating he's lagging behind his Democratic rival, John Fetterman.
"[McConnell] expressed himself quite clearly with his pocketbook," Oz told Fox News on Thursday. "He's put $34 million into my race. That's a lot of money."
Oz is among three GOP Senate candidates in key states who are struggling to catch up to their Democratic challengers. J.D. Vance in Ohio and Herschel Walker in Georgia are also trailing their opponents.
Last week, it appeared those poll numbers were changing McConnell's forecast for his party. While the top Republican had once been "optimistic" about the GOP's chances of controlling both chambers of Congress following a red wave during the midterms, he's changed his tune, predicting "a very, very close Senate."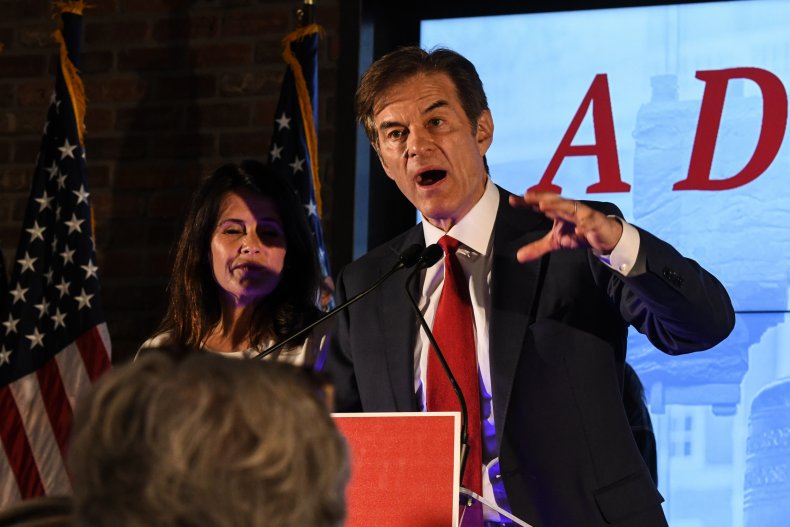 At an event in Kentucky, McConnell chalked it up to the "candidate quality" for his updated midterm outlook, saying it plays a bigger factor in statewide races as opposed to congressional races. He also said there would be a "greater likelihood" for the House to flip Republican.
In a series of political attacks, Fetterman and his allies have accused Oz of being a carpetbagger, highlighting the Republican's ties to New Jersey and, recently, to Florida. The Democrat has also contended that his opponent is out of touch with Pennsylvanians for using the word "crudité" in a video where Oz criticized the Biden administration over rising inflation.
Oz, on the other hand, has maintained that he is relatable among Pennsylvanians, which he said was McConnell's real concern over GOP Senate candidates.
"If you actually listen carefully, what he was saying, he was highlighting that the quality of the candidates does matter a lot in a statewide race—it always matters—but in a statewide race, where you've got to speak to a lot of different constituents," Oz said. "You want to make sure you're out there, and I'm tireless."
However, recent donations and poll numbers paint a different picture of Oz's support. Fetterman's campaign announced last week that the "crudité" controversy helped raise more than $65,000, while a poll released Thursday suggested that the New Jersey attacks seem to be swaying voters away from Oz.
The new poll from Emerson College found that the majority of voters, 51 percent, said Oz's New Jersey residence made them less likely to vote for him.
The survey also found Fetterman with a 4-point lead over Oz, 48 percent to 44 percent, as well as an advantage on favorability, with 48 percent of voters holding a favorable view of the Democrat, compared to the 41 percent of voters who said the same of Oz.