Dr. Oz Dismisses 'Wegner's' Criticism: 'I've Gotten My Kids' Names Wrong'
Pennsylvania GOP Senate candidate Dr. Mehmet Oz has addressed the recent scrutiny he has faced over mixing up the name of two grocery-store chains in a video that Twitter trolls and Oz's opponents pounced on.
"I was exhausted. When you're campaigning 18 hours a day—listen, I've gotten my kids names wrong as well," Oz told Newsmax on Wednesday. "I don't think that's a measure of someone's ability to lead the Commonwealth."
In a video originally shared to Twitter in April, the Republican candidate took a trip to a grocery store that he called "Wegner's" to call out the Biden administration over rising food prices.
However, there is no chain by that name. Instead, there are two chains with names that Oz seemed to mix up: Wegmans, a New York-based chain with more than 100 locations across seven states, including Pennsylvania, and Redner's, a chain from Pennsylvania with 44 warehouse markets and 20 quick shops in three states.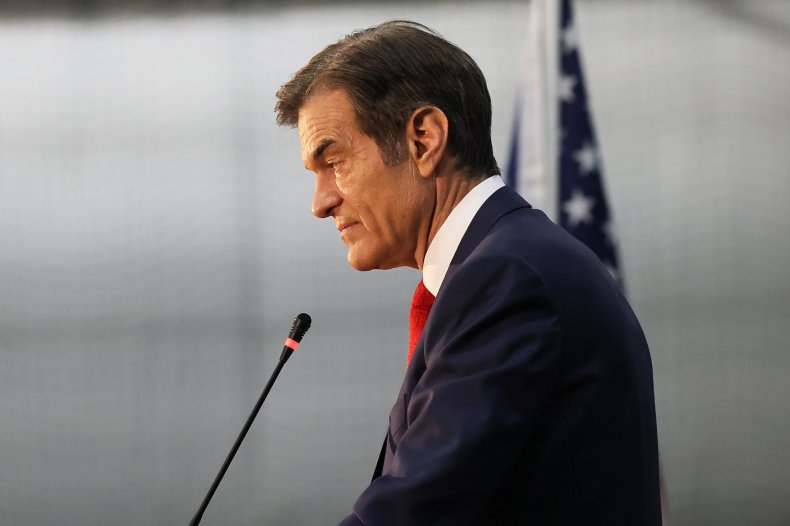 Walking through the aisles of the grocery store, Oz said he wanted to help his wife pick up some vegetables for crudité, an appetizer of raw vegetables typically dipped in sauce.
The video recently resurfaced after his Democratic opponent, John Fetterman, mocked Oz for using the word crudité.
"In PA we call this a... veggie tray," Fetterman wrote on Twitter.
The viral video, in which Oz is seen "mispronouncing the name of a grocery store, struggling to grocery shop, and saying that the cost of 'crudité' has skyrocketed," has helped Fetterman's campaign raise more than a half-million dollars, according to a Tuesday press release.
The campaign also raised more than $65,000 in donations for stickers that read "Wegners," with "Let Them Eat Crudité" written underneath.
Responding to the criticism, Oz said his video was trying to explain just how "ridiculous it is that you can't even put vegetables on a plate."
Fetterman's campaign manager, Brendan McPhillips, said the reason the video of Oz is "resonating with supporters across Pennsylvania" is because Fetterman "actually understands what it's like to go grocery shopping and to see prices go up," while his Republican opponent seemed unrelatable to the average American.
"Our supporters—and everyone, really, from a look at the past few days—love to dunk on Dr. Oz," McPhillips said.
On Wednesday, Oz vowed that his campaign would "do whatever we need to do to make sure the people of Pennsylvania respect what we're about, and we're going to work as hard as we can to fix their problems.
"It's what I've done my whole life. It's what I'll continue to do," he said.