John Fetterman Fundraises Off Dr.Oz's Ad—'Let Them Eat Crudité'
Pennsylvania Lt. Governor John Fetterman is now fundraising for his U.S. Senate race using a video by his Republican opponent and celebrity surgeon Dr. Mehmet Oz.
Fetterman, a Democrat, began offering a "limited edition sticker" mocking one of Oz's videos to those who contributed to his Senate campaign on Twitter late on Monday.
The new fundraising effort comes after an Oz campaign video from earlier this year became the focus of renewed attention on Monday. In that video, Oz appeared to mix up the names of grocery chains Radner's and Wegmans and said that he was shopping at "Wegners."
Oz, who is endorsed by former President Donald Trump, also mentioned shopping for crudités—a plate of vegetables often served with sauces—during the campaign video, eliciting ridicule from Fetterman.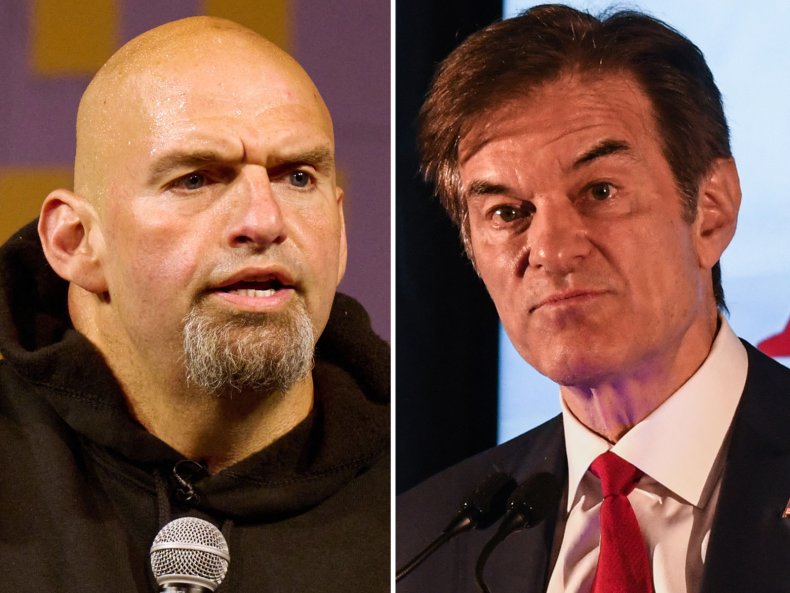 "To honor Dr. Oz's love for crudités and Wegners (and also because it's my birthday) we're launching this NEW limited edition sticker," Fetterman tweeted.
"Make a donation of any amount + it's all yours," the Democrat said, adding: "Because it's actually just a veggie tray."
He included a link to a page at fundraising platform ActBlue, which seeks donations to his campaign and says, in part, "We can't wait to send you your Crudité sticker, friend."
The sticker features a logo for the non-existent grocery store "Wegners" and the slogan "Let Them Eat Crudité."
Newsweek has asked the Oz and Fetterman campaigns for comment.
The Oz campaign released a new ad this week that shows Fetterman's head opening up to reveal "some screws lose" and a bong. The ad describes Fetterman's political agenda as "crazy" and "ridiculous."
The Pennsylvania Senate race is shaping up to be one of the most watched and potentially most important in the country. Republican Senator Pat Toomey is retiring and Fetterman appears to have a serious chance of flipping the seat blue.
Poll tracker FiveThirtyEight shows Fetterman leading Oz with 49 percent support to the Republican's 38.3 percent as of August 4. A Fetterman win in the state would be seen as a major victory for Democrats.
The National Republican Senatorial Committee (NRSC) has recently cut millions in funding for campaign ads in battleground states in an apparent effort to make the most of available funds.
These cuts reportedly include ad buys in Pennsylvania of $7.5 million since August 1. It remains to be seen how the NRSC's cuts may affect the Pennsylvania Senate campaign.
Fetterman has frequently mocked Oz on social media and criticized the celebrity doctor because of his long residence in New Jersey. The Democrat has only recently been able to return to the campaign trail following a stroke in May.