Retired U.S. General Outlines 3 'Concerns' for Ukraine's Counteroffensive
Retired U.S. General Mark Hertling praised Ukraine's recent successes in the eastern Kharkiv region on Tuesday, but he also outlined several of his "concerns" for the ongoing push against Russia.
Hertling, who served as the commanding general of United States Army Europe, described Ukraine's gains in Kharkiv as "brilliant" in a Twitter thread. He also noted the advances in the southern Kherson region and Ukraine's continued defense of the eastern Donbas region, which Russia has not been able to fully occupy.
But he pulled on his own experiences with both "success & failure in combat" to explain why Ukraine should keep in mind the tempo of operations, potential troop fatigue and "black swans"—a term defined by Oxford Languages as "an unpredictable or unforeseen event, typically one with extreme consequence"—while it continues to fight Russia on these fronts.
Ukraine is embroiled in a counteroffensive on two fronts in the war, the surprise push in Kharkiv and simultaneous effort to retake territory in Kherson, and has been reporting successes with both. General Valeriy Zaluzhnyi, the commander of Ukraine's military, said in a Telegram post on Sunday that in Kharkiv alone, Ukrainian troops had pushed to within 50 kilometers, about 30 miles, of the Ukraine-Russia border. Russia's defense ministry wrote in a Telegram post on Saturday that "a decision was made to regroup" some of its forces from the areas of Balakliya and Izium in Kharkiv to the eastern Donetsk region, according to NBC, an explanation that was mocked by a Ukrainian ambassador.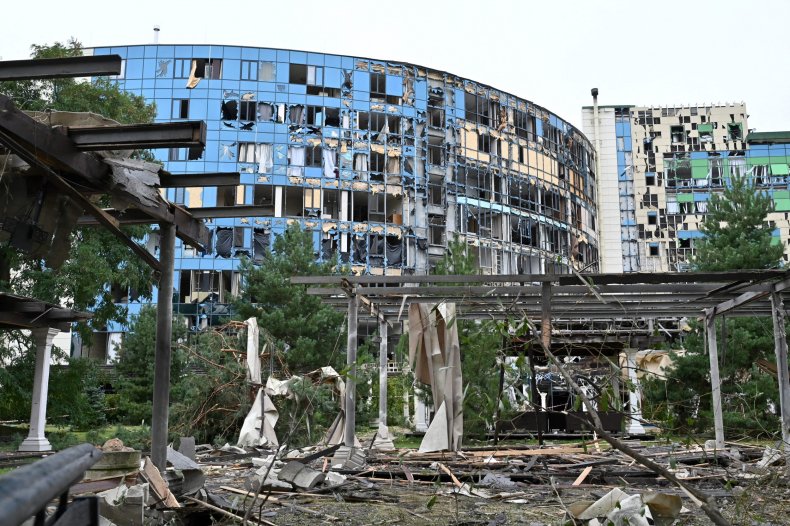 Nataliya Humenyuk, head of the joint coordination press center of Ukraine's Southern Defense Forces, also gave an update on Monday regarding Russian losses in the Kherson counteroffensive, including the elimination of more than 1,800 Russian soldiers, more than 500 units of armored vehicles and 122 tanks.
Despite these accomplishments, Hertling explained that the tempo, or speed, of Ukraine's continuing operations is one of his concerns. A commander determines the tempo "based on the ability to maintain the initiative for offensive operations" and may see opportunities at times that make them want to push harder.
But, supplies, intel, air defense, engineers and other factors also drive tempo, he explained.
"In truth, there are some elements of Ukraine's force that can't 'keep up' with the front line fighters," Hertling tweeted. "That's not an insult, it's an understanding of the UA [Ukrainian army] force. Right now, UA field commanders—while excited about gains—must consider operational tempo."
For his second concern about fatigue, Hertling said that forces in the push can attack for four to five days without breaking down, and his experience is that units will begin to fail if they aren't rested on day five.
"We're waking up each day—after 5 days—looking at reports of UA's advance & saying 'hope they go farther, take more!' UA forces are whipped right now. Not just caused by movement & lack of sleep, but emotions associated with fighting. I anticipate some needed 'pauses,'" he wrote.
Finally, Hertling listed several potential "black swans" that could emerge as Ukraine continues to fight against Russia, including the status of Ukraine's economy, how Ukraine would handle capturing thousands of Russian prisoners of war (POWs) and the impacts of damage to the Zaporizhzhia nuclear power plant.
"All are Issues that have 'severe consequences' that require thought, as we all cheer UA's actions on the battlefield," he added.
Newsweek reached out to Ukraine's defense ministry for comment.