Return of America's Largest Auto Shows Begins This Week in Chicago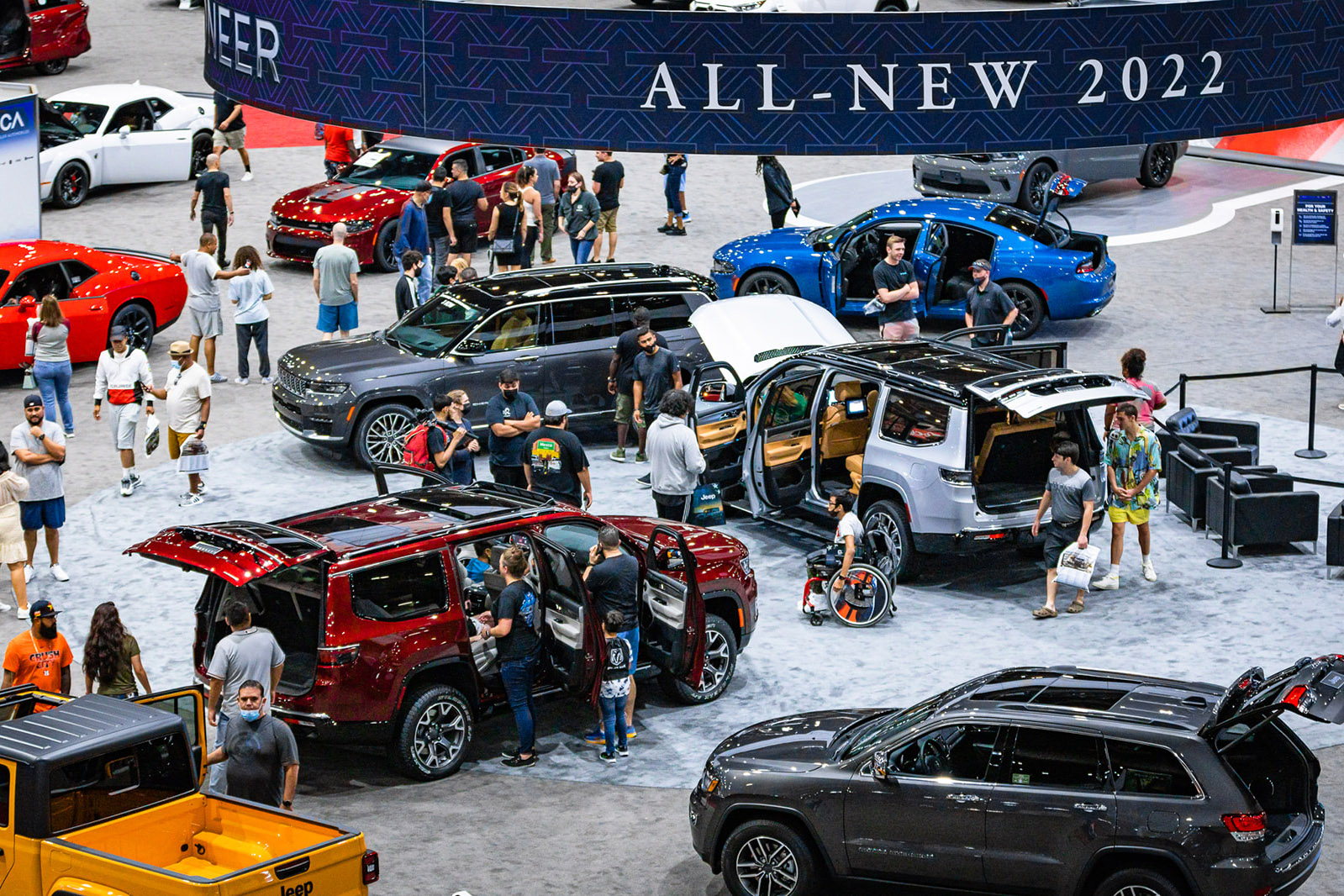 Auto shows are back. The first of the country's big four auto shows kicks off this week marking a return to the public stage for automakers that have been relegated to relying on dealerships, advertising campaigns, digital premiers, and regional auto events to draw customers to their new products in the light of the COVID-19 pandemic.
This July version of the Chicago Auto Show (traditionally held in February) joins August's New York International Auto Show (NYIAS) and November's Los Angeles Auto Show (LAAS) on the calendar. Detroit's North American Intentional Auto Show (NAIAS) has been reimagined for 2021 as Motor Bella, an experience-focused mobility event happening in September in Pontiac, Michigan.
The return of the shows has been a year in the making. Most have changed the timing of their event more than once since the outbreak of COVID-19 and postponed their 2020 editions. Recent shifts in gathering regulations and health and safety protocols showed that the status of the public health crisis would soon allow a return to a sense of auto show normalcy. Now, planners are running full steam ahead
A smaller show, in America's fourth-largest city, dealt with the obstacles CAS is encountering this week earlier this year. When the Houston Rodeo was abruptly cancelled, it left a hole in the town's May event calendar that the postponed Houston Auto Show (HAS) could fill.
The Houston Auto Dealers Association had just three months to plan the entire event. Organizers quickly learned that about 50 percent of the manufacturers would not participate. To fill the holes, show representatives approached local dealerships who eagerly stepped up. The result was a show where 38 brands were represented but the elaborate setups that are reminiscent of a large show were not present. To make up for the gaps, HAS added RV and boat displays.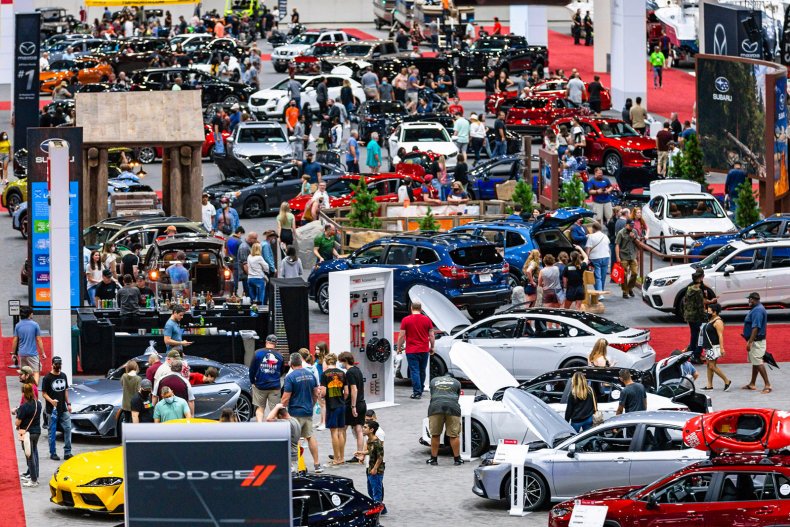 The day that the HAS opened, most COVID restrictions were lifted in Texas. The show kept many of their pre-planned protocols in place with an emphasis on limited touch points. This meant moving to online ticketing over physical tickets, though they did have some on-site purchasing availability. Typically the event sells 90 percent of its tickets in-person at the door.
Houston Auto Dealers Association executive vice president RoShelle Salinas told Newsweek that approximately 50 percent of people wore a face covering during their time at the show despite the fact that they were not mandatory, and most attendees allowed for some social distancing.
Unlike LAAS, NYIAS and NAIAS, Chicago had a show last February. "We were one of the lucky ones because we got our show in 2020," Chicago Automobile Trade Association president and Chicago Auto Show general manager Dave Sloan told Newsweek. "If we only knew how lucky we had it."
Over the last year, Sloan was watching what the auto shows in Orlando and Houston were doing and had ongoing conversations with exhibit houses while preparing for a possible 2021 version of CAS. Sloan talked often with LAAS president Terri Toennies, each monitoring what the other's show was working on.
Following the 2020 show, Sloan said that the CAS team began immediately considering contingencies for the regularly scheduled February 2021 show. By August 2020 they thought they had it figured out. "We needed to think about a shorter window and a different time of year. The idea was to move from the larger buildings to a smaller hall whose proximity to Indiana Avenue would allow the formula for autos shows to change." City Hall got behind the idea.
CAS typically takes up 28 days on the McComick Place calendar. The 1 million square-foot show was downsized to only take up 13 days and had a large portion of its festivities moved outside.
Like HAS, CAS ran into some difficulty recruiting brands to have a presence at the show. "We already knew that there were some companies that were taking the year off or would be slow coming back," Sloan said. "Reaction has been somewhat uneven."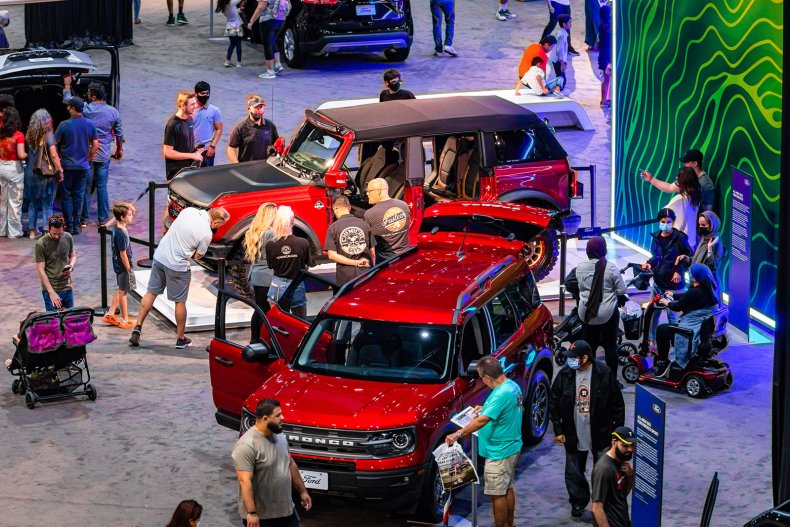 Ford jumped in with both feet, signing up to host rides in a Mustang Mach-E and F-150 Lightning, construct a Bronco test track, and more in a parking lot adjacent to Indiana Avenue, which runs just to the west of McCormick Place. Ford, Lincoln, Chevrolet, Subaru, Kia, and Stellantis have arranged for ride-and-drive test drives from the event center. Outdoor festivities for the show are set to include displays, food trucks and music when the event kicks off on Wednesday.
The successes of the Chicago and New York shows will tell Toennies and Lisa Kaz, CEO of the LA Auto Show, a lot about what they can expect from this winter's LAAS. "California is opening up and while we had to adapt during COVID, we'll enjoy opening up the LA Convention Center doors in November to re-establish a long-standing Thanksgiving holiday tradition for many families and car fans," Kaz told Newsweek.
Not only are auto shows nationwide battling a return to form, they are dealing with the issue of relevancy as car buyers turn to online shopping and purchasing with increasing frequency due in large part to the pandemic. "The whole industry is grappling with huge change – not just because of COVID but change that started well before this. The auto industry's fast-paced evolution is challenging but it also opens up huge opportunities," said Kaz.
As for what LAAS attendees can expect from the show, Kaz gave Newsweek a preview saying, "2021 will see a mix of the familiar and famed attractions of past shows but with a ton of exciting new additions. The LA Auto Show has always been focused on entertaining people while simultaneously giving them a taste of the biggest trends in the auto industry."
"For us, that means this year builds on the success of the last show's focus on EVs. EV is the future and California is the perfect location for an EV focused show."
LAAS will also feature its traditional AutomobilityLA technology-focused showcase ahead of the general show opening. "There is so much innovation in the industry right now from established players and new startups and we're privileged that so much of it will be at the show in November," Kaz shared. "We're confident we're going to have the widest range of cars from the most diverse range of brands seen in any show this year as our strength and position in the market is understood."
Inventory shortages plague dealerships nationwide but demand remains robust. Tyson Jominy, vice president of data and analytics at J.D. Power, expects that the semiconductor chip shortage and manufacturing obstacles will begin easing in the second half of 2021 but cautions that this "does not mean an immediate return to the car buying environment of the 'before' days with vehicles stacked up at dealerships, inflatable gorillas and thousands off the MSRP."
The J.D. Power retail inventory forecast does not call for a return to pre-pandemic retail inventory levels until Q3 2022 at the earliest with supplier shortages for semiconductor chips, rubber, resin, leather and airbags remaining as obstacles. These factors put auto shows in the unique position of being one of the only spaces where potential buyers can see numerous makes and models, and test drive them back to back.