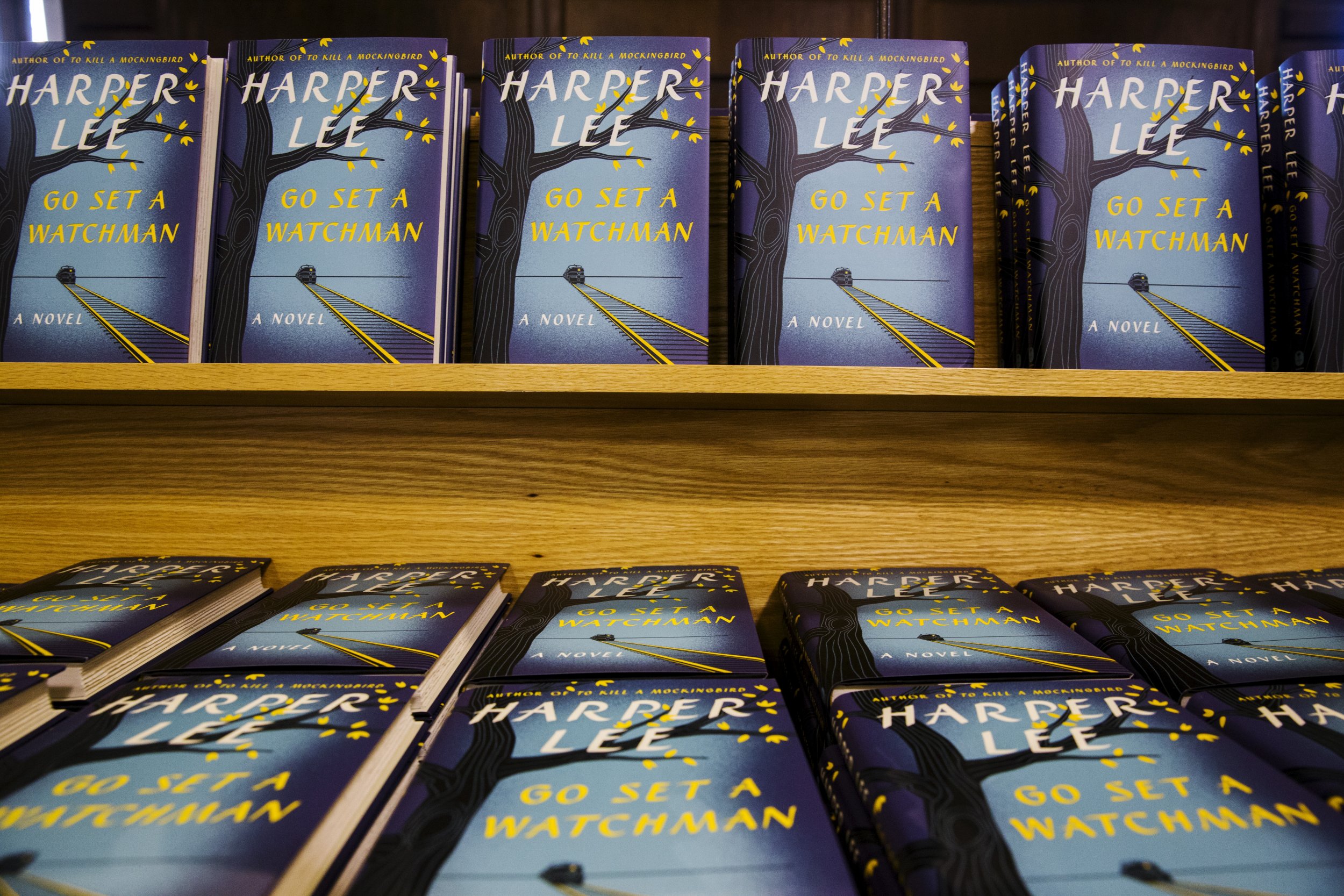 Go Set a Watchman has come to us at the right moment, despite questions over the timing of the novel's publication.
Just four days before the release of the novel, the second from Pulitzer Prize–winning author Harper Lee, the Confederate flag—a symbol for some as the South's slave-owning past—was taken down from the State House grounds in South Carolina, where it flew for decades. Legislators ultimately decided to remove it weeks after a gunman fatally shot nine African-American worshippers at a historic Charleston church on June 17, and major U.S. retailers chose to take items depicting the emblem off of shelves and online listings.
Watchman, published Tuesday at midnight, is Lee's first novel in 55 years. She reportedly finished it before To Kill a Mockingbird in the 1950s, but set it aside, though this latest novel is being considered a sequel to Mockingbird, which was originally released on July 11, 1960.
Mockingbird, based loosely on Lee's observations of her family, friends and neighbors growing up in the Depression-era South in Monroeville, Alabama, won a Pulitzer Prize and was adapted into a film of the same name. Lee's lawyer reportedly found the original Watchman manuscript last fall. In February, after Harper, an imprint of HarperCollins Publishers, announced it would release the novel this summer, the book became the most pre-ordered novel on Amazon since the publication of the final Harry Potter book in 2007.
As in its prequel, Mockingbird, Watchman raises questions—still prescient in 2015—about race and racism in the United States. For the first time in her life, 26-year-old Scout Finch, formally known as Jean Louise Finch, is prodded to look at people as a race: what her uncle, Dr. Jack Finch, calls "the burning issue of the day." But race isn't only an issue in a fictional town in the 1950s. Throughout the 278-page novel, the reader can't help but be reminded of recent alleged racially charged events, and the subsequent discussions about them in the news and in legislatures across the country. Not only did South Carolina remove the Confederate flag last week, but Virginia Governor Terri McAuliffe ordered the flag removed from all state-issued licenses, while Alabama Governor Robert Bentley requested the flag be taken down from Capitol grounds.
In Watchman, a political philosophy foreign to the 1950s South is being pressed on the region, and its residents aren't ready for it. The landmark 1954 Supreme Court decision Brown v. Board of Education has declared segregation unconstitutional. Scout is a character readers previously knew in Mockingbird as a 6-year-old who hung out with her older brother Jem, and their friend Dill. Twenty years later, readers are reintroduced to her as an adult, returning to her fictional hometown of Maycomb, Alabama, for her fifth annual visit from New York. Though she grew up with the moral guidance of her widower father, lawyer Atticus Finch, Scout is astounded to return to find he's attended a Klan meeting. After all, this is supposed to be the same Atticus who defended a black man accused of raping a white woman in Mockingbird. (Interestingly, in Mockingbird, the trial results in a guilty verdict for the accused man, Tom Robinson, but in Watchman, it leads to an acquittal, an action never repeated before or after in Maycomb.) According to Scout, Atticus turns "dark into daylight."
But her view—and the reader's—of Atticus is altered surprisingly. The 72-year-old Atticus reveals his disapproval of the National Association for the Advancement of Colored People and says frequent, outrageously offensive slurs directed at people of color.
"Do you want your children going to a school that's been dragged down to accommodate Negro children?" Atticus asks his adult daughter. "Would you want your state governments run by people who don't know how to run 'em?"
Much of the novel switches from Scout's visit as an adult woman in the 1950s to flashbacks of distinct memories from her childhood in the 1930s, a time she remembers as "when things were uncomplicated and people did not lie." She considers herself a "stranger at a cocktail party" as she witnesses hardened versions of people from 20 years ago, all the while questioning how long she can continue making secret trips to the past. At first, some of her memories seem unimportant and cluttered with detail. But Lee ties most of the scenes together at the end. Still, readers are inevitably going to be left with a few questions and uncertainties.
In fact, when Lee submitted a draft of Watchman in the late 1950s, her editor, Tay Hohoff, reportedly said it was more of a series of anecdotes than a novel. Hohoff died in 1974.
Disillusionment, conformation and privilege are three main themes that build from childhood innocence in Mockingbird. The title of the latest novel, which alludes to Scout's view of Atticus, comes from a Bible verse: "For thus hath the Lord said unto me, Go, set a watchman, let him declare what he seeth." The term watchman is repeated in a discussion Finch has with her uncle, who acts as a kind of reasonable sounding board for the older Scout.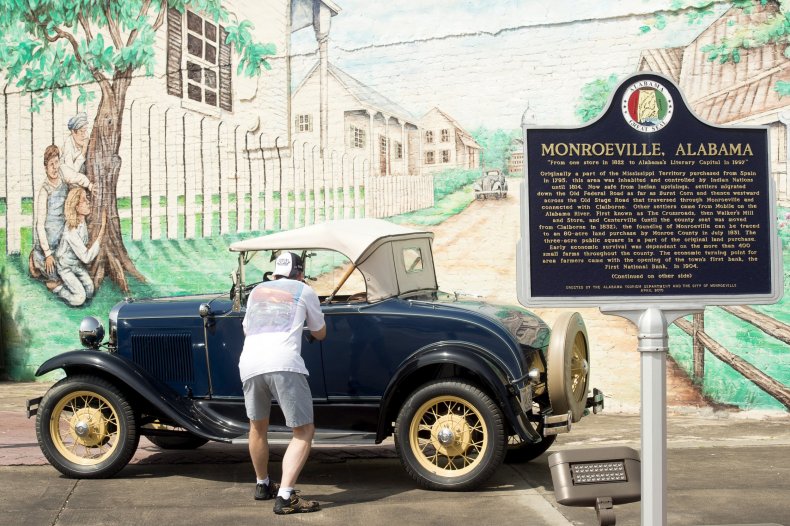 For decades, Lee largely avoided media attention, giving her last interview in 1964. After the release of Watchman was announced in February, she has issued statements about the novel, but has not spoken publicly about its release. As such, the surprise announcement raised eyebrows. Some questioned the timing of the book's release because Lee's sister and longtime defender, Alice Lee, died just months before HarperCollins's announcement. Lee, arguably one of the country's most beloved authors, had a stroke in 2007 and suffers from hearing and vision problems.
Friends, fans and residents of Monroeville debated whether or not the 89-year-old author actually chose to publish the sequel. One side believes that her mental condition was too unsteady for her to have authorized Watchman; the other camp believes she was fully competent to make the decision. In the debate's ugliest incarnation, at least one complaint of potential elder abuse arose surrounding the announcement of Watchman. Alabama officials interviewed Lee, as well as employees who work at the assisted living facility where she resides, but they closed the investigation by early April, having found no evidence of wrongdoing.
Several passages from Mockingbird are repeated almost verbatim in Watchman, as in the description about Scout's aunt Alexandra, and a town of primarily black residents, as Quartz points out.
Mockingbird has been recognized as one of the classics of modern American literature, has sold more than 40 million copies around the world and remains an enduring popular read for middle school and high school students. It has been banned from classrooms over the years, however, because of its language and racial themes.
No doubt potentially adding to the controversy, many Mockingbird fans already have voiced disgust for the contrast in Atticus's character, and are speaking out against Lee's legacy. These feelings may mean Watchman won't become an American classic in the same way as Mockingbird has.
Maybe Atticus's latest views are his way of conforming to Maycomb, a society unkind to people who hold opposing ideals. Scout is asked to move back to Maycomb and away from her life in New York on several occasions, including when her uncle tells her, "The time your friends need you is when they're wrong."
In occasionally stark ways, Watchman could be as much a look at history as it is a parable for today. After all, many of our neighbors still hold antiquated views on race that many more have come to find abhorrent. Perhaps Scout, through her careful treading and ability to move forward regardless of the worrisome change in her father (and former hero), can provide a roadmap for how many of us can deal with the remaining members of American culture who still hold similarly dreadful views: namely, that we as a society must move forward with understanding, but do so without looking back.
In that way, Lee has taught us yet another, even more modern lesson about race in America. But the more troubling question remains: Why do we still have to learn this lesson 55 years after the first time she taught it to us?