Secretary of State Rex Tillerson: I Will Never Compromise My Own Values For Trump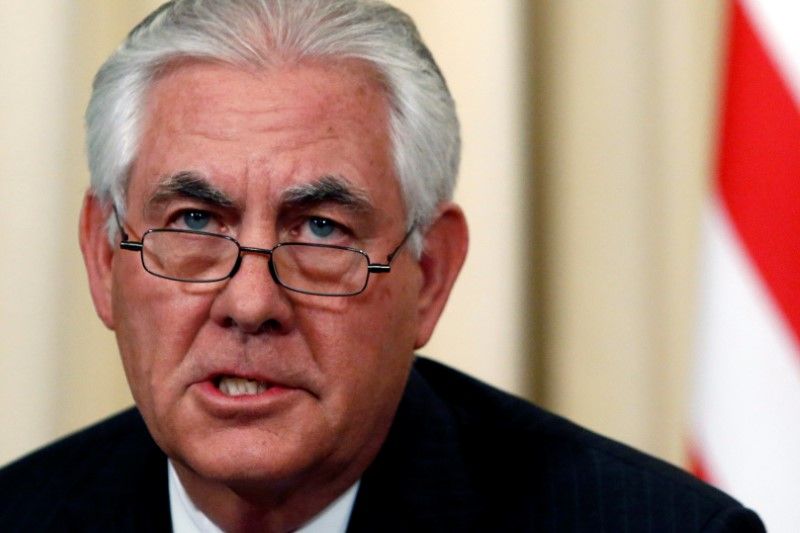 Secretary of State Rex Tillerson in an interview broadcast Sunday said he was "devoted" to helping President Donald Trump's goals but would "never compromise my own values" for him.
In the interview with NBC's "Meet The Press," Tillerson issued his first comments on President Donald Trump's firing of FBI Director James Comey this week.
The former oil executive said he was "not at all" concerned about how much independence he has under Trump but acknowledged that he has "to earn his confidence every day with how I go about those affairs and how I go about conducting the State Department's activities consistent with the direction he wants to take the country."
"I have a great relationship with the president. I understand what his objectives are," Washington's top diplomat told the show. "When I'm not clear on what his objectives are, we talk about it. But I am devoted to helping the president achieve his objectives, helping him be successful."
But when host Chuck Todd asked him where he would draw the line for Trump, he said: "I will never compromise my own values, Chuck. And so that's my only line. And my values are those of the country."
Read more: Is Tillerson turning into a lame-duck Secretary of State?
In the interview, Tillerson covered a range of foreign policy issues. He downplayed the prospect of a Russia "reset"—saying the relationship between the U.S. and Russia is at an "all-time low point since the end of the Cold War, with a very low level of trust."
"The president, I think, has made it clear that he feels it's important that we reengage with Russia," Tillerson said, emphasizing that it's in the interest of the American people for the relationship to improve.
He said Russian meddling was one of a "broad range of important issues that have to be addressed" in ties between Washington and Moscow, such as the Syrian conflict.
"You cannot erase the past. You cannot start with a clean state," Tillerson said. "We're starting with the slate we have, and all the problems we have are in that slate."
Trump tweeted Friday that the story that there was collusion between his campaign and Russia was "fabricated by Dems as an excuse for losing the election."
On Trump's bid to revive the moribund Israel-Palestinian peace process, he said that the president was still weighing up moving the U.S. embassy from Tel Aviv to Jerusalem. He said Trump was considering whether such a decision, one that Arab leaders have warned will spark unrest, would benefit or harm prospects of an Israeli-Palestinian peace deal.
"The president is being very careful to understand how such a decision would impact the peace process," Tillerson said. He added that Trump's final decision on the matter would be made with consideration given to consultations with both parties, such as "whether Israel views it as helpful to a peace initiative or perhaps a distraction."
Trump had pledged on the campaign trail to move the embassy, reinforcing Israel's claim to the city as its capital, but Palestinians seek East Jerusalem as the future capital of any Palestinian state.
The president, after paying a state visit to Saudi Arabia, is set to travel to the region later this month to meet with Israeli Prime Minister Benjamin Netanyahu and Palestinian leader Mahmoud Abbas.