Donald Trump to Get Rex Tillerson to Push Russia to Abandon Syria's Bashar Al-Assad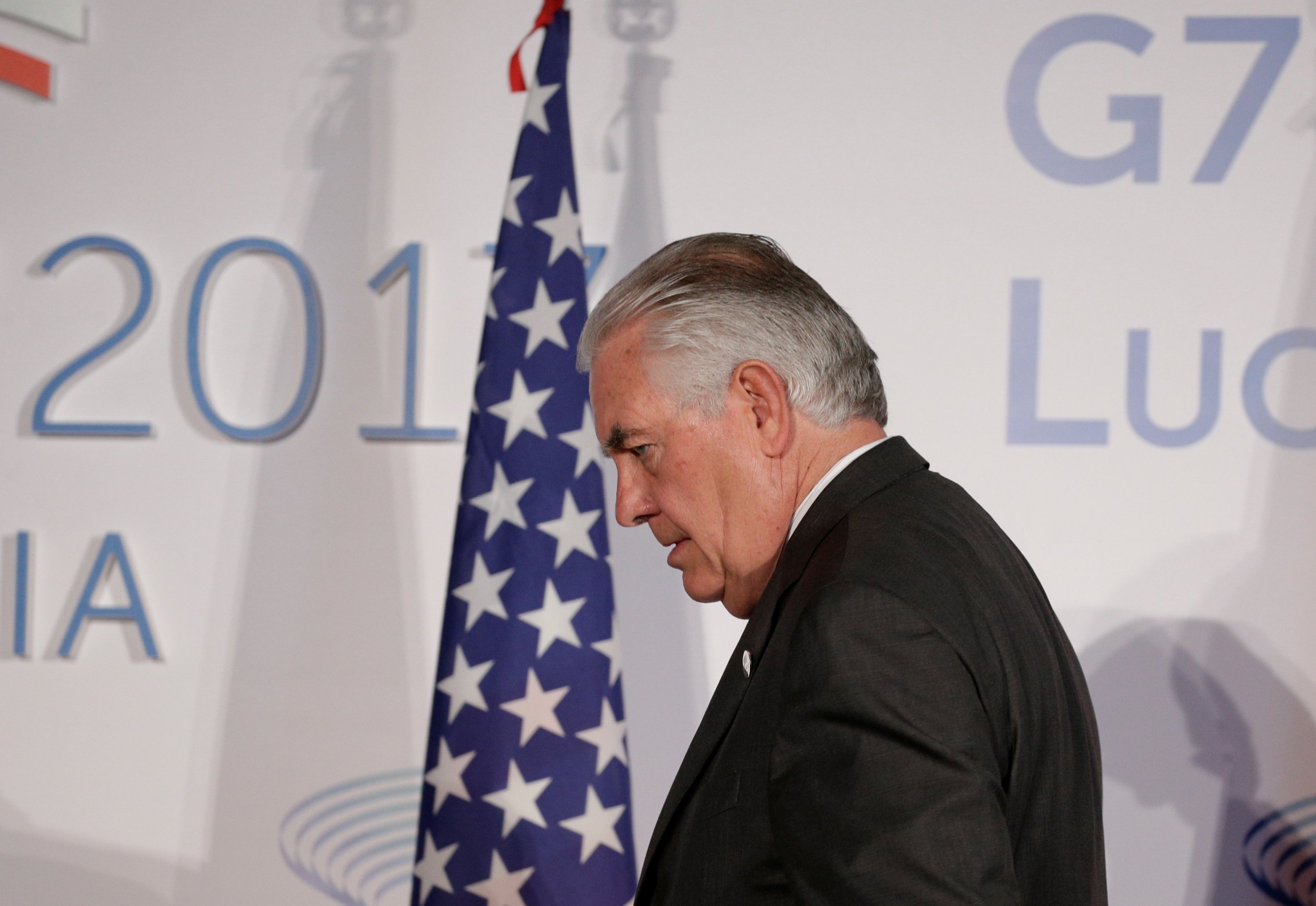 U.S. President Donald Trump and British Prime Minister Theresa May have agreed that during a trip to Russia Tuesday and Wednesday Secretary of State Rex Tillerson will urge the Russian government to abandon its support for Syrian leader Bashar al-Assad.
In a phone call on Monday, the two leaders confirmed Tillerson's visit to Moscow "provides an opportunity" to reach a political settlement in Syria, a spokesman for Britain's May told the BBC Tuesday.
There is now "a window of opportunity" to convince Russia that its alliance with Assad isn't in Russia's interest, said a statement from the British embassy in Washington D.C. quoted by AP. Syria is likely to be at the forefront of discussions during Tillerson's visit due to Trump's decision to launch a missile strike on a Syrian airbase last Friday in retaliation for what the U.S. said was a chemical attack on Syrian civilians by Assad.
Convincing the Russians will be tough as Tillerson travels to Moscow from April 11 to 12 to meet with their Foreign Minister Sergey Lavrov and other Russian officials, since on Monday U.S. officials accused them of complicity in the chemical attacks.
Russia has given Assad direct military support since September 2015, when the Russian military became involved in fighting alongside the Syrian military against rebel groups.
Hours before Tillerson was set to leave for Moscow he met on the sidelines of a G7 foreign ministers meeting in Italy with other diplomats to discuss how to put an end to the six-year-long Syrian civil war.
At the meeting the G7 nations agreed that there could be no solution to the Syrian conflict with Assad still in power. "It is our policy for a unified Syria that is governed by the people of Syria," Tillerson said following the meeting. "I think it is clear to all of us that the reign of the Assad family is coming to an end."
How Assad's rule ends and the transition to a more democratic form of government are important to the "stability" of Syria, Tillerson said. Russia had failed to meet its obligations in 2013 under multiple United Nations Security Council resolutions to remove chemical weapons from Syria, he said, and needed to choose between aligning itself with countries such as the U.S. or with Assad and his other backers including Iran and militant group Hezbollah.
Read more: John McCain says U.S. urgently needs syria strategy as top officials disagree on Assad
Tillerson's approach runs counter to what he said in an interview on Sunday, in which he stated that the U.S. needs to "keep its priorities straight and focus on ISIS," using the abbreviated name for the Islamic State militant group. The Islamist group in Syria has long been President Trump's chief priority and, until the chemical attack, he expressed no desire to confront Assad.
But both Trump's national security adviser, Herbert McMaster, and U.N. Ambassador Nikki Haley are now calling for the removal of Assad. "We've got to go and make sure that we actually see a leader that will protect his people and, clearly, Assad is not that person," said Haley in an interview on NBC's Meet the Press Sunday.
To convince Russia to break with its ally Tillerson will need to overcome a senior U.S. official's anonymous accusation Monday that Russia knew about Assad's plans to use chemical weapons in the attack that killed more than 80 people in the town of Khan Sheikhoun last Tuesday.
The official told the Associated Press that a Russian-operated drone hovered over a hospital where some victims of the gas attack were taken and that a Russian jet then bombed the hospital. Another official said that there was no conclusive proof yet that Russia knew of the attack in advance.
Nevertheless, both Trump and May have expressed their hope Tillerson will be able to move toward forging "a solution which will deliver a lasting political settlement."