Rex Tillerson Took 'Time Off' After Reports He Could Quit Over Frustration With Donald Trump's White House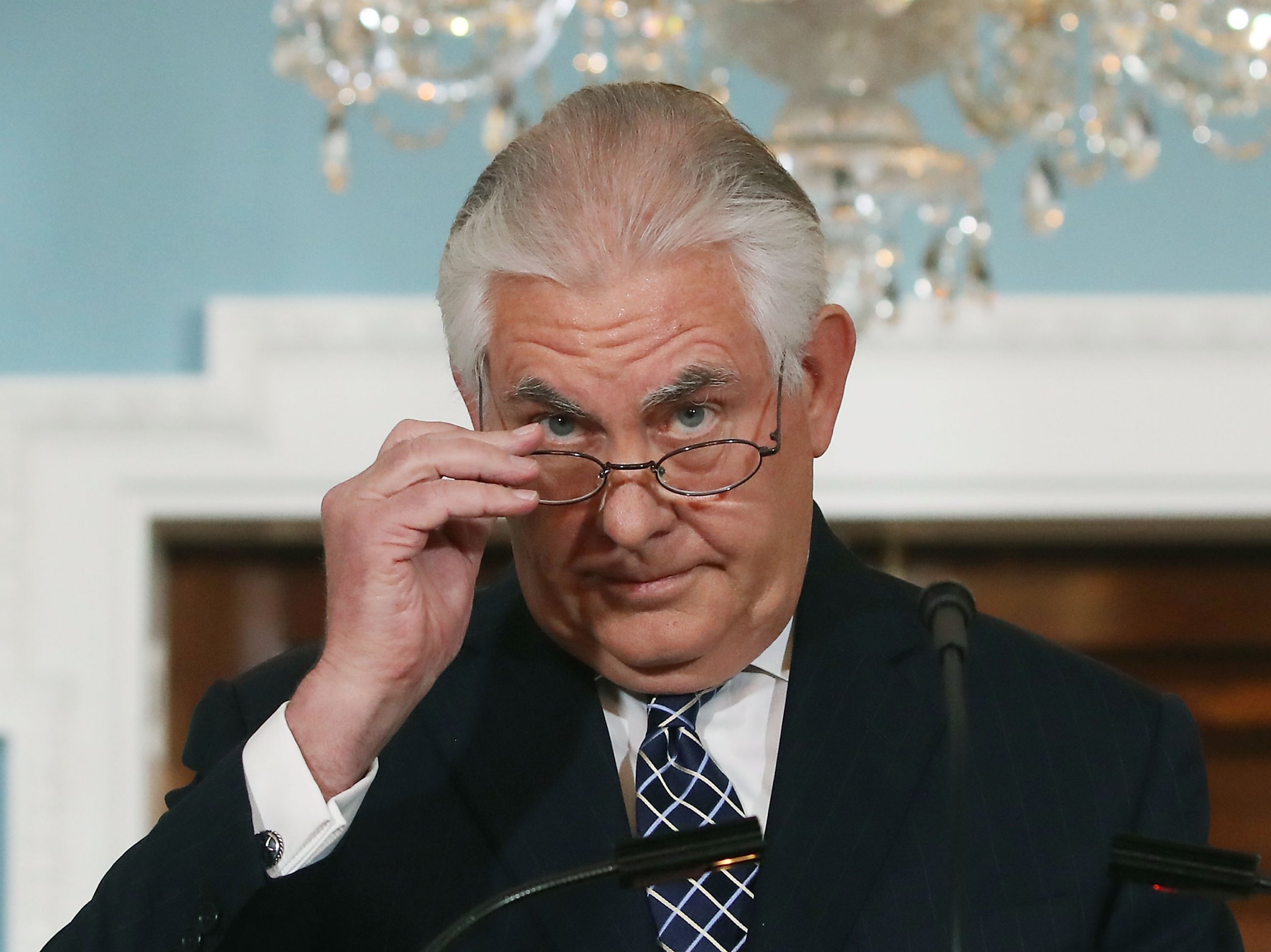 Secretary of State Rex Tillerson is "taking a little time off" amid reports he is frustrated with the Trump administration and may not remain in the top Cabinet role for the entire year.
The State Department was not telling reporters where Tillerson was at the beginning of this week. His public schedule is released daily via email. On Monday and Tuesday it said he was unavailable.
When asked by reporters about Tillerson's whereabouts and feelings on behavior of the White House State Department spokeswoman Heather Nauert said Tuesday that Tillerson was "just taking a little time off."
Nauert said Tillerson has "got a lot of work" and that "he's entitled to take a few days himself." She pointed out that he made a "mega-trip overseas" at the beginning of the month to the G20 summit in Hamburg, Germany. Nauert avoided giving specifics on what she felt Tillerson's feelings toward the White House were.
"He does have the ability to go away for a few days on his own," she said. Wednesday Tillerson is back at the State Department meeting with Lebanese Prime Minister Saad Hariri.
Tillerson's absence came after reports citing sources familiar with his conversations with friends that said he may not last the year in his post as the Trump administration's top diplomat.
Reports first in CNN and then Politico cited multiple sources familiar with Tillerson's conversations with friends outside Washington. Those who know him say he is growing increasingly frustrated with the White House, the president and working in the Trump administration.
Tillerson has viewed Trump's public shaming of his Attorney General Jeff Sessions as unprofessional, several sources told CNN.
Related: Rex Tillerson debates quitting after 'unprofessional' Trump bashes Jeff Sessions
Before last week, Tillerson had strongly maintained he would see through his task of reorganizing the entire State Department after Trump's March budget proposal laid out plans to cut $10 billion from its roughly $47 billion in funding. But that resolve seems to have dimmed.
Tillerson is "no longer wedded to that idea" one source familiar with Tillerson's conversations with friends told Politico. The secretary of state feels as though he's "not being allowed to do his job," they said.
Some of the sources said that Tillerson could have been venting after a long week in which Exxon Mobil was fined for violating U.S. sanctions against Russia at a time when he was its CEO.
Yet Tillerson's ongoing feuds with the White House have made headlines. In June Politico reported that Tillerson blew up during a quarrel with White House director of presidential personnel, Johnny DeStefano in White House Chief of Staff Reince Priebus's office for blocking and taking too much control over Tillerson's staff picks. Details of the heated meeting came from four sources.
Tillerson has been frustrated after Trump and the White House rejected a number of his hiring decisions. The president has also contradicted Tillerson's public statements and left him scrambling at times to get up to speed after an abrupt change of policy.
On Monday Tillerson's State Department spokesman R.C. Hammond, told Politico that any idea of leaving early "never crossed" the Secretary of State's mind. There is still "plenty of work to do," Hammond said.