Police in Pennsylvania are investigating the discovery of a taxidermied rhinoceros head found on a street corner.
The rhino head, which the Aspinwall Police Department believes to be authentic, was discovered on a street corner in Aspinwall, part of the metro Pittsburgh area of Pennsylvania, on Saturday evening by local resident Cameron Taylor while he was walking his dog, according to WTAE.
Officer Mike Broker confirmed to the local outlet that one of the department's officials was flagged down by Taylor on Saturday night to inform them of the discovery, with the responding officer taking custody of the taxidermied head.
The department believes that the head is more than 50 years old. The department is currently in contact with the Pennsylvania Department of Conservation and Natural Resources for information on the legalities of having possession of the item.
The police, who are currently unsure who the head belongs to, are reviewing surveillance footage in the area to find out who left the item at the side of the road and where they might have got it from.
Taylor told the outlet that police showed him footage of the suspect dumping the rhino head, but so far no one has come forward to claim the item or offer information about who it may belong to.
Newsweek has contacted the Aspinwall Police Department for comment.
There have been several incidents of decapitated animal heads being discovered in the U.S. in 2021. The heads of various creatures were reported in May by an unsuspecting passerby in Briarbend Park, a community park located 10 miles west of Houston, Texas.
One woman said that she discovered the head of a goat wrapped in a white dress next to a bag containing the heads of three roosters, while another local resident said she found similar items in a park around 11 miles away.
Several bodies of decapitated animals have also been found in the U.S. over the last few months, with wildlife officials launching a criminal investigation in May after a 10-foot-long alligator was found decapitated on the side of a Florida road.
The Florida Fish and Wildlife Conservation Commission launched an investigation into the incident, as killing an alligator in the state without having the proper license is illegal.
An investigation was launched in July after a dead grizzly bear had its head and paws removed from its body the day before it was due to be transported away from Yellowstone River north of Gardiner, Montana.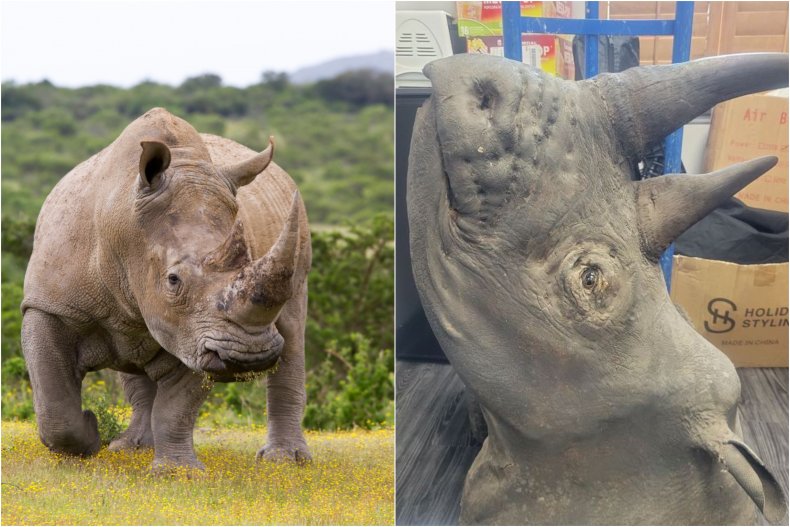 UPDATE 8/31/21 9:45 a.m. ET: This article has been updated to include a photo provided by the Aspinwall Police Department.