First Ever Legal Rhino Horn Auction in South Africa Has Just Begun to the Dismay of Conservationists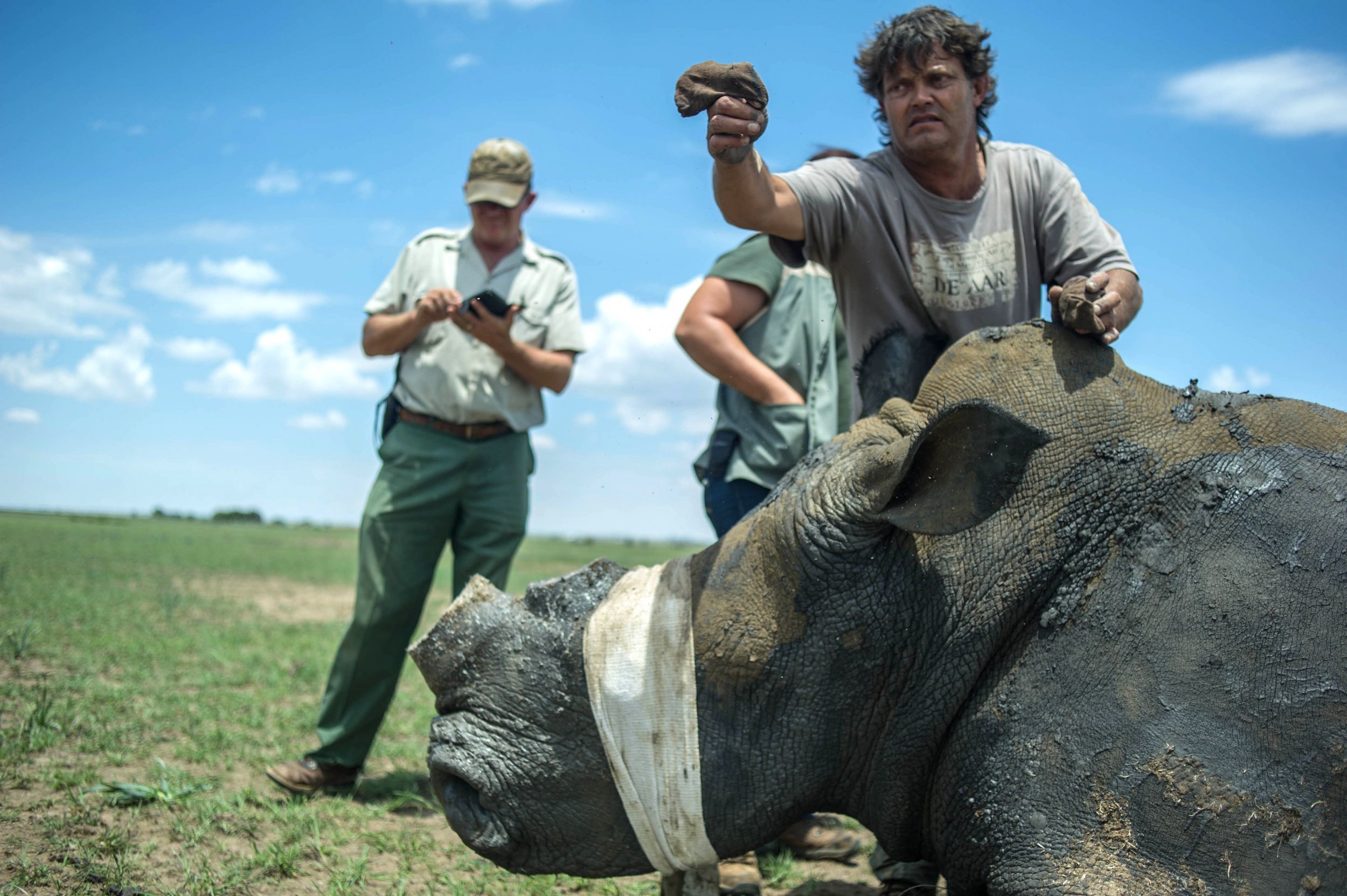 The world's most prolific rhino breeder has come up with a plan to end a poaching industry that has seen 5,000 of the rare animals killed in the last five years in South Africa—but it is controversial.
Johannesburg breeder John Hume organized the first ever legal auction of rhino horn on Wednesday, lasting for three days and putting up 264 rhino horns for sale to willing buyers in South Africa.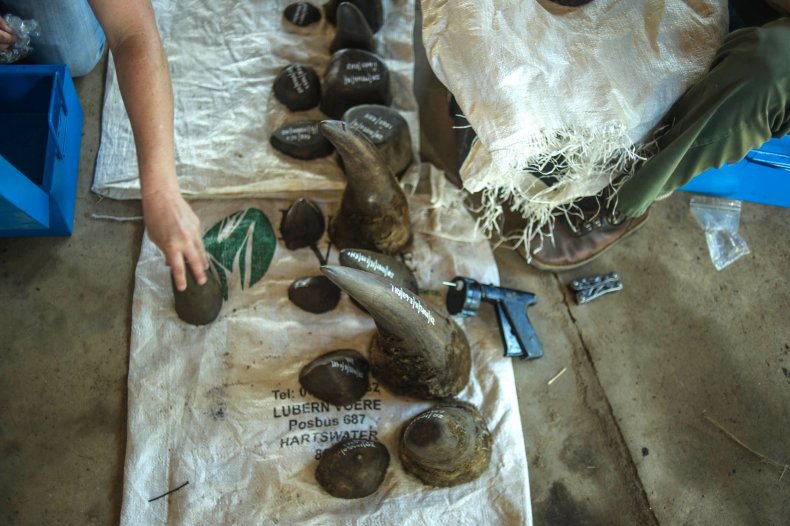 The auction was permitted to go ahead after a ruling by a South African court on Sunday, which ordered the government—which opposes the auction—to allow Hume to proceed.
But the auction has led to criticism from some conservationists who claim that it could actually encourage poaching.
Related: In South Africa's Kruger Park, black poachers are hunted as much as their prey
South Africa is home to more than 80 percent of the world's rhinos, but populations of the animals have been decimated in recent decades by poachers seeking to meet demand from buyers in East Asian countries, including China, where rhino horn is used in traditional medicine and made into trinkets.
Around 20,000 white rhinos remain in the wild, mostly concentrated in southern Africa. The number of rhinos poached in South Africa slightly decreased in 2016, down from 1,175 in 2015 to 1,054 in 2016.
The international trade in rhino horn has been banned since 1973 under a U.N.-backed convention prohibiting the commercial sale of endangered species. South Africa also has had a domestic ban on trading rhino horn since 2009, but this was overturned in a ruling by the country's highest court in April, which was part of Hume's legal battle to hold the auction.
Hume, who has more than 1,500 rhinos on his farm, has said that a legal trade in rhino horn is the only way to stop poaching. Hume told South African filmmaker Bonné de Bod that he regularly cuts his rhinos' horns to deter poachers, but the fact that he was legally barred from selling the horns made it difficult for him to continue breeding the animals.
"A rhino is worth more dead than alive. That's the fact we face because of the law, which puts all the advantage in the hands of the poachers and none in the hands of the breeders," Hume told Bod in an interview published on her Facebook page.
Hume has also said that legalizing the trade could drive down the price of rhino horn, making it less attractive to poachers. Rhino horn can currently sell for $3,000 a pound on the black market in South Africa, National Geographic reported.
But other conservationists have criticized Hume's plan. The auction is limited to South Africans—registrants on the auction website are required to provide identification, proof of residence in South Africa and pay a 100,000 rand ($7,500) registration fee—due to the bar on international trade in rhino horn. Critics have pointed out, however, that the auction website also has Vietnamese and Mandarin homepages as well as English.
"Clearly Mr. Hume has a broader market in mind, and this calls into question his motive—in my mind, to sell horn, nonlethally harvested over the years from his more than 1,500 rhinos, and for no other reason than to realize a vast profit of potentially millions of dollars," wrote Joseph Okori, head of the South Africa office of the International Fund for Animal Welfare in a blog post. "This is a matter of profit, not protection of one of the world's most endangered species."
Other conservation groups have said that legalizing trade in rhino horn will inevitably lead to horn being smuggled out of the country. "The concern is that people will counterfeit legal certificates and bribe officials to pass through illegal horn using the legal channels you want to open up," said Simon Morgan, director of South African conservation group Wildlife ACT in a blog post.
South Africa's Environment Minister Edna Molewa said that the government was conducting an audit of all existing rhino horn stockpiles to prevent illegally obtained horns from being smuggled out of the country.