Rhode Island Governor Gina Raimondo Resigns to Be Biden's New Secretary of Commerce
Democratic Rhode Island Governor Gina Raimondo has resigned in order to become Democratic President Joe Biden's new Secretary of Commerce. Raimondo received Senate confirmation for the position on Tuesday.
"Serving as governor these past six years has been the honor of a lifetime," Raimondo wrote in her resignation letter addressed to the state's Lieutenant Governor Daniel McKee. "Because of our work, Rhode Island is well-positioned for continued growth and success in the modern economy."
She added that she considers it an honor to serve as Biden's commerce secretary.
"As we rebuild America and lift up those who have been left behind, the Rhode Islanders I have come to know will always be at the top of my mind," she wrote.
The Senate approved Raimondo to become the commerce secretary in a 84-15 vote. She was Rhode Island's first female governor and served in the position since 2015. McKee will now serve as the state's governor.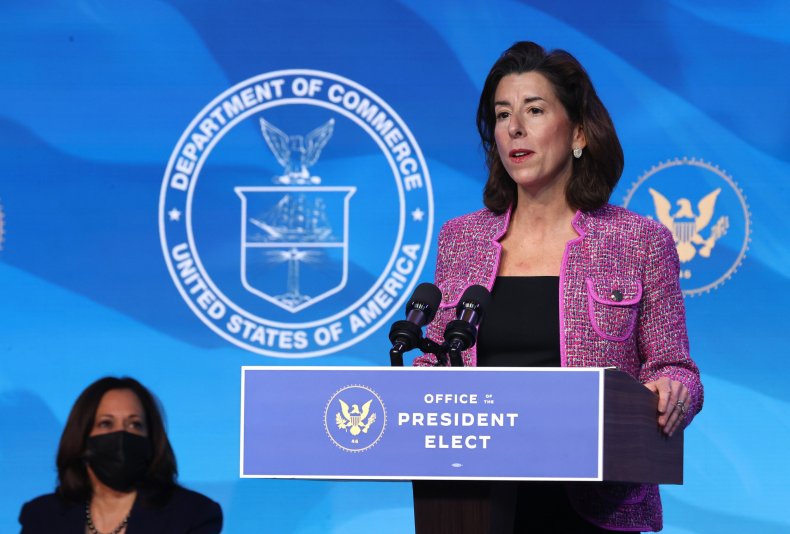 Among the 15 Republican Senators who voted against Raimondo's confirmation, Kevin Cramer of North Dakota, Ted Cruz of Texas, John Kennedy of Louisiana and Rick Scott of Florida all cited concerns that she wouldn't uphold trade restrictions against China instated by former Republican President Donald Trump.
Specifically, Cruz said he didn't feel assured that Raimondo would continue Trump-era trade restrictions against Huawei Technologies, a multinational Chinese company that sells telecommunications equipment and consumer electronics.
The Trump Administration suspected Huawei of spying on its users for the Chinese government. As such, the former president placed the company onto the Entity and Military End User Lists, two lists of companies that allegedly pose risks to national security or foreign policy interests. Any U.S. firms seeking to sell intellectual property to companies on the lists must first obtain a government license to do so, Bloomberg News reports.
Huawei has asserted that it doesn't spy on any of its users. Raimondo said she saw "no reason" to take the company off of the aforementioned lists when asked during her Senate confirmation hearing. She added that she looked forward to a briefing on the companies that had been placed on the lists.
As the Secretary of Commerce, Raimondo's main role is to develop and promote the nation's business industries, both domestically and internationally. If the Senate passes Biden's $1.9 trillion COVID-19 stimulus package, one of her first jobs will be to oversee the dispersal of over $3 billion in federal aid to businesses nationwide.
Thus far, the Senate has confirmed 12 of Biden's 23 nominees that require its approval.
Newsweek contacted the White House for comment.