'Rhythm + Flow' Winner D Smoke Talks New Music, Kendrick Lamar Comparisons and Life After Netflix Show
It's been a whirlwind week for the contestants of Netflix's very first music competition series, Rhythm + Flow.
The first season of the series is still streaming on Netflix, but since the last few episodes of the season, including the finale, released on the platform on October 23, the top four contestants have appeared in dozens of TV and radio interviews, in addition to dropping new music and videos of their own. Perhaps none of them have been as busy as the show's winner, rapper D Smoke.
While the 33-year-old native of Inglewood, California's fall schedule was once filled with mentoring and teaching students at Inglewood High School, since winning the Rhythm + Flow champion title, the musician's days have included press tours, studio visits and even meet-and-greets with surprising fans. Tracee Ellis Ross, for example, flipped out in an Instagram video when she met the rapper in person on Monday. Along with his budding renown, D Smoke's Rhythm + Flow victory also won him a set on Spotify's RapCaviar Live concert series and $250,000 with no strings attached.
Smoke has already completed his debut project, the seven-track extended play album Inglewood High, but his schedule is only continuing to fill up. In an interview with Newsweek on Tuesday, the budding rap star revealed that even more music is on the way, along with a number of other projects.
See Newsweek's interview with Rhythm + Flow winner D Smoke below.
This interview has been edited for clarity and length.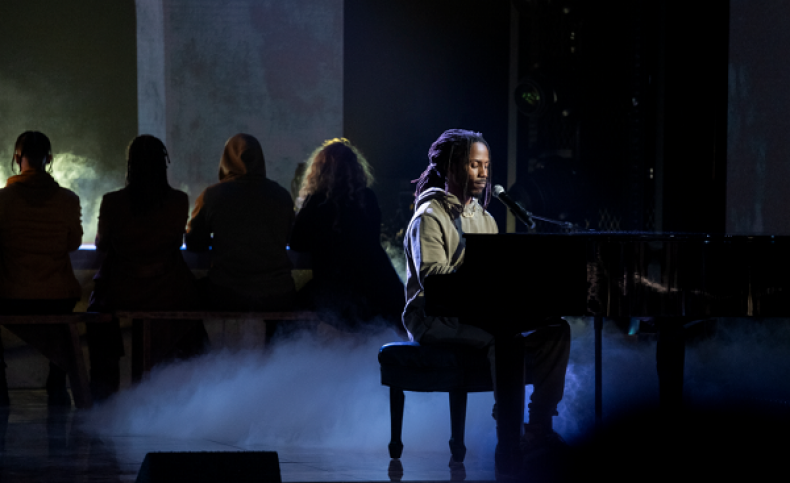 How are you feeling now that the show is over?
I feel so proud. I'm overwhelmed with joy because I was able to do what I do best and the world received, understood and appreciated my artistry. But what I am most proud of is how I was represented and how I was able to represent myself on the show. I'm watching this for the first time with the rest of the world, so I didn't know the moments I was very fond of were even going to be used. Thousands of hours of footage was shot. There were eight or nine cameras around at all times. So for producers and Netflix to sit through and capture these moments that I thought were really meaningful, I was really proud of that.
Did you watch with your family?
I've been watching with my family and loved ones. When the first episode came out we were all at my mom's house. Even my grandmother was there and Lord knows she doesn't stay up till midnight! My mom was up. My dad was there, my brothers, good friends. We all watched it together.
What's been your reaction to all the support you and the other contestants have received from viewers and fans since Rhythm + Flow debuted?
It most certainly has been an outpouring of love. I couldn't have anticipated that [the show] would capture who we are so well, but they did a great job of that. As a result, everybody not only bought into what we could do as artists but what it means for us to get up there and pour out our souls given our different experiences and challenges. I'm proud of that as well. I didn't know what to expect in terms of how we'd be portrayed in our challenges and whatnot, but it was beautiful. I've gotten so many calls from people in tears saying they watched it as a family and shared it with other people.
All of the top four—you, Londynn B, Troyman and Flawless Real Talk—have made quite the impression on viewers. How are you all adjusting to the newfound fame?
We always say, "Take it all in stride." We have a clear understanding of where we're headed, and if we stay focused on that then we'll just accept all these moments as little gifts. It's a blessing to have people moved by what we've done, but we're not going to allow any of the new instances to change us or alter our sense of direction. We're still focused on the goal at hand. There's still a lot of projects to put out. I have new music in the works. I also have a book that's going to be coming out. So I'm just focused on staying the course, showing love and being appreciative of the moment and everybody that's supporting it.
Why was it important for your first music project to be about the city you grew up in and Inglewood High School?
Inglewood High is a super special place for me because I was able to experience it in two capacities. I was a student at Inglewood High and after I graduated from UCLA I was a teacher there. It just made for an interesting experience. As a student I was focused on excelling, doing my thing, making sure my grades were competitive. As a teacher, I was more invested in all of the different stories and plights and experiences of the students. Actually, as a teacher, I took more of a deep dive into the experience of teens who walked the same streets as me where I was more focused on navigating [those streets] as a student. Inglewood High as a project allowed me to tap into myself and some common experiences of other people from my city. It takes us on a small journey of living [in Inglewood]. It starts off with that warm pride of the city and I tap into a different kind of turned-up energy before ending with something inspirational.
You just released Inglewood High, but are you working on any other music?
We're not going to let our audience chill too long. We know we only gave them an appetizer. So at the top of the year, I have a 15-song project coming out. So there's definitely more to look forward to.
Is there anyone, in particular, you hope to collaborate with musically in the future?
On Inglewood High I have Tiffany Gouché—that's my cousin. I also have Sha'Leah Nikole and Tommy Sketch on it. Immediately on the next album, you'll get some moments with me and Sir and Davion Farris. I'm gonna do family first, but there are a lot of artists I'd love to work with. As a musician, I often think about powerful women in music I'd love to work with. I'd love to work with Janelle Monae, Ari Lennox, H.E.R. Me and Cardi [B.] are supposed to work too. There's a lot of things I look forward to doing and people I look forward to connecting with musically.
Are you hoping to stay independent or looking for a deal?
I'm gonna retain ownership of my creative property. Any deals that I do will be partnerships where it reflects that. My team and I are structured to withstand all the new opportunities that are coming.
What do you think about all the Kendrick Lamar comparisons?
The fact that people put us in the same sentence is a high compliment. If you're going to start off your career getting compared to somebody, why not get compared to one of the greatest to ever pick up the mic? I say that without apologies—Kendrick is an incredible artist and a brilliant mind, and I think the world already knows that. Having said that, if I were to sound like somebody like Lil Uzi or Trippie Redd, somebody with some turn-up music, nobody would begin to make those comparisons. It would just be, "Oh I like that song."
When you're in a position to make music that not only entertains people but impacts them, there's not much of a precedent set, so there are only a few people mentioned in that conversation. As I put out more music, I think people will be able to distinguish me more and understand who I am apart from my standing with Kendrick. Personally, I don't think my voice sounds like his. I don't make the creative decisions that he makes. But I understand that we're probably kindred spirits in a sense. I can imagine some of the people he's influenced by, I also appreciate. It's no accident that people are great because greatness comes as a result of a lot of time, work and studying of other great people. There are some commonalities and similarities in character. If you view him as a man of character in music and you see me making those same strides, then I welcome it all.
How are you planning to incorporate education and mentorship in your growing platform?
Before I was a teacher I was doing mentoring and goal setting, time management and one-on-one counseling sessions with high school students. I'll still work with the community in different capacities and hopefully identify those young, talented kids [who] remind me of my early days in education. I'll continue to help provide them with the spaces and resources to really help them move forward in their lives.
Overall what do you hope people learn from watching your journey on Rhythm + Flow?
I hope people understand that it's not a trade off. Embrace your own duality. Being conscious, being intelligent and being a rapper is not a trade-off. Being cool and being smart is not a trade-off, or being bilingual and being a teacher and a rapper is not a trade-off. You don't have to choose one or the other. That's the main thing I want people to get. I think that's a misnomer or fallacy that people kind of accept because they're not used to seeing somebody walk the line on both sides.