Rich Strike to Miss Chance for Triple Crown, Won't Run in Preakness
Rich Strike, the winner of Saturday's Kentucky Derby, will not compete in the Preakness Stakes, the horse's owner announced Thursday.
A statement by Rick Dawson, which was posted on Twitter by Ray Paulick, the publisher of the horse racing website the Paulick Report, said the original plan for Rich Strike was "contingent" on the the Kentucky Derby: "Should we not run in the Derby we would point toward the Preakness, should we run in the Derby, subject to the race outcome & the condition of our horse, we would give him more recovery time & and run in the Belmont, or another race and stay on course to run with 5 or 6 weeks rest between races."
Dawson said that given Rich Strike's win in the Kentucky Derby, it's "very tempting to alter our course...however, after much discussion & consideration with my trainer, Eric Reed, & a few others, we are going to stay with our plan of what's best for Ritchie is what's best for our group and pass on running in the Preakness and point toward the Belmont in approximately five weeks."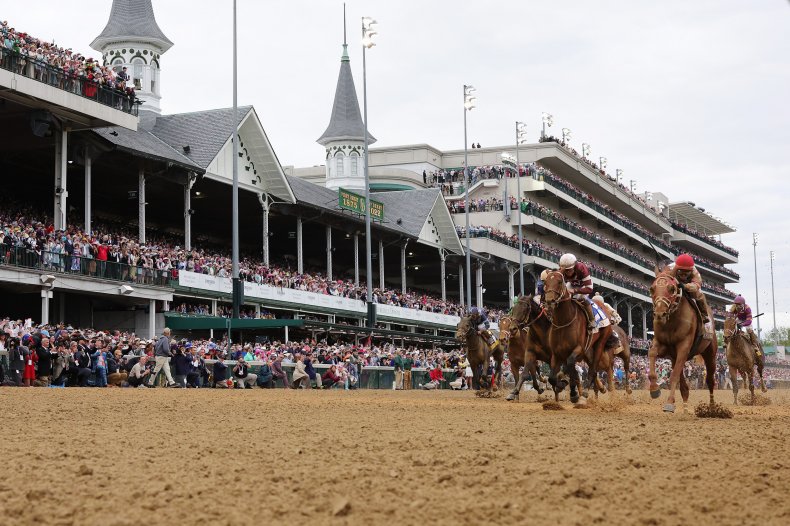 Rich Strike's win at the Kentucky Derby was viewed as a major upset. At the start of race day, the horse had 99-to-1 odds to win the race. When the race began, his odds had improved to 80-to-1. The Kentucky Derby is the first leg in horse racing's Triple Crown, a series of three competitions. The other two legs are the Preakness Stakes, which will be held in Maryland later this month, and the Belmont Stakes, which will be held in New York in June.
Rich Strike sitting out of the Preakness Stakes means that the U.S. won't see another Triple Crown winner this year. Thirteen horses have won thoroughbred racing's most coveted prize since its inception in 1919. The last Triple Crown winner was Justify in 2018. Before that, American Pharoah won it in 2015, ending a 37-year spell in which no horse won all three races.
In an opinion piece for Newsweek, Rich Strike's trainer, Eric Reed, described how they won the Kentucky Derby.
Reed said he "wouldn't be telling the truth if I said I expected Rich Strike to win the Kentucky Derby. I hadn't ruled it out because I knew there were a lot of intangibles, but I knew it would have to be the perfect scenario. My true goal was to finish 10th or better and beat half the field."
This is story was updated on 05/12/2022 at 3:15 p.m.