Richard Barnett, Man Pictured With Feet On Pelosi's Desk, Says He Was Looking For Bathroom
A man who was photographed sitting at a desk in the unoccupied office of Nancy Pelosi has described how he barged his way in and "wrote her a nasty note" before taking a letter bearing the House Speaker's name and leaving.
A photo of the Trump supporter, identified by several media outlets including The New York Times as Richard Barnett, 60, from Gravette, Arkansas, quickly became one of defining images of Wednesday's storming of the U.S. Capitol.
Speaking to the Times, Barnett, who also goes by the nickname Bigo, denied stealing the envelope—"I put a quarter on her desk"—and claimed he had only knocked on Pelosi's door before he was pushed into the room by other rioters.
"I wrote her a nasty note, put my feet up on her desk," he told the paper. When Capitol Police arrived, he told them "I paid for this, it's mine," before leaving.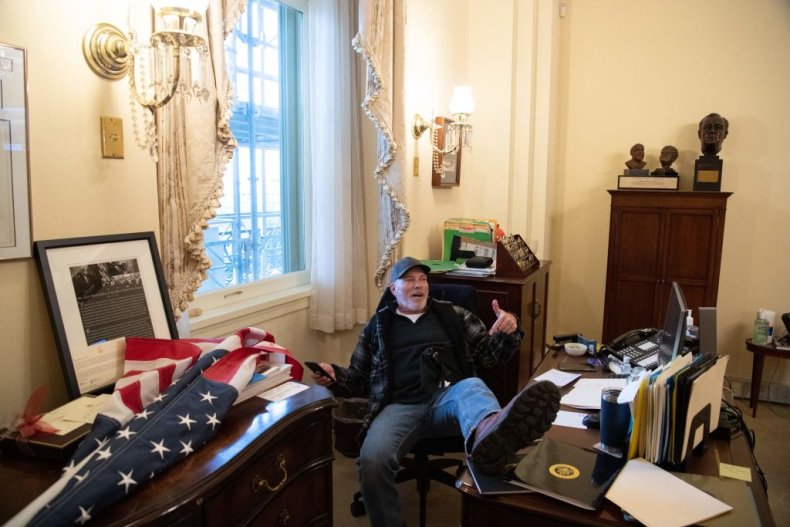 5News, a CBS-affiliated television station based in Fort Smith, Arkansas, also spoke to Barnett after Wednesday's protest.
"We marched down there. They start tear-gassing us. They start roughing up our people. It pissed some people off," he said. "They went to the front door, and they started demanding to be let inside.
"I wasn't even up there at that point. I was climbing the steps to see what was going on. When I got to the top, they had breached the doors and were trying to get in."
He told the news outlet he was simply looking for a bathroom within the Capitol when he stumbled upon Pelosi's office.
He added: "I threw my feet up on the desk at that point. I realized some assholes had cut me also and I bled on her envelope, so I picked up the envelope and put it in my pocket, and I put a quarter on the desk cause I'm not a thief."
The note he left reportedly read: "Nancy, Bigo was here, you b****."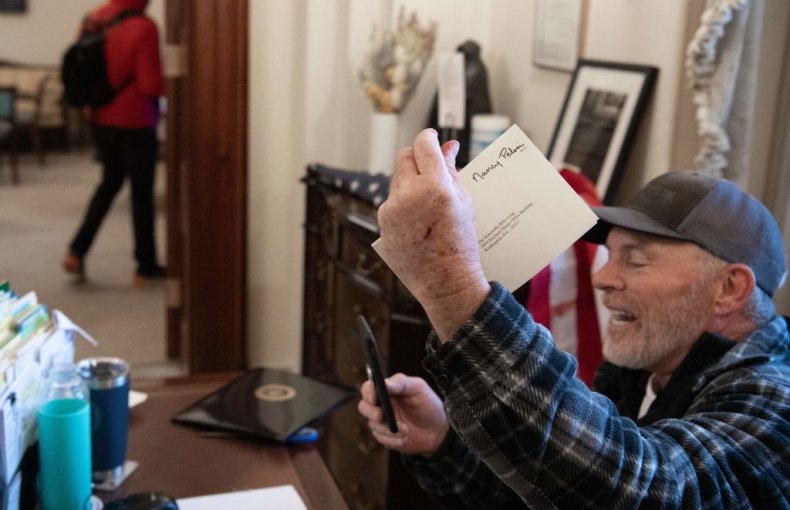 Barnett, who could face federal charges for his involvement in the protest, said he did not fear prosecution by the police.
"I didn't do anything. I didn't breach the doors. I got shoved in. I didn't mean to be there. Hell. I was walking around looking for a bathroom."
Commenting on the death of a woman who was shot in the chest, he told 5News: "She died a hero, a patriot and I feel for her family. That shouldn't have happened.
"We went to peacefully protest and that's what we were doing. They started it. Our own police started it."