Richard Branson's Kitchen Cabinets Mocked As His Décor Is Branded 'Awful'
Richard Branson's kitchen cabinets are being mocked after the Brit shared a snap online, following Elon Musk's visit in the early hours of the morning.
The billionaire space racers had a quick chat at around 3 a.m., before Branson's inaugural flight to the edge of space aboard a Virgin Galactic plane.
The 70-year-old tweeted a photo of the pair standing in his kitchen, as he geared up to head into space on Unity22, marking the 22nd test flight for the VSS Unity spaceplane, Virgin Galactic's first fully-crewed spaceflight.
In the post, shared on Sunday, he said: "Big day ahead. Great to start the morning with a friend. Feeling good, feeling excited, feeling ready."
Musk, 50, was barefoot in the innocuous room, which featured a beige floor, wooden cabinets and blue and white tiles. The décor hasn't gone unnoticed, with numerous people claiming they expected a very different interior from the billionaire.
Kelsea Bauman-Murphy retweeted the photo of a space rivals, saying: To have billions of dollars and THOSE cabinets? what's the point. How can you be worried about space when you can't even manage the s*** right above the ground??? Googly eyed ass finishings."
While Branson primarily lives on his private Caribbean retreat, Necker Island, he has property all over the world. It's not clear whether he was photographed in a rental, or a home he owns in New Mexico, known as Spaceport America, although he did refer to it as "my kitchen."
Whether it's a short-term let or a hotel, numerous people agreed with Bauman-Murphy, commenting they thought Branson would be staying in more opulent surroundings.
LJ wrote: "Maybe the reason he's a billionaire is bc he doesn't waste his $$$ on worthless stuff like expensive cabinets."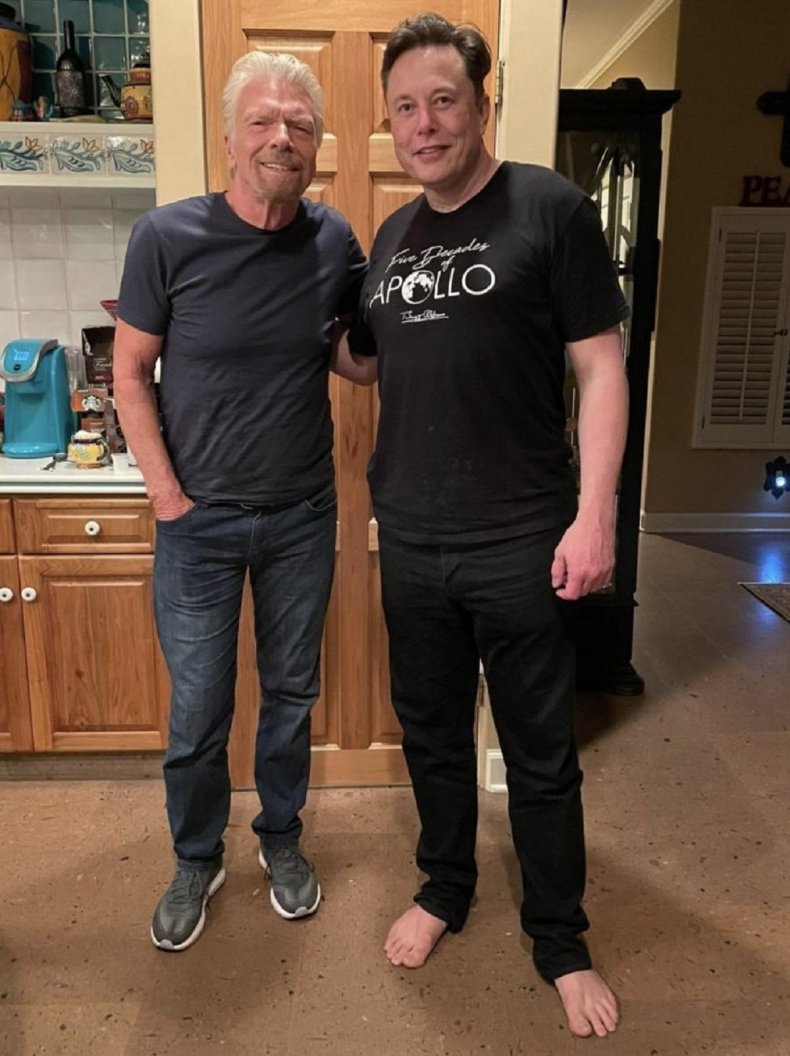 Alan P Woods joked: "That's why they are billionaires and also can relate to us—they have your step mom's cabinets from 1993."
Valorie noted: "His walls and floor are beige...? Throw some of that money at an interior designer my dude."
"Linoleum. The floors are linoleum. Like an elementary school," Not Brendan, somebody else said.
While @suchoriginalwow thought: "I'm pretty sure the kitchen of my daycare had the same laminated flooring."
And Mello added: "The little bit of décor I see is awful! Two billionaires in a poorly decorated house makes no sense."
At a press conference after the flight, Branson confirmed Musk, CEO of company SpaceX, had dropped round in the early hours, but revealed he wasn't asleep.
"It was great this morning to find Elon Musk in my kitchen at 3 o'clock, to come to wish us the best," he said.
"I'd already been to bed and he still hadn't gone to bed. He's an all-nighter, and our time clocks are completely different. But so nice of him to come all this way to wish us well."
Following the successful touchdown of the SpaceShipTwo rocket plane, Musk congratulated his space peer online.
"Congratulations on a beautiful flight," he tweeted.
Branson raved about his experience, tweeting: "I have dreamt about this moment since I was a child, but going to space was more magical than I ever imagined."